Pepe Coin was launched in mid-April this year. Right after its launch, masses from the crypto space started talking about it on social media platforms like Twitter and Reddit. In fact, it has time and again made it to the "trending" list by amassing millions of mentions.
Post its launch, PEPE started astronomically surging. It's known that centralized exchanges [CEXes] listed Pepe Coin quite a few days after it was launched. By then, there were already millionaires who minted profits by trading on decentralized exchanges [DEXes].
The Pepe Coin hype is been cooling down lately. However, the meme coin hype is still bubbling, and funds are already being diverted toward other tokens. Right from LADYS to WOJAK, a host of meme coins have stepped up over the past few days. In fact, as highlighted in an article today, a trader ended up making $1 million in meme coins by trading over a hundred different tokens.
Also Read: Man Makes $1 Million in Meme Coins: Trades Pepe Coin, 100+ Other Tokens
Meme frenzy: A blessing for DEXes?
According to a recent analysis by the Crypto Analytics platform Parsec Finance, DEX volumes are now being directed toward other meme coins after the Pepe Coin hype, confirming the ongoing trend.
On centralized exchanges like Binance, the trade volume continues to remain flat when compared to levels registered earlier this year. Specifically, the press time figure reflected a value of $136.9 million. In a single day towards the end of April, however, Binance clocked in $1.01 billion in volume, bringing to light that CEXes are currently bearing the brunt of the weak sentiment.

On DEXes also, volumes have dropped. However, meme coin trading has come to their rescue and it is helping them fare well relative to their CEX counterparts. As shown below, the DEX:CEX spot trade volume ratio has noted a steep incline over the past few days. In fact, it is currently hovering around its all-time high of 22.47%. This indicated that participants are flocking towards decentralized alternatives. Thus, it will not be wrong to contend that the whole meme coin frenzy has proven to be a boon for DeFi.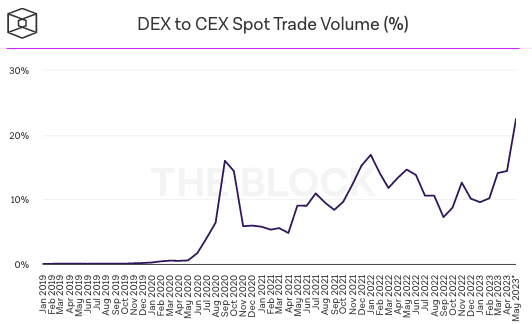 Also Read: Dogecoin: 'Majority' of $55 Million Meme Coin Liquidity Supports DOGE