Crypto trading volumes had been sub-par owing to macroeconomic uncertainty. However, the meme coin frenzy managed to change that narrative. The recent launch of Pepe Coin managed to stir excitement among community members. In fact, the asset continued to be the talk of the crypto town.
According to a recent analysis by LunarCrush, there have been 6.09 million PEPE mentions on social platforms over the past 30 days. As a matter of fact, this is more than Bitcoin and Ethereum combined. Bitcoin had 3.06 million mentions, while Ethereum managed to flash a number of 2.88 million.
As analyzed in an article earlier today, Pepe Coin attained a $1 billion market cap in just 19 days after its launch. This feat is one-of-a-kind in the crypto sphere, for Pepe Coin managed to reach the threshold faster than Bitcoin, Ethereum, Dogecoin, and Shiba Inu.
A recent Kaiko research report brought to light how meme coins, in general, have secured an "unexpected bid," owing to the Pepe Coin frenzy. Specifically, its report pointed out,
"Crypto markets could hardly be described as "frothy" right now, but meme coins have picked up an unexpected bid, with the PEPE token soaring to an astonishing $1bn market cap at the start of the month."
Also Read: BlackRock Fund Withdraws 1.27 Trillion Pepe Coins from Binance
Dogecoin: The unforgotten hero?
Market makers are generally "agnostic" about the tokens divert funds. Nevertheless, peeking into the amount of capital deployed across meme coin order books could provide us with a greater understanding of the current state of affairs. For context, market makers are firms or individuals who provide liquidity to the market.
Typically, they do so by buying crypto from sellers who are looking to part away with their assets, and in turn sell them to buyers who are looking to purchase them. Consequentially, they profit from the bid-ask spread difference. Highlighting how Dogecoin continues to be the favorite, Kaiko's report highlighted,
"Starting in April 2021 when meme coin mania first kicked off, around $55mn in liquidity has consistently supported meme coin order books, the majority for DOGE."
The market has come a long way since the inception of the initial meme coin mania in 2021. At that time, 28 other players had a collective say in the market depth. Their dominance has, however, dropped now, and other players have stepped up.
Simply put, depth refers to the market's ability to absorb large market orders without significantly impacting the price of the asset. Chalking out the "outliers," Kaiko's report highlighted that BitForex and Upbit registered significant inclines lately. This means that the price of meme coins will likely not get impacted by small orders placed on these platforms.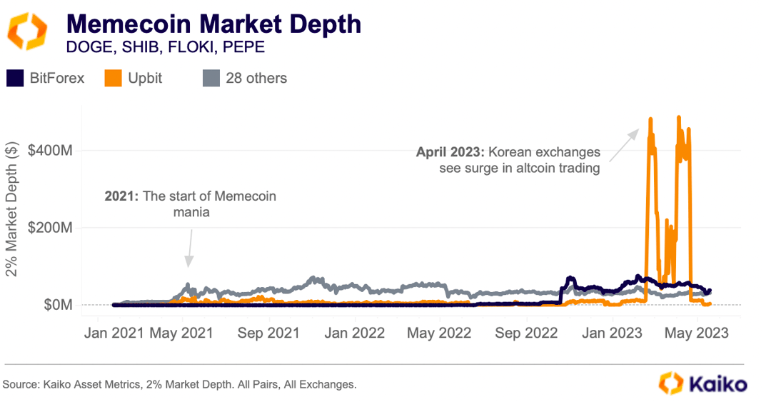 Also Read: Tether: USDT Market Cap Approaches ATH, But Volume Seems 'Suspicious'