The cryptocurrency industry has witnessed the emergence of numerous new assets in recent years. Dogecoin was created as a joke but gained tremendous popularity. Shiba Inu [SHIB] followed a similar path and created millionaires and billionaires during its early days. On the other hand, PEPE aimed to distinguish itself by avoiding the canine theme.
Do these formerly popular and profitable meme coins still possess their charm? It appears that their appeal has dwindled. Since 2021, Dogecoin has failed to retest its all-time high range. However, a significant portion of its users have managed to make a profit. Additionally, 44% of the network consists of large addresses.
Also Read: Dogecoin (DOGE) Price Prediction: September 2023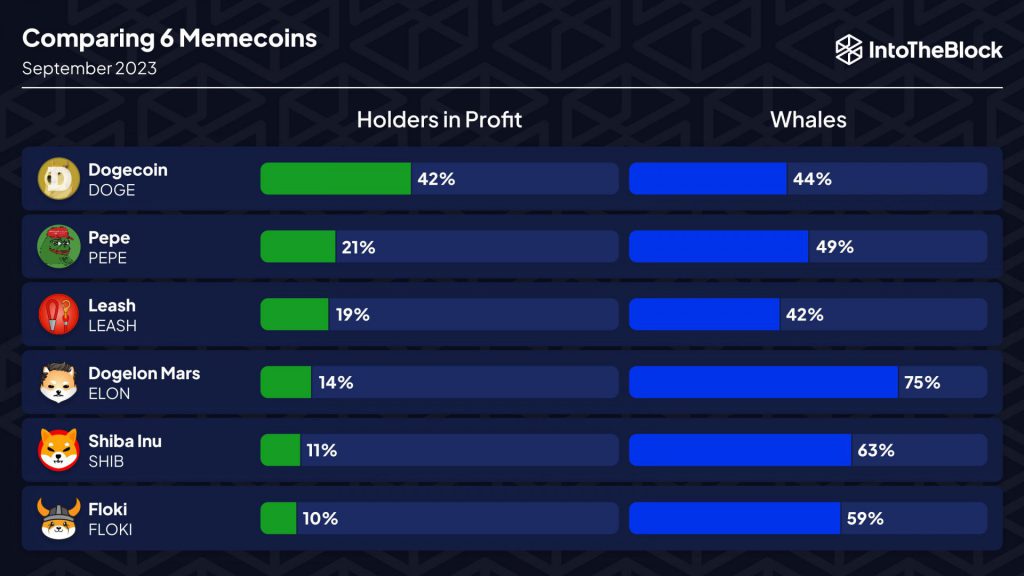 PEPE coin secured the second position, with 21% of its holders seeing profits. Meanwhile, Shiba Inu trailed behind, and its derivative token, LEASH, had 19% of its holders experiencing gains at the current asset price.
Shiba Inu has recently erased all the gains it experienced in July and August, revisiting its lowest point from December 2022. As of now, with the asset trading at $0.000007034, only 9% of its holders find themselves in a profitable position. This is quite surprising considering Shibarium just made its debut. Interestingly, the SHIB network hosts the second-highest number of whales. In contrast, Dogelon Mars [ELON] has a significantly higher whale concentration, standing at 75%.
Also Read: Shibarium Daily Transactions Soar to 177K: What's Next for Shiba Inu?
Will PEPE outshine the dogs on the crypto block?
There are several factors that come into play here, starting with token supply. Shiba Inu holds the highest total supply with one quadrillion tokens, followed by Dogecoin with an unlimited supply that increases by 10,000 coins per minute. PEPE has a fixed supply of 420.69 trillion tokens. It is essential to note that a cryptocurrency's value is influenced by factors like demand and market sentiment as well.
The launch of Shibarium has expanded the utility of Shiba Inu. The network has been striving to shed its image as a meme coin and instead focus on its potential real-world applications. Elon Musk has been making similar efforts with Dogecoin, but these endeavors have yet to yield significant results. Nonetheless, Dogecoin is widely embraced and utilized as a prominent form of payment at numerous locations. In contrast, PEPE has a defined roadmap. However, recent disruptions within the network have led many to question the project's credibility.
Dogecoin, Shiba Inu, and PEPE are quite different from each other. In the end, the fate of these meme coins hinges on their capacity to maintain their user communities, successfully bring their products to fruition, and adjust to evolving market dynamics.