Dogecoin [DOGE] took the front stage this year as Elon Musk's Twitter acquisition plan went about in full swing. The mere news of Musk emerging as the largest stakeholder of DOGE pushed the asset's price upwards. This was further followed by multiple surges as Musk's Twitter collaboration took multiple turns. Despite bagging gains throughout the last couple of weeks, DOGE witnessed a massive drop pushing its price earthward.
The recent crypto carnage cannot go unheeded. The entire market was painted red with Bitcoin [BTC] dropping to a low of $27k. The bear did not spare anyone, not even the dogs in the crypto market. Dogecoin witnessed a daily drop of 32 percent while its price plummeted to a low of $0.073 at press time.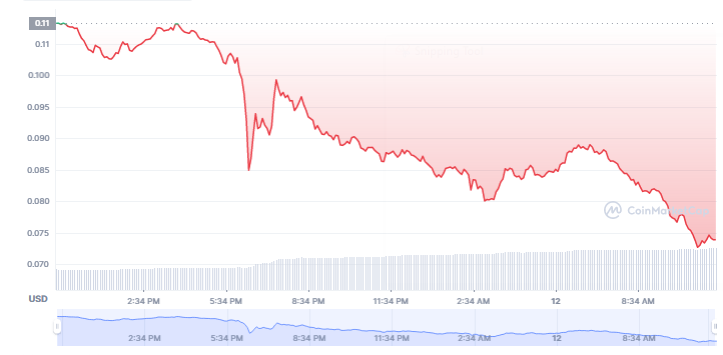 As seen in the above chart, Dogecoin nosedived from a high of $0.10 to a low of $0.07 within 24-hours. This significant price drop further pushed DOGE nearly 90 percent away from its all-time high of $0.73.
Billy Markus the co-founder of the DOGE network, took to Twitter and unleashed his witty self. He tweeted,
The crypto crash has certainly induced fear in the community. However, several prominent members of the industry have been urging the community to stay calm as losing money was a part of trading in the industry.
Dogecoin whales are on the move
The Dogecoin network witnessed the movement of millions of DOGE over the last 24-hours. From 4 to 139 million, a number of Dogecoins have moved around.
Just yesterday, it was revealed that Robinhood entailed about 30.90 percent of the Dogecoin's circulating supply. This number could have witnessed a slight change following the numerous whale movements.
The sudden rise in whale movements paved the way for an array of speculations. Some suggested that these whales were panic selling as the meme crypto attained another zero. A few others, however, presumed that these whales were trying to boost the altcoin's price as it encountered a massive downfall.