Dogecoin's NVT ratio has been hovering around its all-time highs of late. Over the past few months, a series of spikes have been registered on this front. Interestingly, in most instances, the price has reacted in a similar way. So, in this article, we will be analyzing the trend and chalk out what can be expected from DOGE this time around.

Also Read: Shiba Inu Whale Outflows Rise 250%: Will SHIB React?
The Dogecoin NVT-price trend
Before proceeding further, it is essential to note that NVT Ratio compares the network value to the transactional value. A rising number usually means the value on-chain value being transferred is not able to outpace the value of the network.
Dogecoin has registered 4 NVT spikes over the past year. The fifth was created at the beginning of this month. This is how DOGE's price reacted in every situation:
On May 23, 2022, when the NVT spiked, DOGE first depreciated by 44% and then rallied back by 58%
On August 1, 2022, when the NVT spiked, DOGE initially shed 8% of its value and then bounced back by 37%
On December 5, 2022, when the NVT spiked, DOGE dropped by 41% first and then rose by 51%
On May 1, 2023, when the NVT spiked, DOGE initially dipped by 33% and then rallied by 35%
Thus, the trend is pretty obvious. Every NVT peak has triggered DOGE to first drop in value, and then rise back harder. The latest peak was registered on July 3. Thereon, DOGE registered a 7% correction. In fact, the uptrend has also kickstarted, with DOGE rising by 8.2% a day back, and 0.5% so far today. Barring one instance, all downticks have hovered in the 33%-44% bracket. Upticks, on the other hand, have ranged between 37% to 58%. Thus, if history repeats itself, then DOGE's price can be expected to continue rising and register double-digit gains eventually.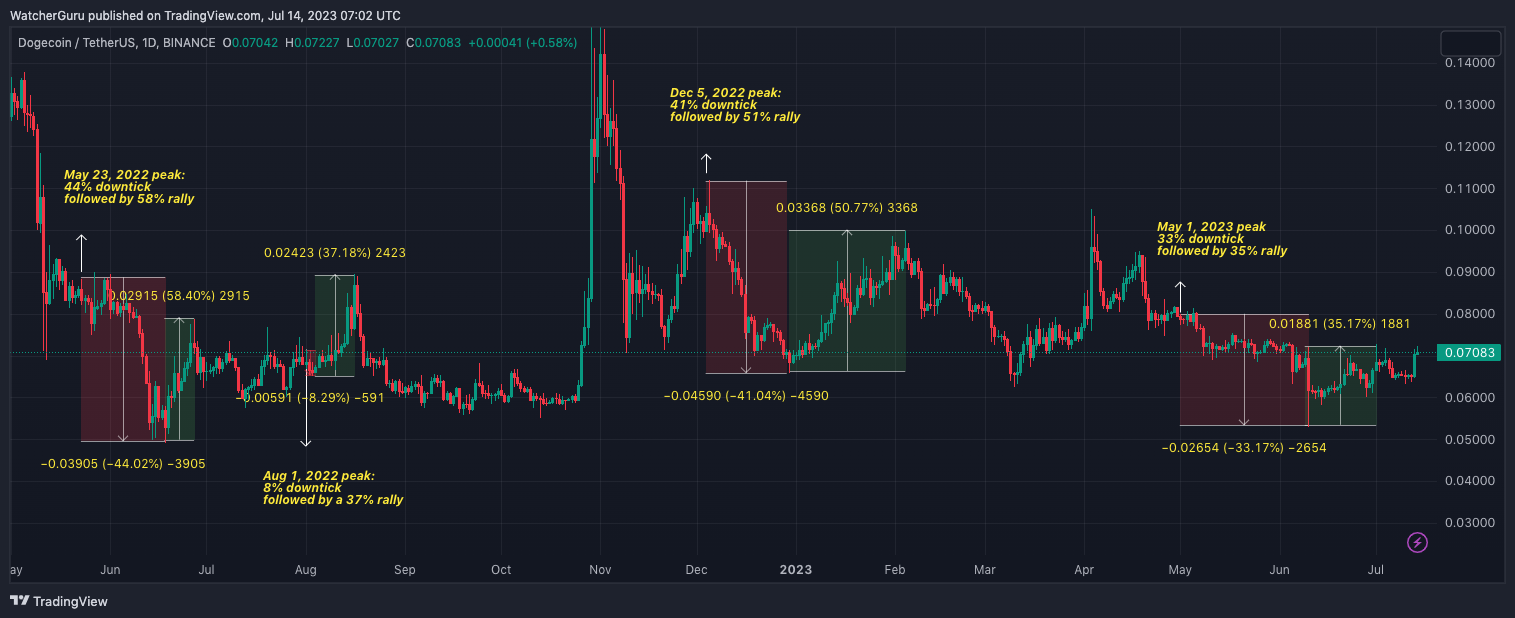 Also Read: Bitcoin: This Could Be Investors' 'Golden Chance' to Buy BTC