Despite the latest consolidation phase, a host of large and mid-cap assets have been flashing borderline gains on the weekly and other long-term timeframes. Shiba Inu is currently one such asset. From its June trough of $0.00000543, SHIB is already up by around 37%. During that period, Shiba Inu's MVRV ratio started inclining. From its mid-June lows of around 0.3, this ratio is already at the brink of 0.4. An MVRV ratio uptrend usually indicates that the market cap is outpacing the realized cap. So, the latest uptick essentially pointed towards the increasing motive to sell in the market.

Parallelly, whale outflows, or sell transactions, have also registered a huge spike. Just over the past week, this metric has registered a 242.56% hike. Parallelly, the inflows, or buy transactions, have been falling. In the same period, they have slashed down by 66.25%. As a result, the net flows are in negative territory. At press time, this metric was around its one-month low and flashed a value of -1.45 trillion SHIB, highlighting how bearish whales are dominant at the moment.

Also Read: Bitcoin: This Could Be Investors' 'Golden Chance' to Buy BTC
Shiba Inu price
From a technical perspective, Shiba Inu has two immediate resistances that could hinder the price from rising. One is around $0.000008 and the other is around $0.0000089. It is quite pivotal for SHIB to convert them into supports, for an uptick to materialize. In mid-June, after SHIB pull off a resistance-support flip, the token rallied by 20%.
However, this time around, bulls will have to enforce more strength. Once SHIB breaks above the aforementioned hurdles, another wave of profit booking could take place. From the on-chain perspective, the SHIB's biggest resistance cluster lies between $0.000008 to $0.0000014. Here, around 411,860 addresses have bought a total of 219 trillion SHIB tokens. Hence, if the asset tries to climb higher, investors who break even will be triggered to exit. Thus, bulls parallelly have to do some heavy lifting to avoid any major damage.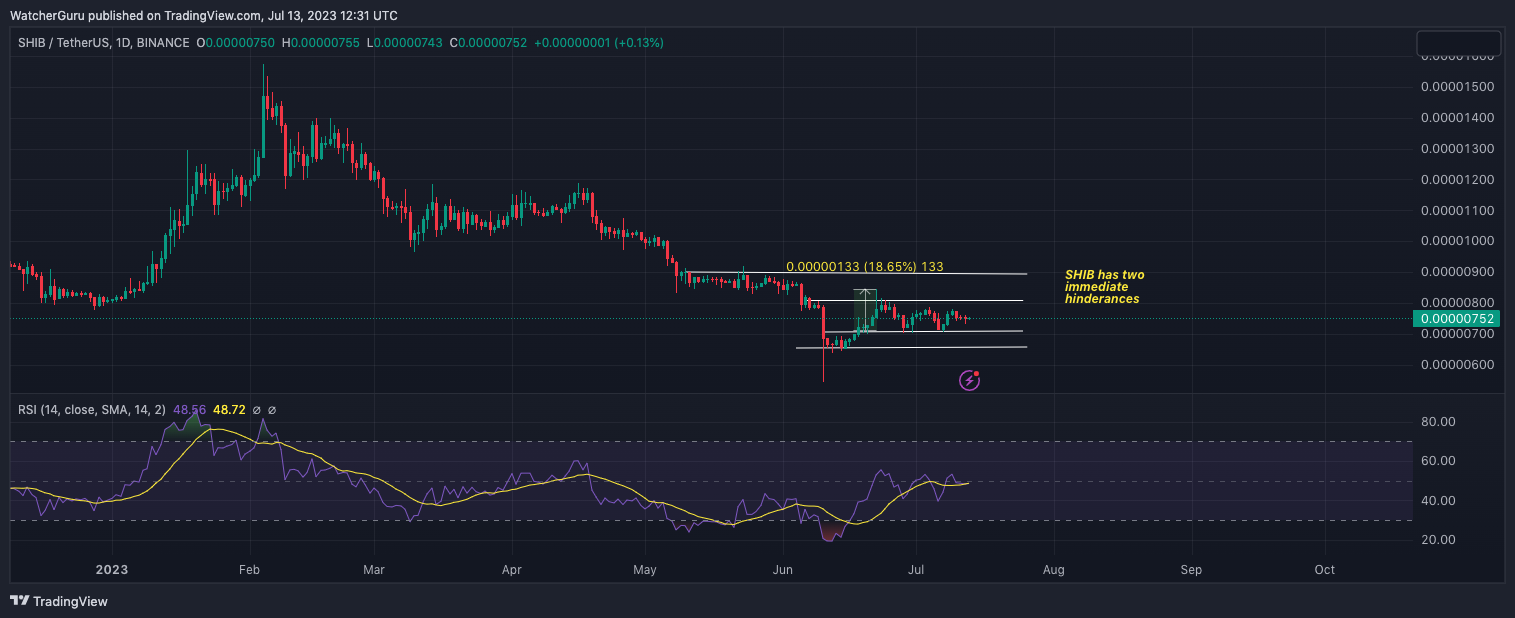 Also Read: Spot Bitcoin ETF 'Rejections' Might Not Stop BTC's Bull Run: Why?