Elon Musk's Twitter deal is back on the table. Just a day back, the social media giant confirmed that it received Elon Musk's $44 billion offer, as he intends to wind up the acquisition at $54.20 per share.
Read More: Elon Musk Proposes to Buy Twitter for $54.20 a Share
While top coins have mostly posed 1-2% recoveries over the past day, DOGE is up by 7% in the same timeframe. The community has touted the said gesture to be Dogecoin's validation of Musk's deal. With a market cap of $8.5 billion at press time, the largest meme token conveniently stood at #10 on the rankings chart, ahead of MATIC [$7.2 billion M.Cap] by a fair margin.
Weighing in the ongoing Dogecoin trends
A recent tweet by Santiment brought to light that whale transaction count (>100k) had noted a sharp spike on 4 October. As illustrated below, the reading of the said metric reflected a value of 85. Alongside, the average exchange funding rate also created a local peak, indicating that participants have been "ultra-long" on Dogecoin.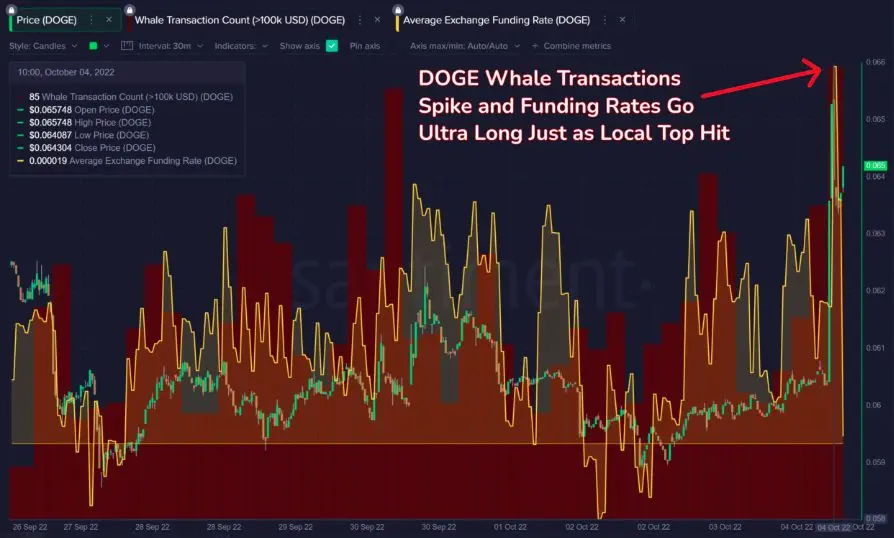 Alongside, the number of social mentions and engagement on media platforms has risen sharply over the past day. At press time, there were over 49k Dogecoin-related social mentions. The engagements stood at a much higher level, at 130.1 million—bringing to light the community's enthusiasm.


On the price front, the next major hurdle for Dogecoin lies in the band between $0.06828 to $0.1274. In the said cluster, over 353.4k addresses purchased approximately 60.8 billion DOGE tokens. So, until the price reaches the said range, Dogecoin technically has upside room to rally. More so, because 64% of the total addresses are in loss, or out of their money, at the current prices. And only when they break even, will they get an incentive to sell.

Also Read: Dogecoin whales accumulate 620 million DOGE tokens