The very loyal Dogecoin was once again seeing its value ride higher with Tesla adding it to the payments option to buy merchandise. The news was revealed on Friday and it fetched DOGE at least 11% gains. While the community was over the moon with this addition by the CEO of Tesla, Elon Musk, some traders were robbed of their estimated profits.
Short traders not thrilled
Dogecoin's value was slipping lower every past day of 2022 until today. The asset had dropped by 21% since 1st January and was trading at the lowest value of $0.1371 till 10th January. However, as other meme coins like Shiba Inu trended upwards on the back of the Robinhood listing speculation, it took Dogecoin with it.
This change in price direction offered more support for today's news about Tesla, and the digital asset has surged by at least 50% in the past four days. This sudden U-turn in price hit short traders, who were expecting the coin to slump further.
As per data provided by Coinglass, 93.66 million Dogecoin was liquidated across various exchanges within the past 24 hours.


This was equivalent to $17.71 million. Short liquidations were close to $9.43 million whereas long liquidations were at $8.28 million. This meant that 53.24% of the liquidations stemmed from short traders who were hoping the asset to drop further in value.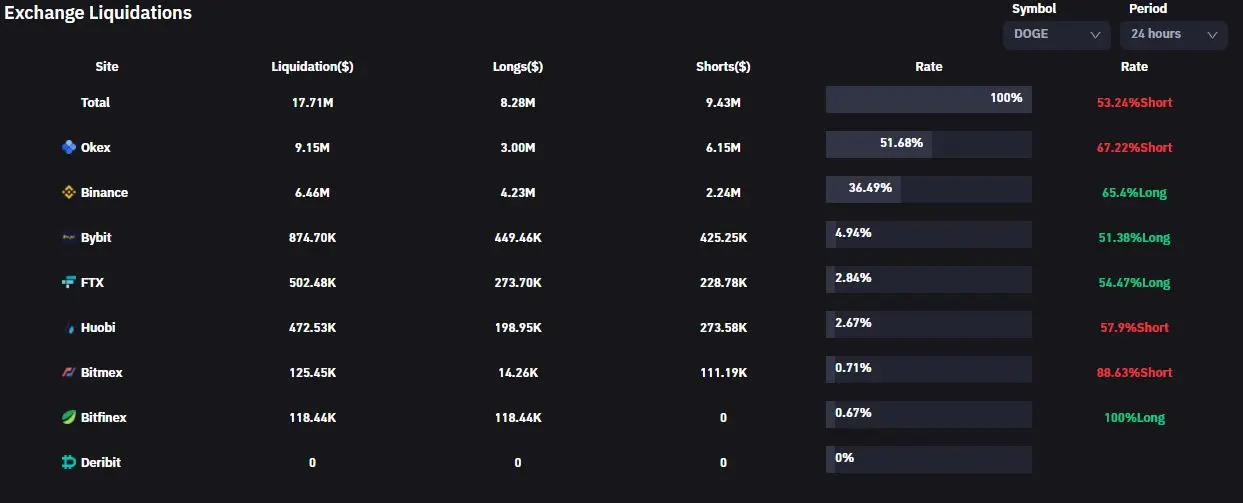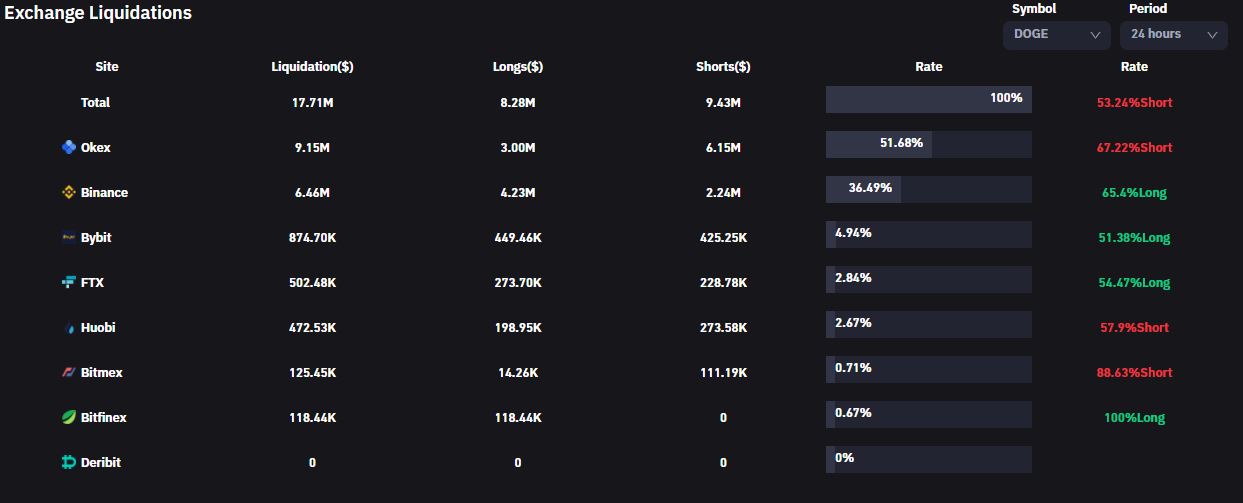 Reportedly, futures products tracking DOGE on OKEx saw over $7.71 million in liquidations, while similar products on Binance saw $2.75 million in liquidations.
Dogecoin following roadmap?
In December, the Dogecoin foundation revealed a roadmap or trail map, as they like to call it. It noted that the project will see some serious changes taking place to move away from the joke crypto image as it joins brands like Tesla.
This first serious attempt towards Dogecoin's developments included eight new projects that are yet to launch. It included LibDogecoin and GigaWallet, among others. Cofounder Billy Markus noted at the time that they were looking at early integrators and will help them in laying a solid foundation. Meanwhile, other projects will target improving transaction throughput and scale.
As DOGE moves on to a new journey set to impact its utility, the traders may have to tread carefully and keep note of the added features.