The new week has brought in new hope along with it. Traders and investors expect to see a break-out in either direction in the days to come. At press time on Monday, the crypto market pendulum was more inclined toward the bullish side. The aggregate capitalization was seen inching towards $1.2 trillion, owing to a 2.15% bump over the past 24 hours.
Dogecoin was one of the many beneficiaries of the broader recovery. At press time, it was trading at $0.07325, up by more than a percent on the daily.
A lot of Dogecoin-related shuffling has been taking place of late. A large participant transferred DOGE tokens in 8 batches containing 680 million tokens each recently. One set was worth around $50 million. Around the same time, Robinhood's Dogecoin holdings have depleted from 24% to 16%. In fact, a few hours back, another significant DOGE transaction involving around 620 million DOGE took place.
Usually, shufflings from one wallet to the other do not impact the price of the asset. Only big buy-sell transactions rub off on the price. Latest data from ITB suggested that large transactions worth $100k and beyond continue to hover in the $1 billion to $2 billion bracket. This means that participants are actively taking part in the market. Since these transactions involve both buy and sell side ones, a breakout in either direction can be expected next.
Also Read: Shiba Inu: AI Predicts SHIB Price For June 1, 2023
Bollinger Bands width narrows
Another technical indicator, the Bollinger Bands, supported the said narrative. Usually, the distance between the bands expands during periods of volatility. On the other hand, the gap shrinks when the market is characterized by deficit volatility. To be more precise, wide widths imply that the ongoing trend, may it be bullish/bearish, is concluding. Conversely, a narrow width suggests that a sharp move in either direction could transpire.
As shown below, DOGE's BBs have recently tightened. At press time, the width between them was at a multi-year low of 0.06. Thus, a volatility explosion in the DOGE market can be expected to transpire soon.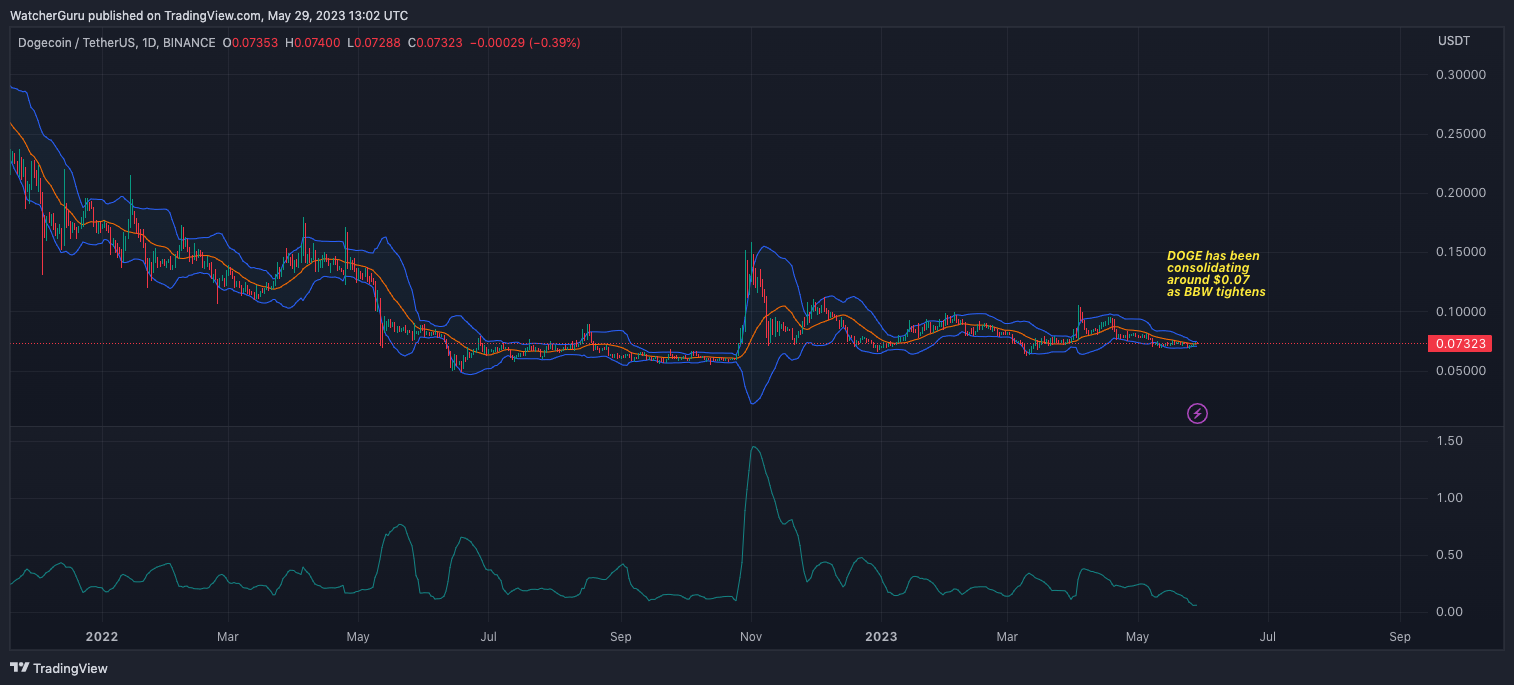 Also Read: Shiba Inu: Coinbase Burns 200 Million SHIB Tokens