Tesla CEO and Twitter owner, Elon Musk, has allowed the Dogecoin (DOGE)-focused handle "DogeDesigner" to visit the headquarters of the social giant. However, Musk said that the visit would cost the individual a fee of 3 DOGE, or $0.23136 at current rates.
DogeDesigner took to Twitter and said that they will be visiting the U.S. for SpaceX's Starship launch. The Dogecoin-centric Twitter handler said that they would like to visit the social media giant's offices during their time in the U.S. However, one Twitter team member told the individual that they would need Musk's permission to do so.
Now Musk's response may be a joke, as $0.23136 is an insignificant amount for visiting the offices of a tech company. Nonetheless, the billionaire has never missed an opportunity to show love to the original memecoin. Musk has been quoted multiple times, saying that Dogecoin (DOGE) is his favorite cryptocurrency.
Dogecoin to rally after Elon Musk's tweet?
Elon Musk's Dogecoin-centric tweets have often led a rally for the canine-themed cryptocurrency. DOGE's price has rallied by up to 9.9% in the last seven days. Moreover, the token has rallied by 1.9% in the last 24 hours. Bitcoin (BTC) on the other hand, has fallen by 1.5% in the last 24 hours.
DOGE currently faces resistance at $0.07834, and support has been formed at $0.07116. The popular memecoin seems to be in a sideways trajectory at the moment, in the 4-hour charts. The token has formed an ascending triangle, which may lead to a possible bullish price breakout. DOGE is already trading close to its current resistance level. Therefore, a fresh rally could be in the cards.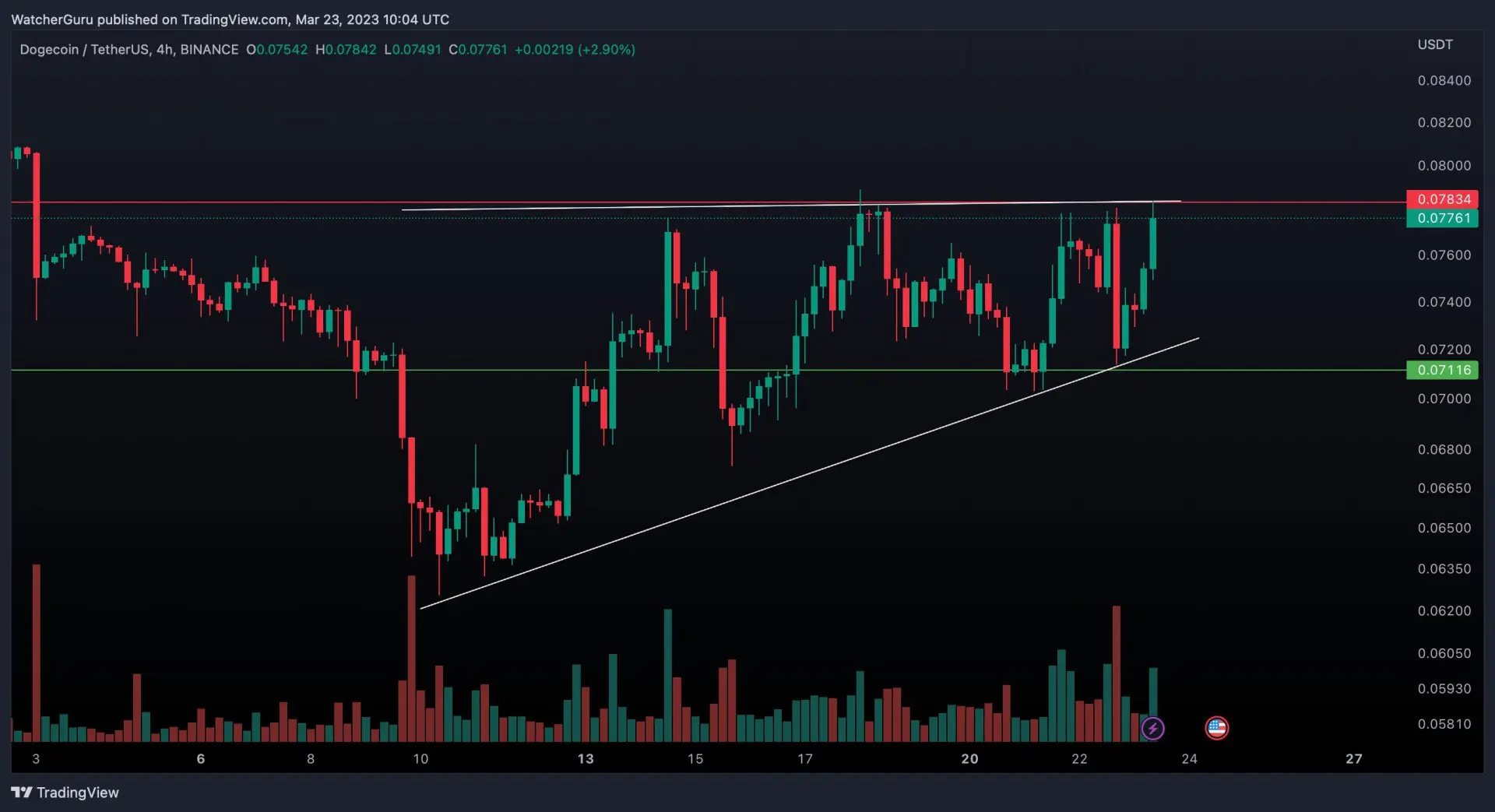 At press time, Dogecoin (DOGE) was trading at $0.077120, up by 1.5% in the last hour. Nonetheless, DOGE is still down by a whopping 89.33% from its all-time high of $0.731578, attained in May 2021.