This morning Tesla CEO Elon Musk posted a picture on Twitter of himself and his son from last year's Thanksgiving. Musk put the caption "Thanksgiving last year after watching one too many episodes of Vikings." Dogecoin (DOGE) UI/UX designer, "DogeDesigner" replied to the picture by asking Musk for a picture of his dog. Musk replied, "Floki pic tomorrow."
For those who don't know, Musk has a pet Shiba Inu dog named Floki. After his Tweet, the Floki Inu (FLOKI) crypto project began rallying. The token surged by almost 16%. Its price shot up from $0.00001293 to $0.00001637 in a matter of a few hours. Additionally, FLOKI is up by 56.5% over the last seven days, and up by 132.7% in the last two weeks.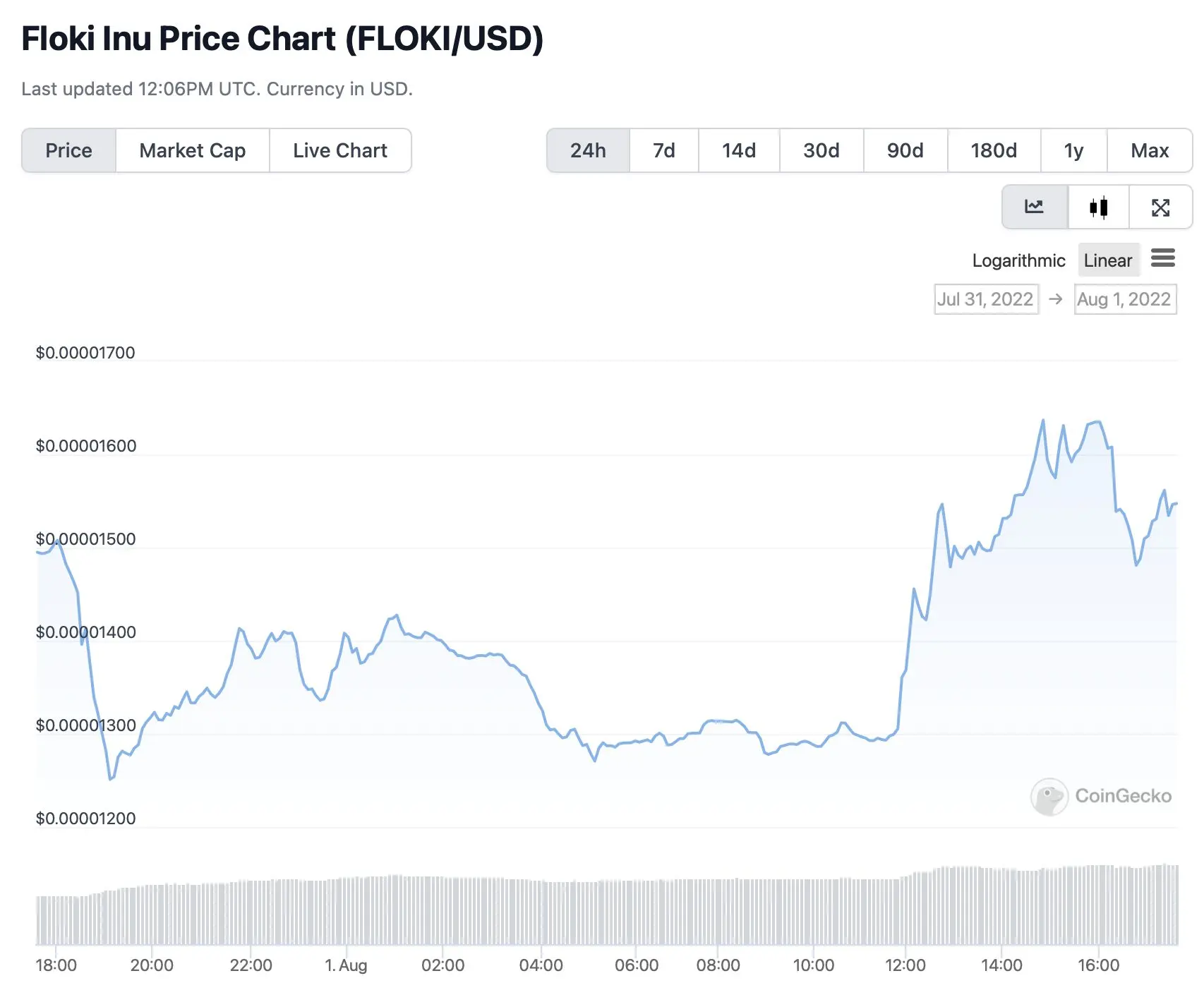 Many would have expected Dogecoin (DOGE) to be the coin to rally, but to the surprise of many, it was FLOKI. Musk is one of the most influential Dogecoin proponents out there. A mere mention of a project by Musk leads to the price action of the same. Thus, taking the "Floki" name on Twitter has led to the project's rally. People have often taken Musk's Tweets very seriously, especially when it comes to crypto projects.
Earlier today Dogecoin creator, Billy Markus took to Twitter and said that it is trendy to dislike Elon Musk in today's time, hence to keep his "cred" he will have to dislike the billionaire too. Musk replied by saying that the media is driven by clicks, and he generates a lot of clicks, thus the situation cannot be helped. Nonetheless, when readers get bored of reading negative narratives about him, things will change.

At press time, Dogecoin (DOGE) was trading at $0.068715 down by 2.7% in the last 24 hours. While Floki Inu (FLOKI) was trading at $0.00001540, up by 3.5% in the last 24 hours.