Most alts, including Shiba Inu, have seen wayward movement this week as Bitcoin attempts a recovery above $38,000. While retail traders continue to offload their tokens amidst market uncertainties, whales have identified good opportunities to buy the Shiba dip.
Data from Whalestats showed that the top 1000 Ethereum wallets purchased over $88 million worth of SHIB tokens over a 56-hour window. The largest amount of SHIB purchased by a single wallet totaled a massive $39.3 million. Interestingly, the same wallet looks to have gone all-in on Shiba Inu, as the meme token now comprised more than half of the users' crypto holdings. Another top ETH wallet purchased $34.1 million worth of SHIB tokens in the same window.
READ ALSO: Shibnobi: SHINJA amasses 50k holders as price soars by 50%
Other data from Whalestats showed that Shiba Inu was scoring well. Its daily active addresses among the top 100 SHIB holders saw a 14% uptick while net flows skyrocketed by 75% to $6.6 million. The average Shiba Inu balance in these top wallets stood at $2,647 Billion at the time of writing.
Short-term Burst Incoming?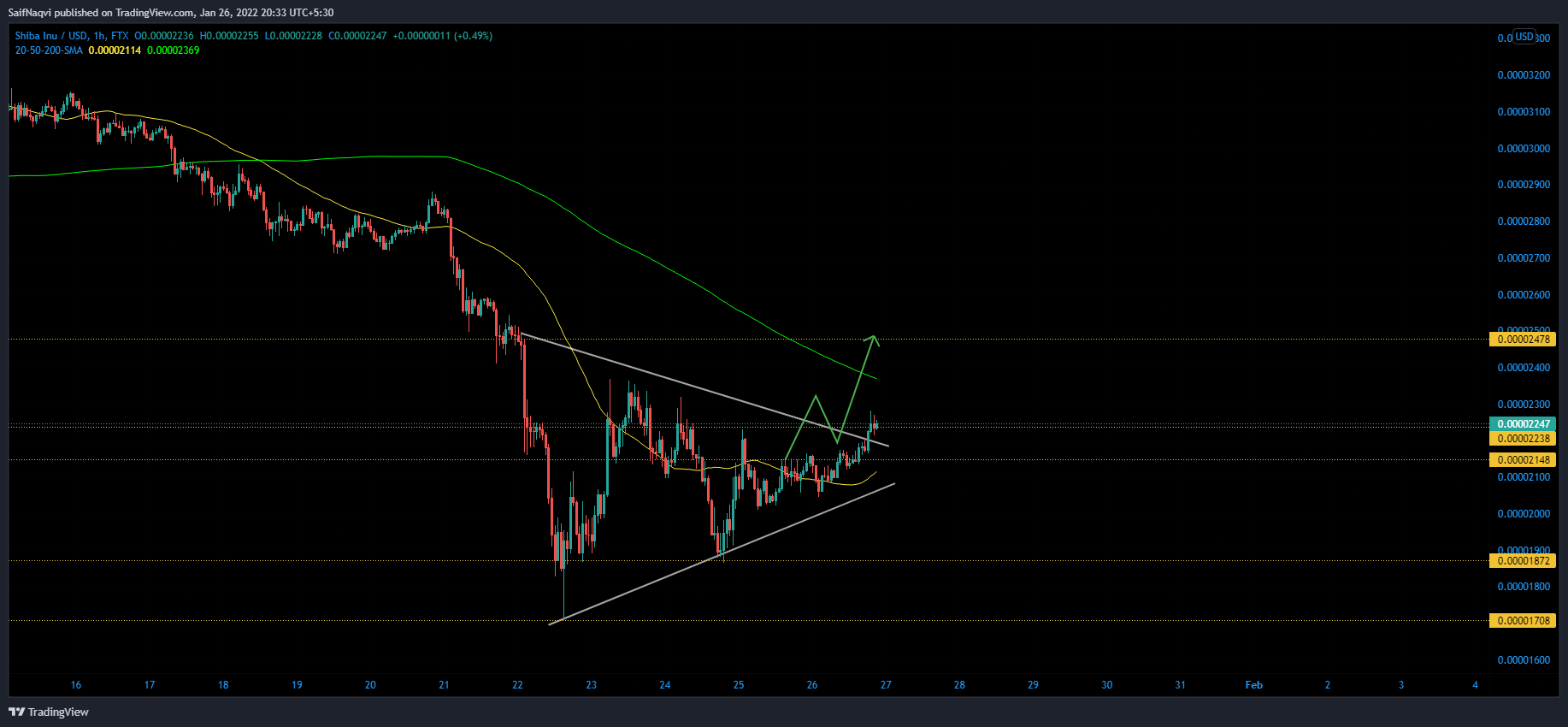 Whale purchases often act as precursors of an incoming price. As long-term investors set up large buy orders, bullish precedence is established for other short-term traders to get in on the action. Now, at press time, SHIB was grappling with some selling pressure after failing to capitalize on a 20% hike seen between 24-25 January. However, a symmetrical triangle breakout was currently in effect and SHIB was expected to progress further on the chart.
READ ALSO: Ethereum alternatives, Shiba Inu donations, and more: Vitalik Buterin
From announcing a new metaverse to a possible Netflix movie, it's been a busy week for Shiba Inu. While some question marks surround its near-term price action, whale purchases have definitely set the stage for a recovery over the long run.