In recent years, the Turkish lira has gained notoriety for its volatility among fiat currencies. This has further sparked an increasing demand for stablecoins linked to the lira. Now, Lira-backed TRYB has experienced a remarkable 325% surge in its market capitalization within just three weeks. This has further led to the asset establishing itself as the world's second-largest stablecoin not tied to the US dollar.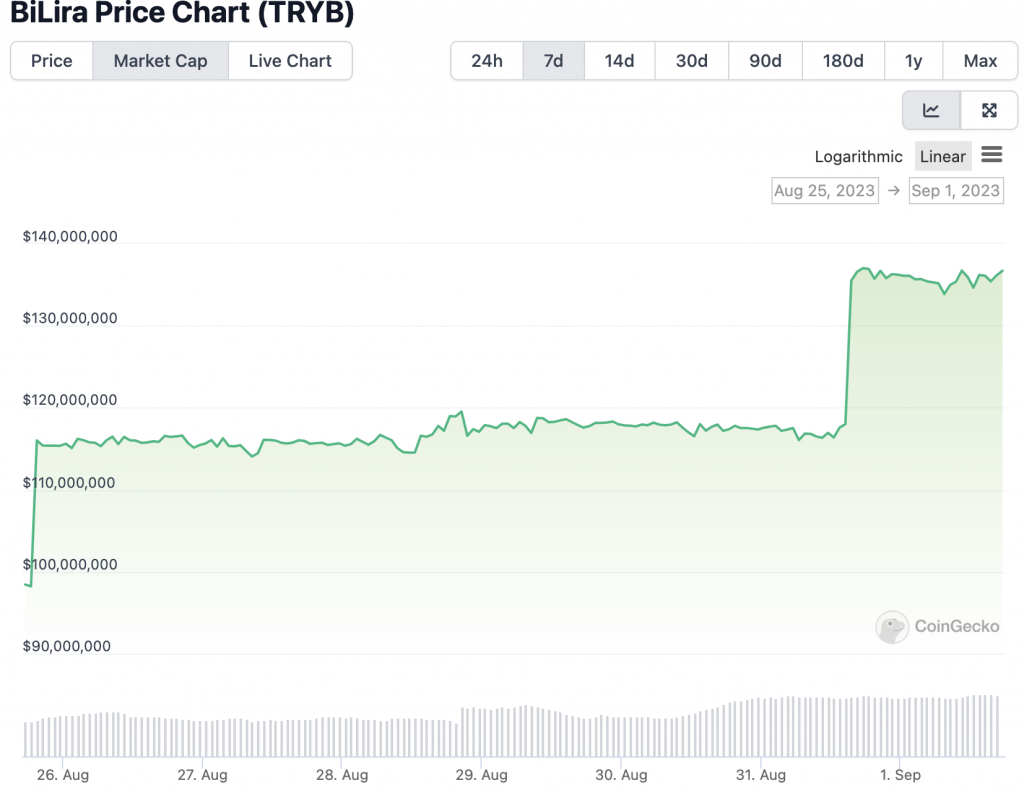 TRYB, an Ethereum-based stablecoin, is meticulously anchored to the lira at a 1:1 ratio. It is issued by BiLira, a Turkish fintech company, and boasts the distinction of being fully backed by 100% fiat reserves held within Turkish banks.
Here's why TRYB has garnered increased popularity
The surge in TRYB's popularity can be attributed to several key factors. Firstly, the Turkish lira's consistent depreciation against the US dollar has made it challenging for Turkish citizens to preserve their wealth in fiat currency. TRYB offers a solution by serving as a hedge against lira volatility, in addition to providing the advantages of cryptocurrencies, such as round-the-clock accessibility and seamless cross-border transferability.
According to a recent report, Turkish crypto investors surged by 12% To 52% in the last 18 months. This was from Nov. 2021 to May 2023.
Secondly, the Turkish government's stringent regulatory stance on cryptocurrency exchanges has created hurdles for local investors seeking to trade digital assets. In contrast, this Ethereum-based asset operates outside the scope of these regulations.
Lastly, TRYB's inclusion on major cryptocurrency exchanges has significantly increased its accessibility to Turkish investors. This has contributed significantly to its rising popularity in the region. Over the last day, the trading volume for the USDT/TRY trading pair, available on Turkey's largest cryptocurrency exchange, BtcTurk, has amounted to $12.3 million. This further constitutes 18% of the overall trading activity on the exchange. In stark contrast, the cumulative trading volume for the Ethereum-based asset's trading pairs listed on MECX, Pangolin, and Icrypex barely reaches $61,700.
Also Read: Bitcoin Hits 'All-Time High' in Argentina, Turkey: Egypt Next?
TRYB Market Cap Isn't Very Stable
The fluctuating market capitalization of TRYB has raised certain concerns within the cryptocurrency community. Nonetheless, BiLira has emphasized that the periodic minting and burning of tokens are essential measures to uphold the stablecoin's stability. Additionally, the company has expressed its commitment to enhancing the liquidity of TRYB on various cryptocurrency exchanges.
ChainArgos brought attention to these events on social platforms, emphasizing the curious timing of the adjustments made to TRYB's supply.
The progress of TRYB underscores the escalating desire for stablecoins in Turkey. With the ongoing depreciation of the lira, it is increasingly probable that a greater number of Turkish individuals will opt for stablecoins as a means to safeguard their wealth and capitalize on the advantages offered by cryptocurrencies.
Also Read: Turkey's Central Bank Raises Interest Rates to 17.5%