In the midst of Turkey's ongoing economic crisis, the government has been implementing measures to stabilize the country. As part of this effort, the country's central bank, led by Governor Hafize Gaye Erkan, decided to moderate its pace of interest-rate increases. As a result, the Monetary Policy Committee raised the interest rate from 15% to 17.5%.
The recent 250 basis points increase in interest rates was lower than analysts' predictions. In a recent survey, analysts unanimously expected a rate hike, but their individual predictions varied, with the median estimate around 18.5%. On the other hand, local businesses were anticipating a higher increase. A poll conducted by the central bank showed expectations of a rate hike to 20%.
Only a month ago, Turkey raised its interest rate for the first time in more than two years. This move was prompted by Turkish President Recep Tayyip Erdogan appointing policymakers, committed to addressing the ongoing inflation problem and tackling it.
Turkey has been reducing its policy rate from 19% in late 2021 to 8.5% by March 2022. However, as inflation surged, reaching over 80% in late 2022, the country took measures to address the issue, resulting in a decrease in inflation to just under 40% by June. Addressing the same, the central bank said,
"The committee decided to continue the monetary tightening process in order to establish the disinflation course as soon as possible, to anchor inflation expectations and to control the deterioration in pricing behavior."
Also Read: Turkey's Central Bank Pushes Interest Rates to 15%
Turkey: Turkish lira dips
Following the announcement, the Turkish lira experienced a decrease of about 0.5% against the dollar. The exchange rate stands at 26.92 lira to the U.S. dollar. Just a few days prior, the lira had reached a new all-time low of 26.9 against the dollar.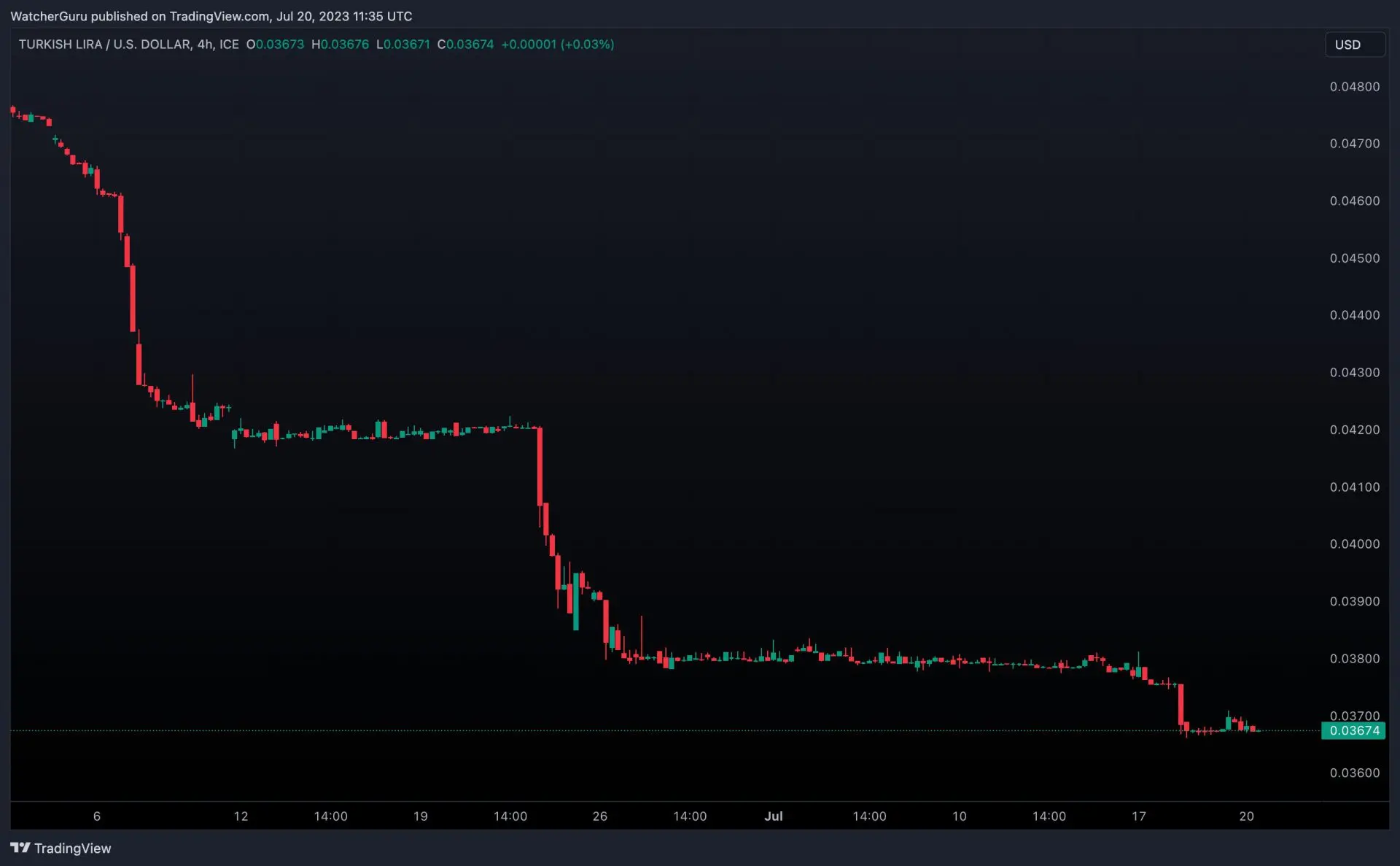 In addition, the Turkish currency experienced a significant depreciation this year. Its value declined by more than 30%, making it the most substantial devaluation among emerging markets, second only to Argentina's peso.
Also Read: Bitcoin Hits 'All-Time High' in Argentina, Turkey: Egypt Next?