When Lido enabled Staked ETH (stETH) withdrawals a few days ago, many expected a large withdrawal queue. However, a different outcome has panned out. Ethereum (ETH) deposits on Lido have reached an all-time high of 6,373,289 ETH, worth $11.5 billion. Based on user behavior, it seems liquid staking has investment potential.
Nonetheless, the development does not mean that there aren't any withdrawal requests. According to Nansen, withdrawal requests have plateaued at around 450,000 ETH. These requests are yet to be processed. When the withdrawals actually go through, the total deposited Ethereum (ETH) on Lido decline as well.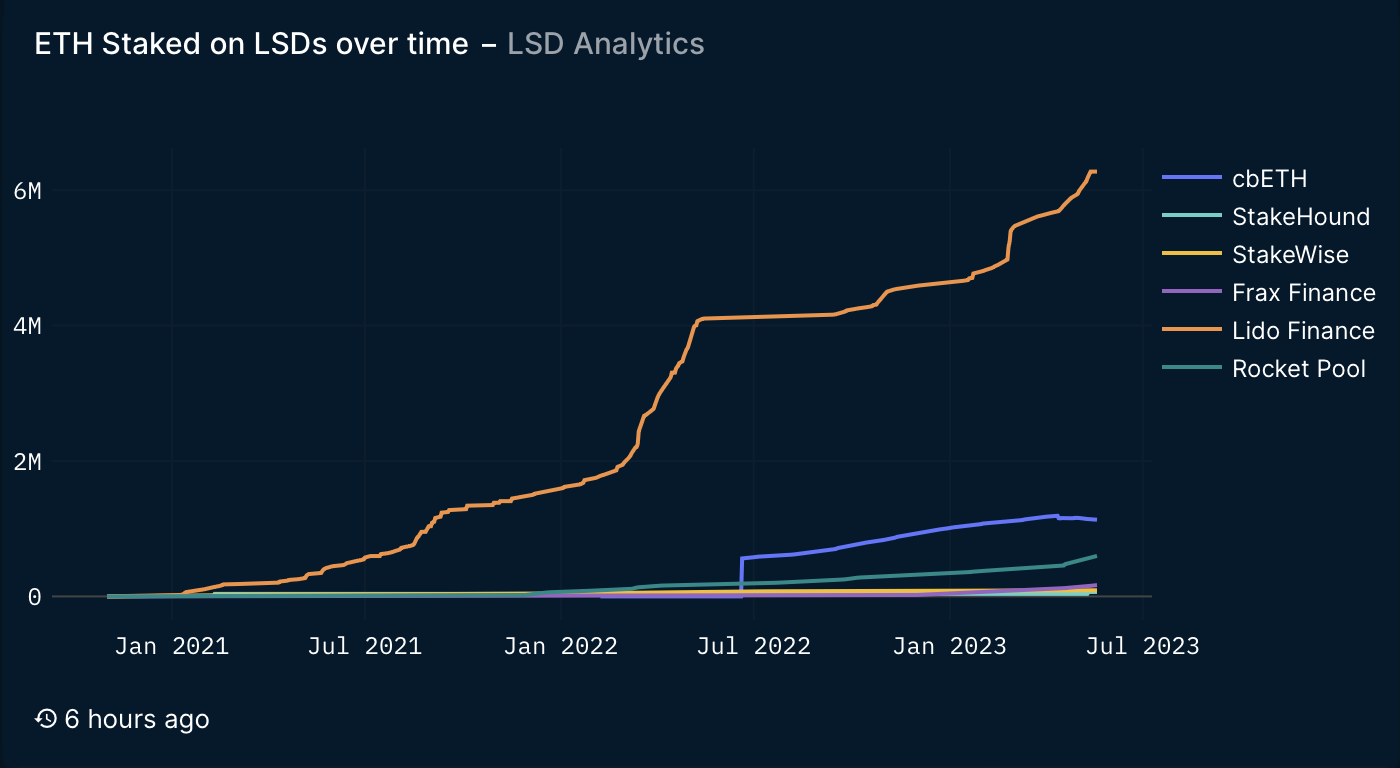 According to Nansen, Lido continues to be the largest liquid pool derivative protocol. Lido is followed by Coinbase in second place, and Rocket Pool in third.
Will Ethereum prices gain from the staking milestone?
Lido's governance token, LDO, is enjoying a rally at the moment. However, the token has fallen by 5% in the last 24 hours. The drop could be attributed to a community proposal for an LDO Token Staking and Buyback Plan. Nonetheless, the token is still up by 24.6% in the weekly charts.
stETH on the other hand witnessed a 2% spike yesterday, but the asset has fallen 0.9% in the last 24 hours. The spike may have been caused by the increased staking.
The biggest source of possible price suppression for Ethereum comes from withdrawals from stETH staking. The successful processing of stETH conversions will effectively free ETH from potential mass selling and withdrawal. Therefore, there is a possibility of Ethereum (ETH) benefitting from the development. However, with that being said, the larger crypto markets in general need to move ahead if ETH is to show some positive price action. With the U.S. Dollar strengthening, the crypto markets could potentially suffer as a result.
At press time, ETH was trading at $1,811.87, down by 0.7% in the last 24 hours.