The entire cryptocurrency market is currently painted green. Most assets have been pocketing notable gains throughout the week. Ethereum [ETH] had a significant week with Shapella. But several feared that ETH would plummet due to the increased number of withdrawals due to its staking protocol. However, in a new turn of events, ETH surged by 10% and pushed past $2,000.
A day after the much-awaited upgrade, ETH rose to a high of $2,126 from a low of $1,910. At press time, the largest altcoin was trading for $2,118 with a 10.34% daily increase.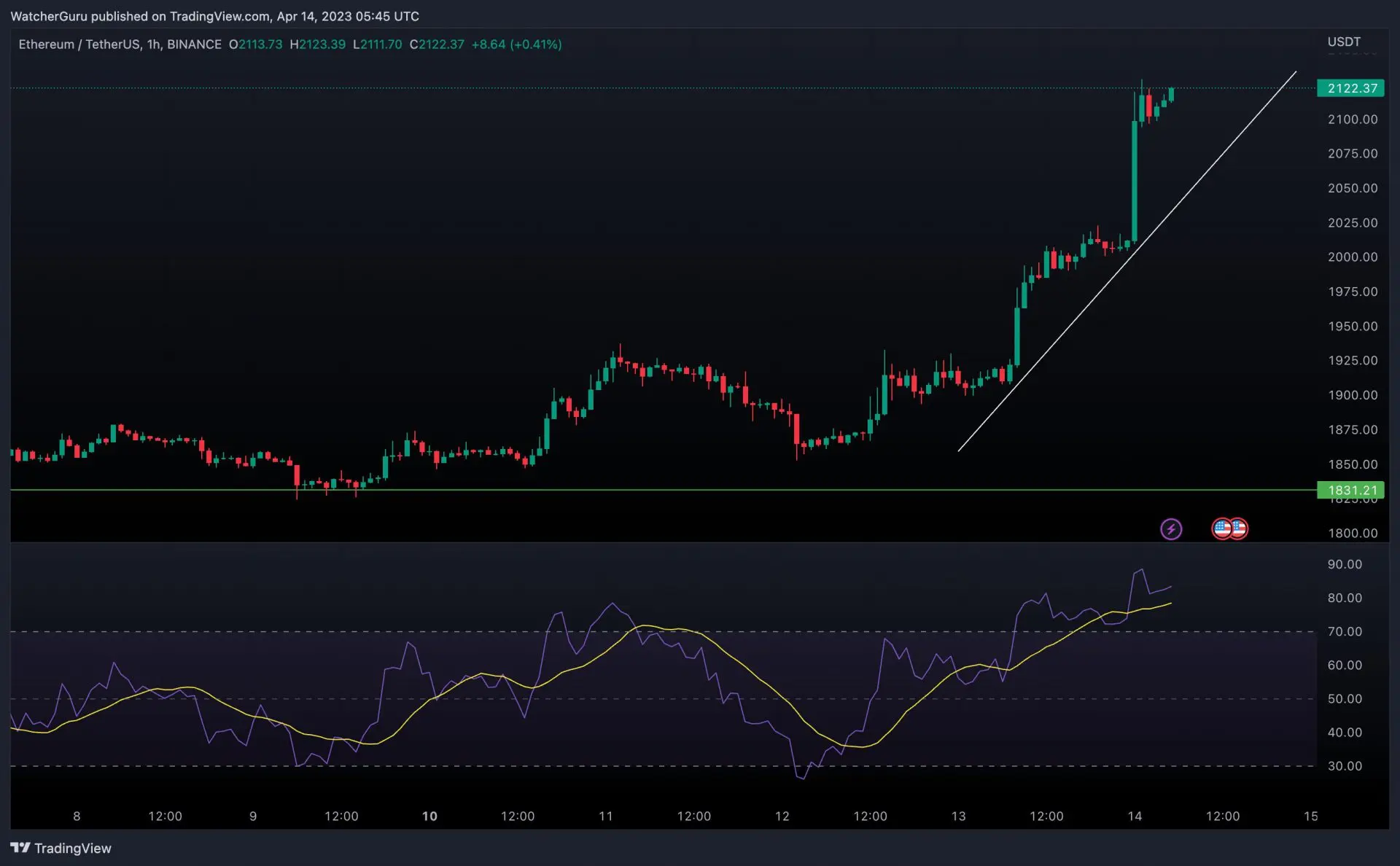 As seen in the above chart, the buying pressure in the ETH market was in sync with the asset's price. The Relative Strength Index [RSI] indicator highlighted how Ethereum was currently being overbought. The RSI marker was around 80 median, at press time. Furthermore, alongside the price, the market cap and trading volume of the asset were on an upward trajectory.
It should be noted that there is currently more than $2.2 billion worth of ETH waiting to be withdrawn. About 53,050 ETH, worth $111.81 million, is expected to be taken out over the course of the next 11 hours. This further places the daily average for ETH withdrawals at $223.54 million.
ETH rises by 10% despite privacy concerns
The community raised privacy concerns about Ethereum when a researcher at the Ethereum Foundation [EF] noted how the IP addresses of Ether stakers are tracked. This information is reportedly monitored as part of Ethereum's efforts to track a wide range of factors. During a recent Bankless podcast, Justin Drake, an EF researcher further said,
"There's a lot of metadata, you can look at deposit addresses, you can look at withdrawal addresses, you can look at fee recipients, you can look at IP addresses."
This created an uproar in the community. Several went on call out the network for being centralized. A few others even labeled Ethereum "the real surveillance coin."
Additionally, Ethereum's shift to proof-of-stake [PoS] caused quite a ruckus. The community bashed Ethereum for being immensely centralized. The latest revelation certainly built up steam around this notion.