For the first time since November 2022, Ethereum surpassed the $1.4k mark. Thanks to its 12% weekly incline, the asset was priced at $1411 during press time.
On the fundamental front, Ethereum recently scripted another record. The number of validators on its network surpassed the 500k benchmark on January 12.
After its network's shift to the PoS consensus mechanism, miners were replaced by validators. They essentially help in boosting the security of the network by making it more decentralized and less prone to attacks.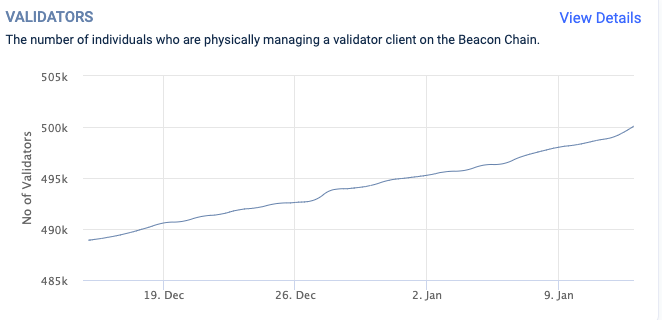 Also Read: ETH, ADA, SOL trigger "Altcoin Rally" but Investors should be Wary
To become a validator on Ethereum, one has to deposit 32 ETH. According to the latest data from CryptoQuant, the total value staked is currently on the verge of hitting the 16 million mark. The staked tokens are locked for now. However, they can be un-staked or withdrawn after the Shanghai upgrade. The same is slated to take place in March this year.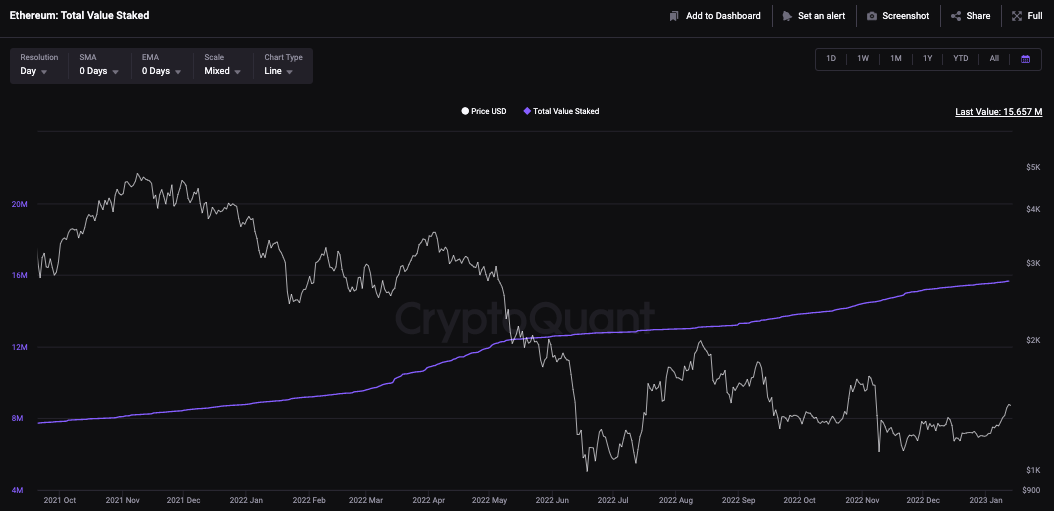 The rise in the number of validators and the amount staked is a positive sign for Ethereum, for it implies that the network is on track to become more decentralized. Meanwhile, as far as other metrics related to decentralization are concerned, there are a total of 11,439 physical nodes at the moment. Notably, network participants span over 80 countries.
Also Read: Why Is The Crypto Market Rallying Today?
State of Ethereum Validators Post Merge
A recent Twitter thread by analyst Dan Smith showed that the validator revenue diversification has helped Ethereum cater to the inflation issue. Alongside The Merge, other recent upgrades, including EIP-1159, intend to make the price of the asset deflationary with time.
As illustrated below, validators have explicitly earned around 62% "real revenue" via fees, burns, and payments post The Merge. Despite being in a bear market, the analyst noted, Ethereum has seen a "near zero net issuance" and has accrued positive value to stakers, making it another set of positive takeaways.
Also Read: Ethereum Remains 'Quiet': Should Investors Be Concerned?