A whale recently sold 10,600 Ether worth $17.2 million. Even though the whale has an overall profit of $10.8 million on ETH, he suffered a $2.9 million loss on the latest transaction. Lookonchain pointed out that the whale's success rate was 22%. Out of the 18 tokens traded, merely four fetched him positive ROIs. He lost nearly $5 million by trading two other tokens.
When it comes to Ethereum, why is the whale selling instead of accumulating? Is he sensing a price dip? In this article, we will delve into the market conditions and analyze what to expect from ETH going forward.
Also Read: Ethereum is Down 30% Against Bitcoin As Vitalik Buterin Moves 600 ETH
Ethereum Trader Interest Wanes
Traders are gradually exiting the ethereum market at the moment. The open interest is currently at a 13-month low. This indicated that traders are cautiously trying to shield themselves from losses by stepping back.
When the OI was this low last time, it proved to be a boon for Ether. As shown in the chart below, the price of the asset consolidated for a couple of weeks before bouncing back and creating a local high. This was achieved with the help of renewed interest.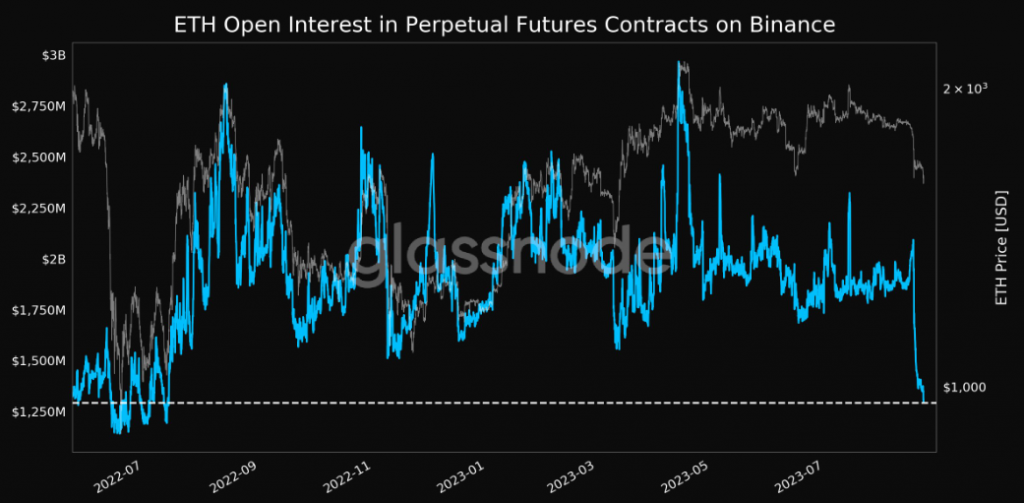 Also Read: Ethereum: Whale Dumped $41 Million ETH Before Crypto Market Crash
Furthermore, Ethereum's MVRV has been declining for more than a month. At press time, it flashed a 5-month low of 1.145. In 2023, this metric has hovered in the 1-1.2 range thrice. The first dip was registered during mid-February. After dropping to a low, the MVRV sprung up, helping the price recover alongside.
That second time, in mid-March, the MVRV dropped below 1.1. However, it did not sustain there for long. It swiftly bounced back and helped Ethereum's price rise from $1368 to $2142 over the next five weeks. The third time the MVRV dipped around mid-June, but eventually, ETH was able to rise from $1626 to $2029 within a month's time.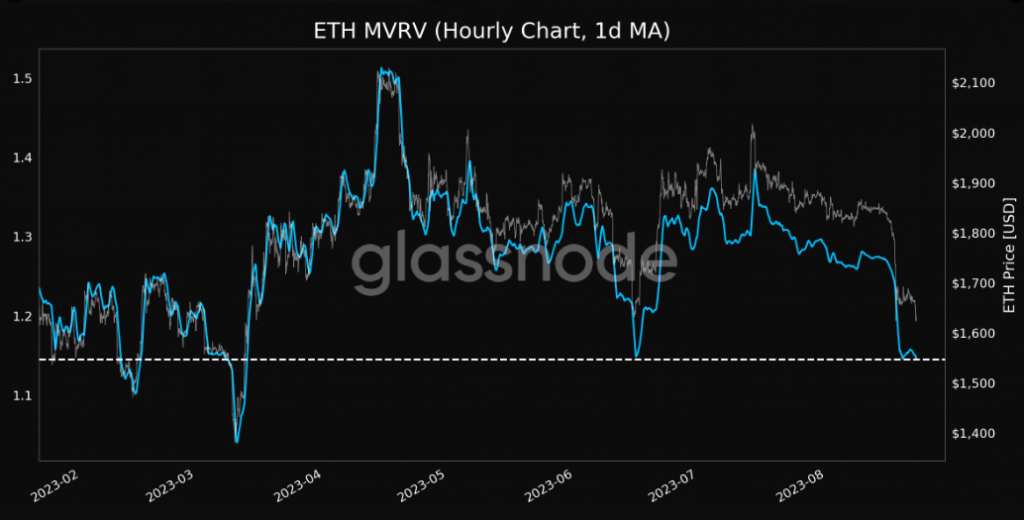 Historically, low MVRV levels have acted like a bounce-back zone for the price of Ethereum. Until this metric hovers around the current zone, the price can be expected to correct, but right after it picks up pace and starts rising, ETH can be expected to recover. As far as the upside and downside targets are concerned, traders can keep an eye out for $1550 and $1756. At press time, ETH was trading at $1639, down by 1.4% over the past day.
Also Read: $1 Billion Wiped Out Of Crypto Market Amid Bitcoin, Ethereum Crash