The crypto market noted one of its deepest declines of 2023 a few hours ago. Bitcoin and Ethereum dropped by more than 7% each, bringing down their respective market caps to $515 billion and $202 billion, respectively. However, a particular whale shrewdly sold its assets right before the crash and shielded itself.
A recent analysis by Lookonchain revealed that the whale dumped 22,241 ETH worth $41 million before the flash crash. The sale was not profitable. He lost $1.7 million. However, enduring the loss helped him successfully dodge the market crash. The on-chain analytics platform pointed out that the whale could perhaps buy back assets at a much cheaper price going forward.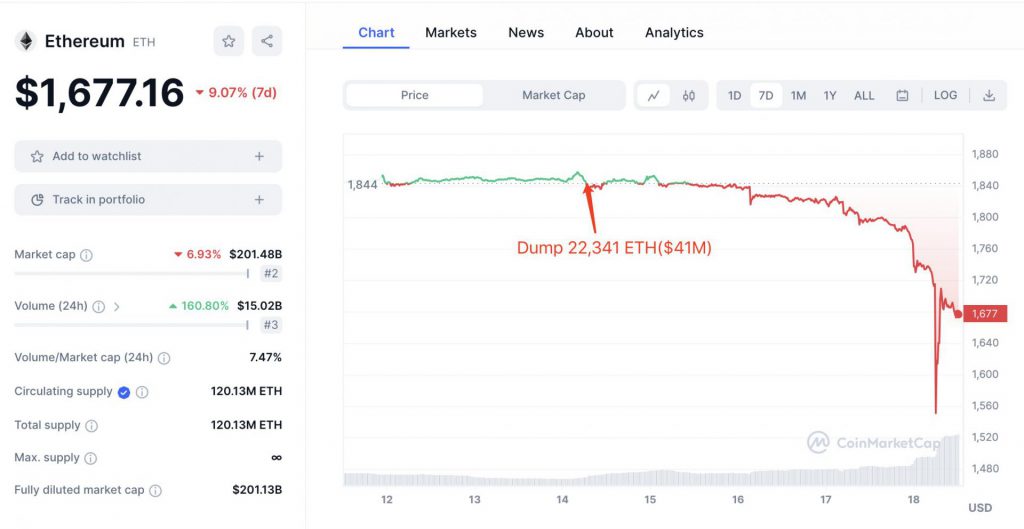 Also Read: $1 Billion Wiped Out Of Crypto Market Amid Bitcoin, Ethereum Crash
Alongside, the Coinbase premium for BTC has risen by 3%. This could mean that Coinbase whales have already started buying the dip. Contrarily, the rise could also be because of a whale entity dump initiated on Binance.
Also Read: Coinbase: Base Scammers Earn $2 Million Profit From 500 Scam Tokens
As far as the intensity of bearishness is concerned, the Bitcoin OI-weighted funding rate is below -0.01% for the first time since March 12, 2023. Ethereum's rate was lower and flashed a value of -0.0273 at press time.
Also Read: Can Bitcoin Realistically Cross $150,000-$180,000?
Buy the Dip Calls Rise to 4 Month High
Bearish conditions are usually considered an ideal time to accumulate assets because of their discounted value. Currently, nearly 1% of all crypto discussions on social media platforms are related to buying the dip. This is the largest proportion registered since April 2023, likely indicating that investors are looking to add more crypto assets to their portfolios at the moment.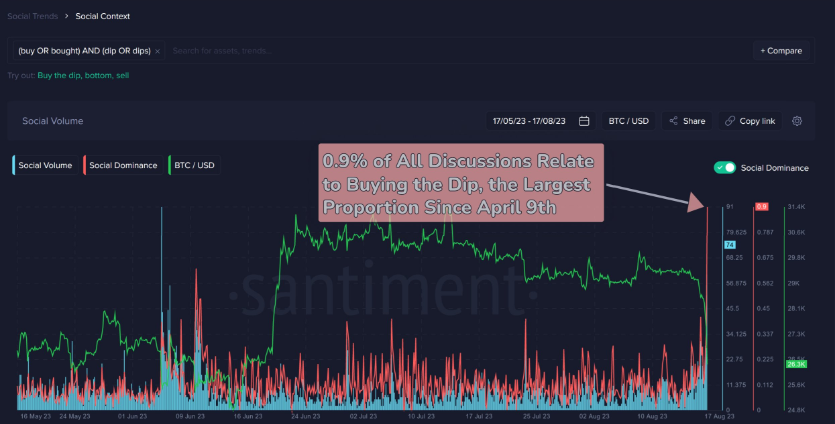 Also Read: 1005 'Virgin' Bitcoins Moved After 13 Years: Is Satoshi Back?