U.S. officials are reportedly leading urgent talks to rescue First Republic Bank. This comes at a time when private-sector efforts ushered by the bank's advisers are yet to pocket a finalized deal. Citing three unnamed sources familiar with the matter, a recent Reuters report revealed,  
"The Federal Deposit Insurance Corporation (FDIC), the Treasury Department, and the Federal Reserve are among government bodies that have in recent days started to orchestrate meetings with financial companies about putting together a lifeline for the troubled lender."
Also Read: Crypto x Stocks: Is Un-Correlation in Play?
At this stage, it is still not clear if the U.S. government is looking to take part in a private-sector rescue of First Republic. Nevertheless, one of the sources reportedly revealed that the government's engagement has "emboldened First Republic executives" who are working to put together a deal that would avoid a takeover by U.S. regulators.
Is a private-sector deal "preferable"?
As reported earlier, the U.S. government was expected to seize First Republic Bank. Fox News' Charles Gasparino recently revealed that bankers working with First Republic allegedly said that they expect eventual government receivership for the ailing bank. This will come after it exhausts private sector solutions. They include asset sales and finding a buyer, both of which "appear difficult." Gasparino also added that officials at the big banks believed the Fed was "poised" last week to take over FRC.
Also Read: First Republic Bank Expected to be Seized by US Government
Two sources told Reuters that U.S. officials consider a private-sector deal "preferable" to First Republic falling into FDIC receivership. Many options including selling assets and the creation of a "bad bank" have been put forth on the table. However, the sources revealed that none of them have been able to fructify into a deal. Specifically, the sources told Reuters that no decision has been made and no deal is certain at this point.
FRC's share price rose by 8.79% on Thursday. However, it hardly made a difference on the monthly. It closed yesterday's closing session at $6.19, significantly down from its November 2022 peak of $222.8.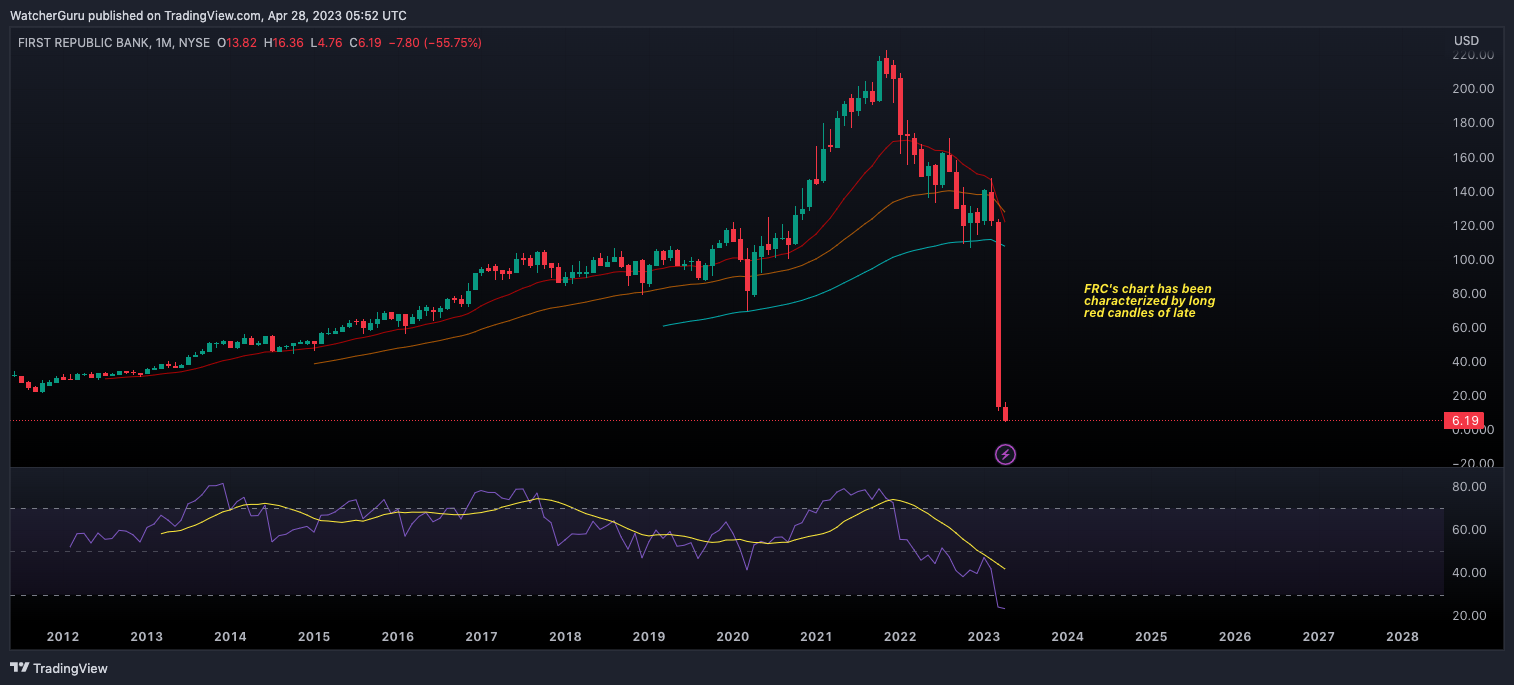 Also Read: First Republic Bank Trading Halted Due to Volatility As Price Continues to Fall