On Thursday, June 1, Floki Inu announced the launch of its strategic partnership with Binance Pay. This campaign is intended to "boost" FLOKI adoption via a marketing tie-up with Binance Pay. Specifically, users who buy items worth $1 or more on any eligible Binance Marketplace merchants using FLOKI via the Binance Pay payment option will get cashback for their first purchase. According to the announcement,
"The campaign will run from June 1 – June 30, 2023."
The Floki team underlined that this partnership "enhances" FLOKI's utility as a payment token. Alongside, it also gives the Floki Inu project "extra, targeted exposure" through this marketing campaign with Binance Pay.
FLOKI reacts
Thursday was quite a dull day for the crypto market. Yesterday's debt ceiling vote episode managed to stir pessimism within the community. As a result, most large and mid-cap cryptos were trading in red. Floki Inu, however, was one of the few assets that flashed a green number. In the past 4 hours, it appreciated by more than 2%. In fact, on the heels of the announcement, FLOKI went on to spike to $0.00003302.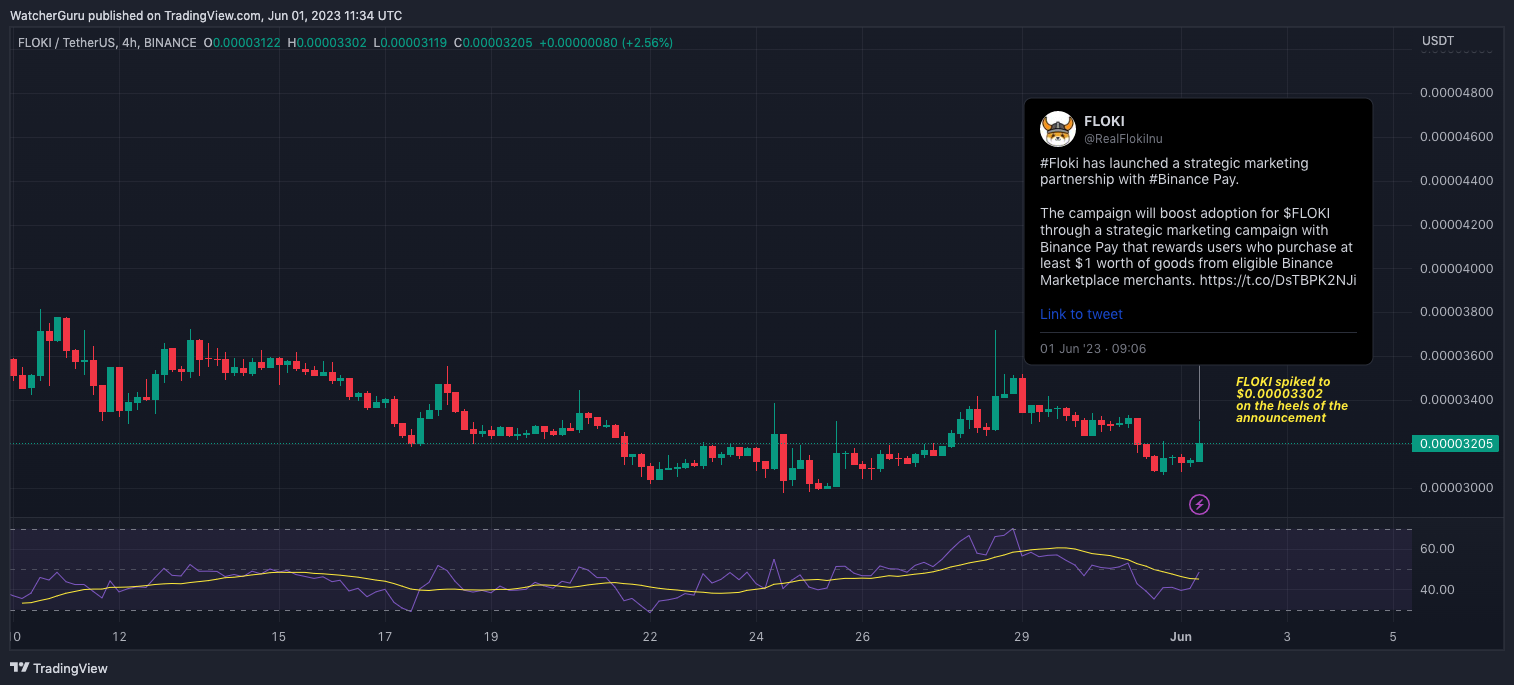 Furthermore, Floki Inu was also part of the top trending assets on Binance. At press time, it occupied the third position. In fact, the token has also clinched the number one position several times in the recent past by displacing other top assets like Bitcoin, Polygon, Shiba Inu, and BabyDoge Coin.

Also Read: Floki Inu Ousts Shiba Inu, Bitcoin, BabyDoge to Rank 1 on Binance
Prior to the latest Marketing deal announcement, Floki Inu and Binance Pay got into a partnership in January this year. At that time, it was revealed that Binance Pay will be the primary crypto payment mechanism for Floki's new retail shop. Post that, in April, FLOKI was listed on Binance.US, and spiked by around 50% that day.