Floki Inu investors had a fruitful January. The price of the asset rose by ~250% during the period. Afterward, there was a brief consolidation, but Elon Musk single-handedly turned the tables in favor of FLOKI.
Last week, he tweeted an image of a dog named "Floki" and sarcastically proclaimed it to be the new CEO of Twitter. Owing to the hype, this cryptocurrency asset appreciated by ~200% in merely a two-day window. However, a correction is currently in play, and FLOKI has already registered six back-to-back red candles on its daily chart.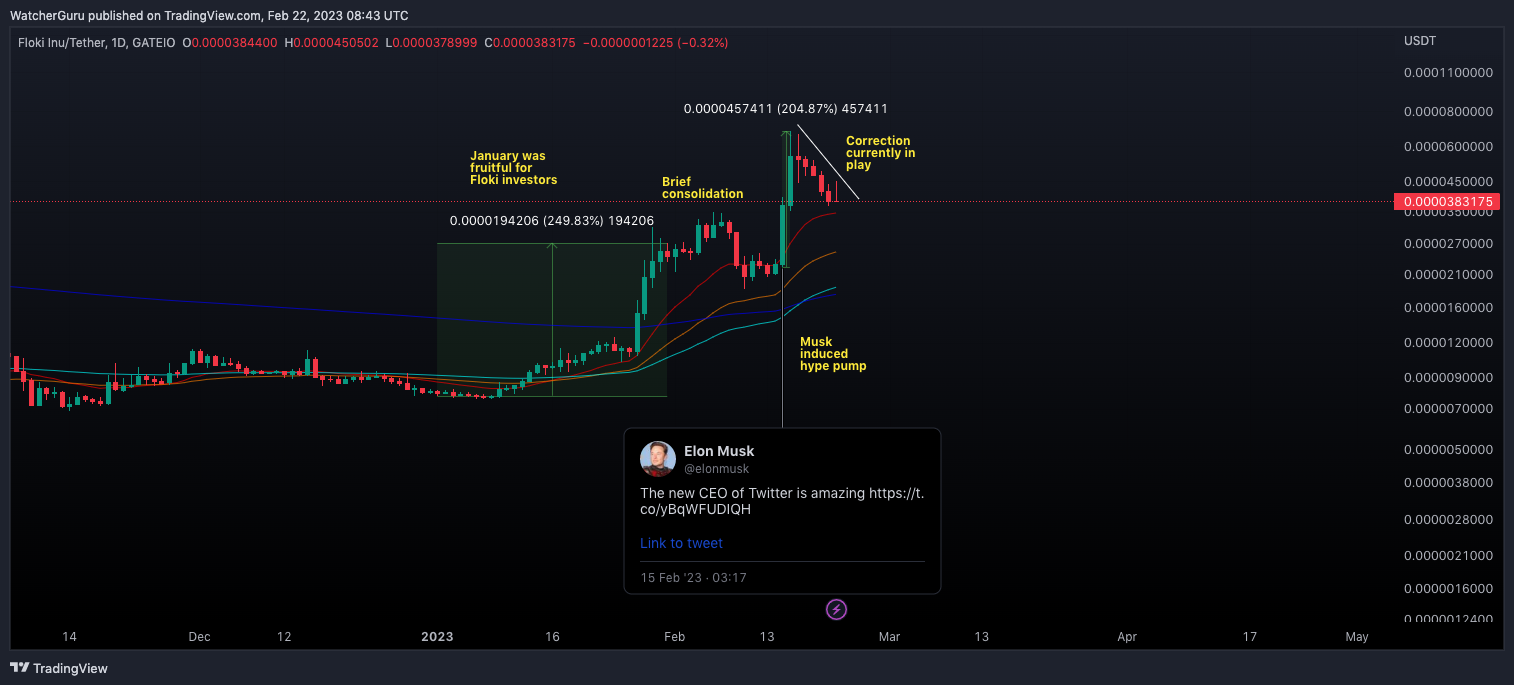 Also Read: Elon Musk Announces Dogecoin's Shiba Inu Dog as the New CEO of Twitter
Floki Inu becomes top trending coin on Binance
Despite the latest retracement, Floki Inu is still on the community's radar. On Wednesday, it occupied the first rank under the "Trending" cryptocurrencies on Binance. As illustrated below, FLOKI displaced other top assets like Bitcoin, Polyogn, Shiba Inu, and BabyDoge Coin to clinch the numero uno position.

On social platforms like Twitter, the discussions related to Floki have been able to keep pace. Data from Lunar Crush revealed that social mentions rose by 138.5% over the past week, while the number of social engagements inclined by 122.7%. Thus, in the aggregate, Floki Inu managed to amass over 290.9k mentions and 462.2 million engagements in the said time period.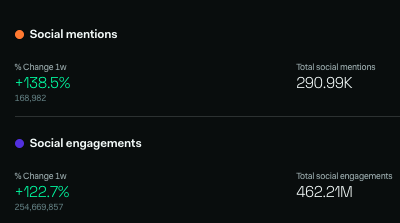 A closer look at the coin mention frequency revealed another interesting trend. Floki Inu was a much more widely discussed cryptocurrency than the likes of Ethereum, Dogecoin, Shiba Inu, Solana, Avalanche, and Cardano.

Also Read: Solana On-track to Flip Dogecoin After a 140% Rise
However, traders are not necessarily optimistic at this stage. According to Coinglass' data, the number of short traders, i.e., the ones placing bearish bets on the price of the asset, has been on the rise. It is justified by the drop in the long-short ratio from 1.12 to 0.76 over the past 12 hours.

So, if the mass bearish sentiment increases going forward, Floki Inu's price could be hindered from ascending further.
Also Read: Shiba Inu's BONE Enters Top 100 for the First Time in History