2021 has been a stellar year for the world of cryptocurrencies. Now, the final month of the year is coming to conclusion with an exclusive promotional ad on the tallest building in the world. However, the crypto representative is a peculiar one. It wasn't Bitcoin or Ethereum. Neither was it Shiba Inu or any other popular meme coin. It was Floki Inu, an inspired meme coin without a market cap. We will get to that later.
Floki Inu reaches the top of Burj Khalifa
According to a recent announcement from the Floki Inu team, $FLOKI will be featured on the tallest skyscraper in the world on 3rd December 2021. The team mentioned that the date coincides with the United Arab Emirates' main National Day. The building usually hosts high profiles officials, governments on this date.
Hence, the objective of the campaign remains to help Floki Inu establish itself in the Middle East market. The meme coin also used extensive advertisements as it took over London Tube recently. However, that particular stint did not go well as an investigation was launched by the Advertising Standards Authority.
Moreover, the meme coin recently signed a deal with Italian Serie A side Napoli to display its logo on the back of the team jersey. The deal is valid till the end of this football season.
Will this help Floki Inu's price?
In the short-term, probably yes. A plethora of digital assets rallied at the back of such campaigns in 2021. Crypto.com token is a strong example and the same could be expected from Floki Inu.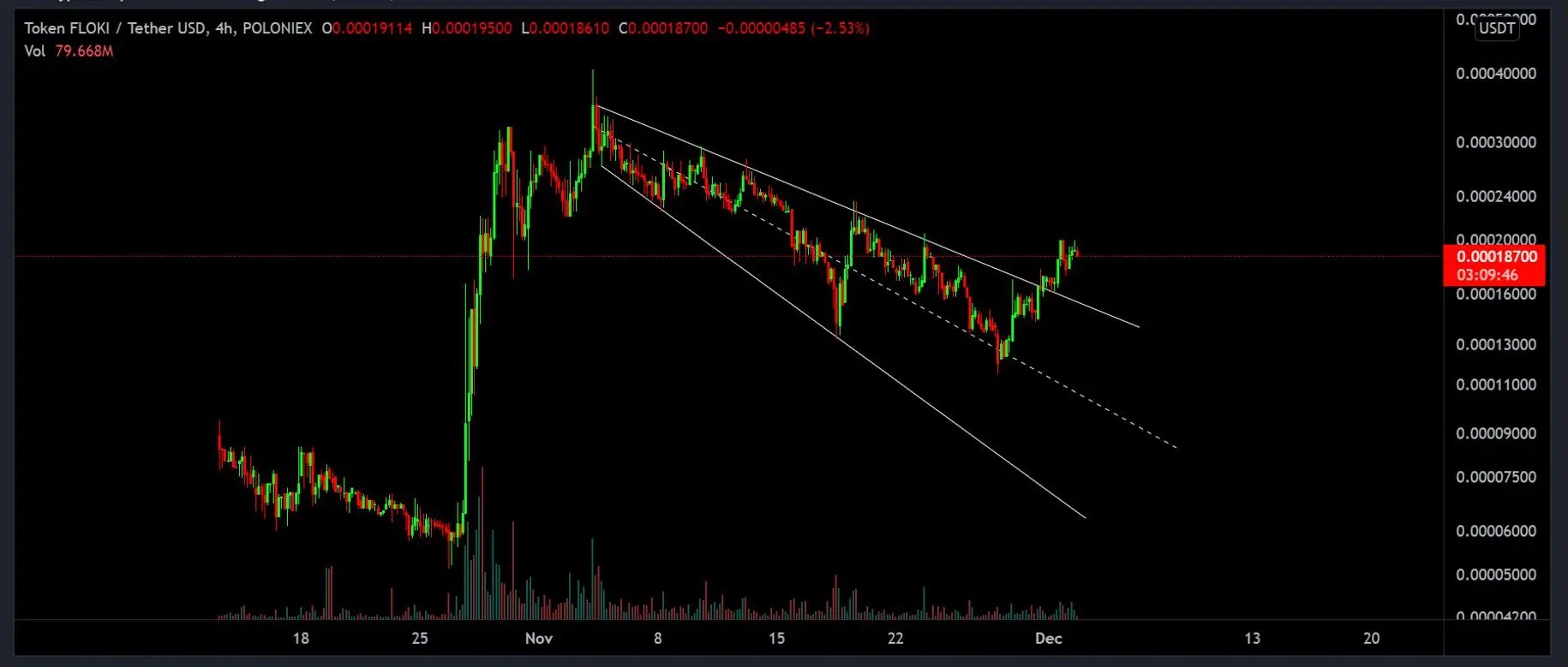 Floki Inu is currently breaking above a falling wedge pattern. It is a strong positive move for the meme coin, and there is potential bullish momentum. Similarly, it is breaking above the average line of mediation, hence there is bias bullish confirmation.
However, there remains a couple of red flags. Floki Inu does not have a fixed market cap. According to CoinmarketCap, a lack of market cap indicates that the team is yet to establish a legitimate FLOKI supply. While the max supply is apparently fixed at 10,000,000,000,000, lack of market cap is a major concern.
Should investors take a chance with Floki Inu?
It is a major roll of the dice. Floki Inu may register the same level of success as Shiba Inu or Dogecoin, but it continues to carry a lot of questions. Overall, Investors need to be cautious with this particular meme coin for the immediate trend.