Epic Games, the American video game company famous for developing Fortnite, has garnered attention once again. However, this time for a different reason: a workforce reduction of 830 employees, constituting 16% of its staff. Those affected by the layoffs have been assured a severance package spanning six months. CEO Tim Sweeney sent out a memo to his staff and said,
"We concluded that layoffs are the only way and that doing them now and on this scale will stabilize our finances."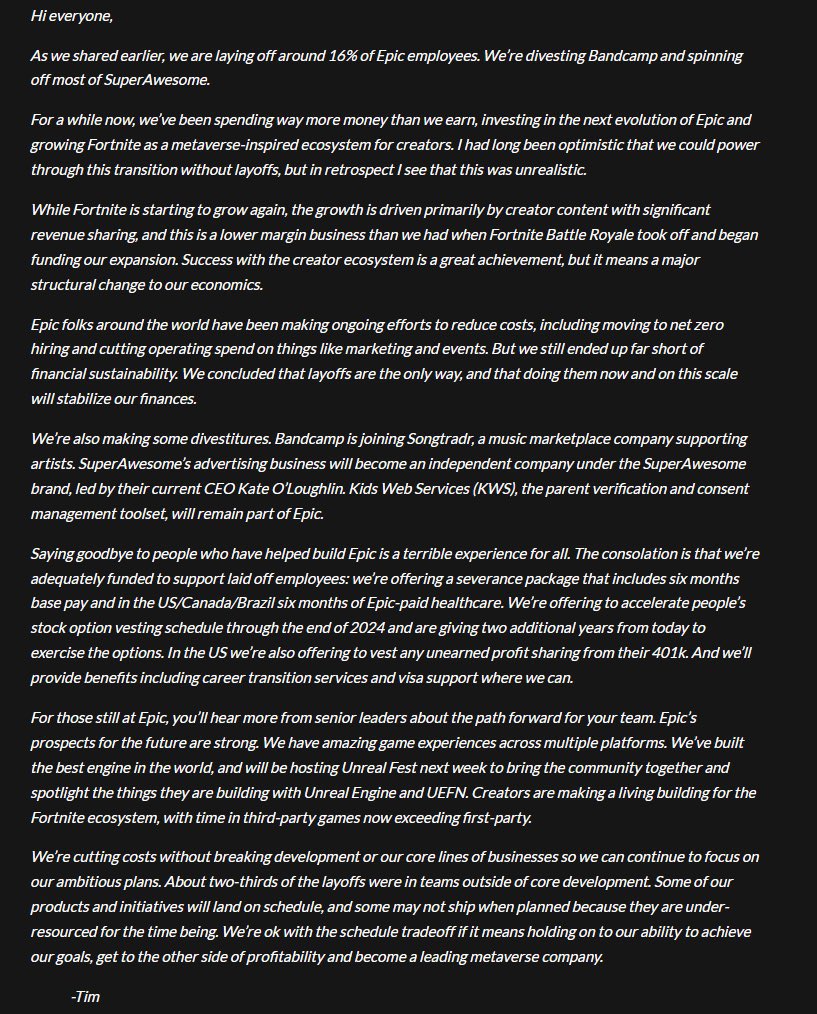 This decision has multiple driving factors. Traditional video game companies face increased competition from newcomers. This includes Warner Bros. Discovery, whose successful game "Hogwarts Legacy," based on "Harry Potter," gained significant popularity. Furthermore, Epic Games' ongoing legal dispute with Apple has also played a role in these developments.
However, one of the main factors contributing to these layoffs was linked to overly optimistic revenue expectations derived from metaverse-related endeavors. This further resulted in the Fortnite creator spending significantly more than it was generating. Sweeney further said,
"I had long been optimistic that we could power through this transition without layoffs, but in retrospect, I see that this was unrealistic."
Unfortunately, further workforce reductions are in place. Alongside the earlier mentioned layoffs, Sweeney revealed that an extra 250 employees would be leaving Fortnite's parent firm. This development aligned with the company's decision to sell off the recently acquired music platform, Bandcamp. It intends to separate its marketing division, SuperAwesome, a child safety technology firm that was integrated into Epic in 2020.
Also Read: Walmart Planning Expanded Retail Strategy for Metaverse
Is the metaverse dead?
The excitement surrounding the metaverse was palpable, with numerous tech companies, mainstream businesses, and even governments embracing this technology. However, this coincided with the rise of artificial intelligence [AI], which captured the world's attention. As a result, the fervor surrounding the metaverse started to wane. This shift was evidenced by Disney's choice to discontinue its metaverse division.
Nonetheless, Mark Zuckerberg, the founder of Meta, impressed the internet community with his advancements in the metaverse. His recent showcase of photorealistic avatars suggested that the metaverse may still have a vibrant future ahead, contrary to previous concerns about its decline. The hype surrounding the metaverse is dead, but the technology itself remains very much alive.
Also Read: China: Metaverse Industry Expected to Grow to $34 Billion in Sichuan