Following extensive negotiations, Cameron Winklevoss, one of the co-founders of Gemini Exchange, reached a point where he felt compelled to take action. Today, he resorted to Twitter to publicly disclose his "final offer" in the ongoing discussions concerning the restructuring of Genesis, a digital asset firm currently facing bankruptcy.
Winklevoss's communication indicated that Barry Silbert, the founder of Digital Currency Group [DCG], will have to pay up a significant debt of $1.46 billion. Failure to address the debt could result in potential legal ramifications. In an open letter, the Gemini co-founder emphasized that there is no room for further delay or negotiation.
In a court filing made in January 2023, Genesis disclosed a list of claims. This totaled over $3 billion owed to its top 50 creditors. Winklevoss stated that a significant portion of this amount, about $1.2 billion, is owed to earn users.
Also Read: Gemini 'Calls Out' DCG for Missing $630 Million Payment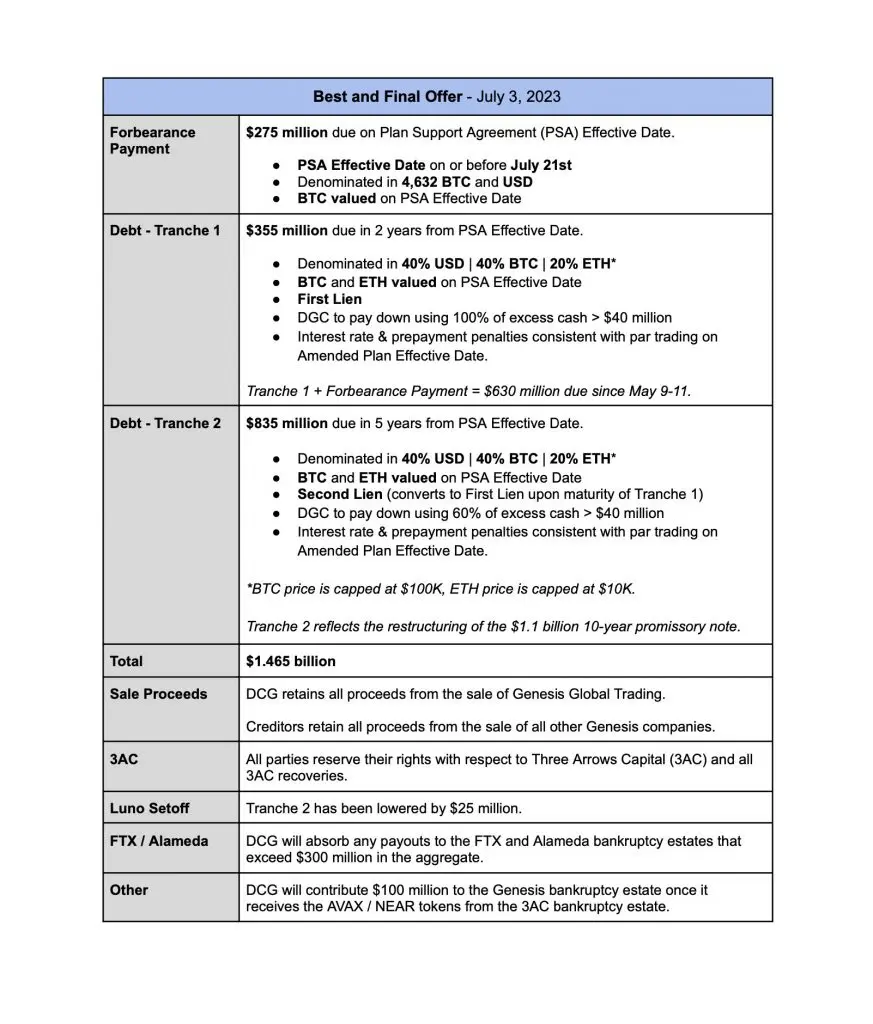 As seen in the above image, Winklevoss insisted that DCG fulfill payment obligations amounting to $1.465 billion. This encompasses the outstanding $630 million payment due in May. He wrote,
"I write to inform you that your games are over. In addition to dragging out a resolution, they have ballooned professional fees to over $100 million, all of which have gone to lawyers and advisors at the expense of creditors and Earn users."
Gemini's Winklevoss issues deadlines
The proposal mandates making a payment of $275 million by July 21. In the event that Silbert does not agree to the offered deal by 4 p.m. Eastern Time on July 6, Gemini intends to take legal action by filing a lawsuit against both DCG and Silbert on July 7. The Gemini co-founder further added,
"This proposal is fair and reasonable for everyone and represents the floor that creditors, who are required to support a deal, will accept."
Several members of the community pointed out that DCG is unlikely to meet the July 7 deadline. However, a few others noted that the latest deadline "seems like a tight window."
Also Read: Genesis Settlement Faces Challenges with Disruptive Creditor Demands, Says DCG