Bitcoin [BTC] has been discussed widely over the last couple of weeks. The gruesome bears continue unleashing their worst selves in the market, sending most cryptocurrencies into a pool of blood. This has undoubtedly caused some distress among investors. Well, primarily newbies.
The world's largest cryptocurrency, Bitcoin rose to an all-time high of $69K in 2021. Following this, corrections started pouring in, and this trend persisted, and the bears slowly entered the market. Over the last two years, the crypto market witnessed widespread adoption. With naive investors entering the market to pocket significant gains, the latest market turmoil scares many. The bear market followed by panic selling by these investors pushed BTC to a low of $17K. While the asset continues finding support at $20K, the OG Bitcoin holders haven't flinched.
Appearing in a recent interview, the CEO of Binance, Changpeng Zhao pointed out how the community would have been "very happy" if Bitcoin had hit $20K a couple of years ago. The $20K all-time high of BTC lasted for quite some time. After a strong rally, BTC was pushed down to a low of $3k in 2018 and similar doubts were circling today, seeing the bears work the biggest digital asset.
Elaborating on the same, CZ said,
"But you know, in 2018, 2019, if you told people bitcoin will be 20K in 2022, they would be very happy. In 2018/19, bitcoin was $3,000, $6,000."
But is this it for Bitcoin? Will it drop any further?
Questions like these are pouring into the ecosystem. Predictions regarding the Bitcoin bottom have been flooding the market. While some believe BTC would drop further down to $10K, others believe that $13K would act as a critical support area. Ian Harnett, co-founder, and chief investment officer of Absolute Strategy Research appeared in a recent interview with CNBC's Squawk Box and hinted at $13K.
He went on to compare the previous price movement of BTC. He pointed out how Bitcoin usually tends to fall about 80 percent from its all-time highs [ATH]. At press time, BTC traded for $20,544, which is 70 percent below its ATH. He noted that a drop of this magnitude could push BTC to $13K.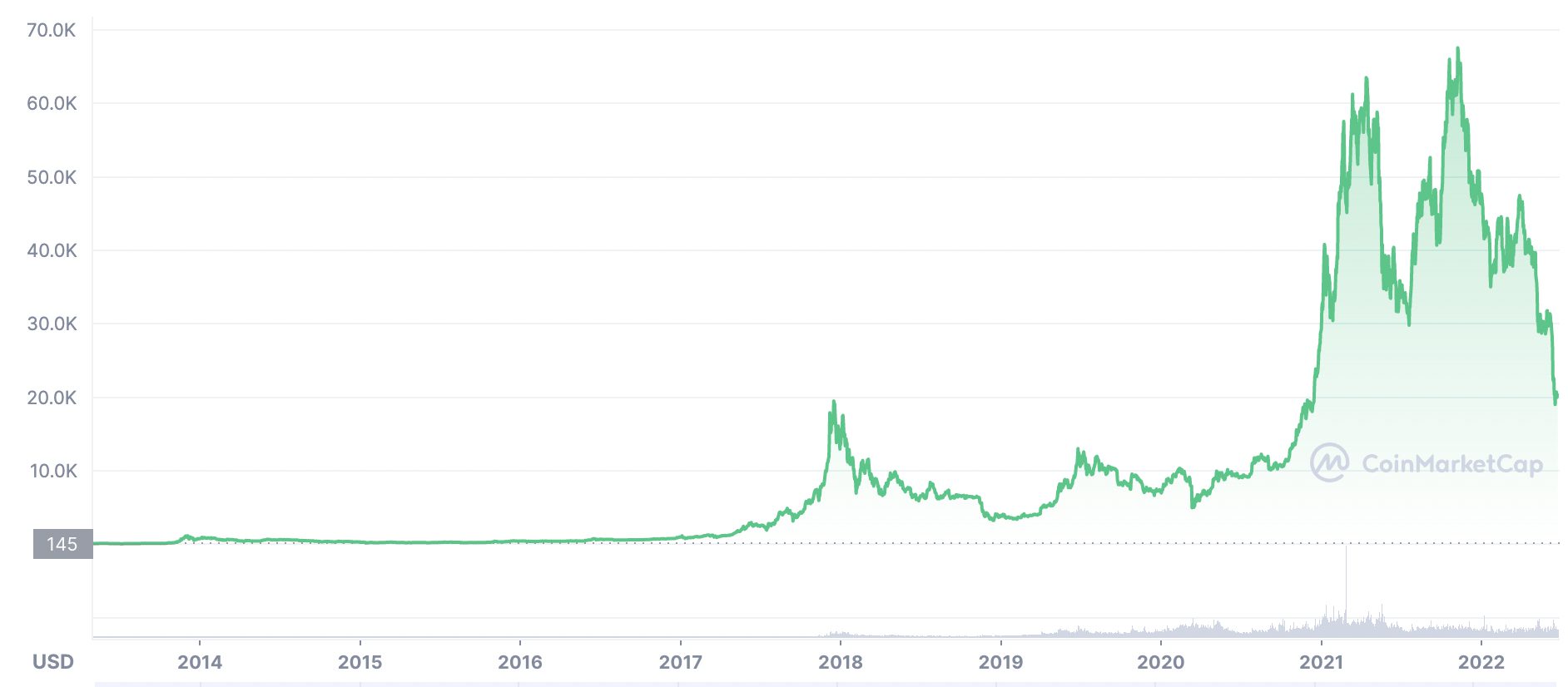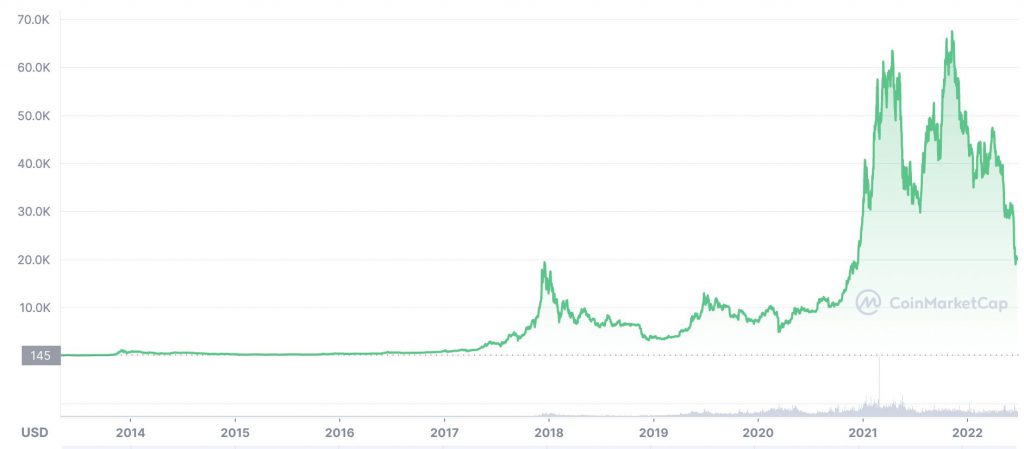 A few others, however, strongly suggest that $20K is it.
So what's in store for BTC?
Chaos is written all over the market. The OG crypto investors believe that the latest setback would catapult Bitcoin to its ATH or beyond. But how long would this take?
CZ believes a possible return to $69K would take BTC a few months to a couple of years. He said,
"I think given this price drop, from the all-time high of 69K to 20K now, it will probably take a while to get back. It probably will take a few months or a couple of years. No one can predict the future."
Like CZ said, nobody can predict the future. With increased selling pressure from new investors and regulatory hurdles, BTC might take a while to stand back on its feet. However, Bitcoin's track record shows that the asset has managed to find its way back to the top.
It is noteworthy that mainstream firms and OG crypto investors continue holding their funds. While awaiting a surge, sellers would be a little too late to the profit party. Therefore, those who survive the gruesome bear market are likely the ones who would go on to pocket significant gains.