For the past few years, Africa has registered significant activity with respect to Bitcoin. Several reports by Chainalysis revealed that between 2020 and 2021, the cryptocurrency market in Africa experienced a remarkable growth of more than 1200%. Additionally, Kenya, Nigeria, South Africa, and Tanzania, four African nations, have all secured positions within the top 20 countries globally in terms of cryptocurrency adoption.
In addition to the aforementioned data, Africa is also recognized as the region with the second-largest number of cryptocurrency holders globally. This highlighted the significant presence and participation of African individuals in the world of cryptocurrencies.
Africa and its internet woes
The COVID-19 pandemic accelerated the process of digitalization, with increased reliance on digital technologies due to limited physical interactions. However, African countries, as well as other nations with weak power infrastructures, faced challenges in keeping up with this rapid digitization. Insufficient power infrastructure hindered their ability to fully embrace and benefit from digital advancements, aggravating the digital divide between regions.
In comparison to other regions globally, the internet penetration rate in Africa is relatively lower. This further resulted in a smaller portion of the population having access to the Internet. For a significant period, using the Internet or owning a smartphone was considered a luxury. While there has been a gradual increase in Internet usage over time, it continues to lag behind other countries in terms of adoption and accessibility.

As seen in the above chart, Africa has the lowest internet penetration rate compared to other continents. Moreover, it is worth noting that in the region, mid-2000s style feature phones are more prevalent than modern smartphones that are commonly used today. But Bitcoin has been labeled the "currency of the internet." With limited internet access, how is Africa still thriving in this space?
How Bitcoin moves around in Africa with limited internet access
In a bid to tackle the significant internet issue, South African software developer Kgothatso Ngako introduced Machankura, a tool to address the issue. Machankura allowed users to leverage the Lightning Network using an Unstructured Supplementary Service Data [USSD] interface, which utilized the Subscriber Identity Module [SIM] telecommunication network on mobile phones.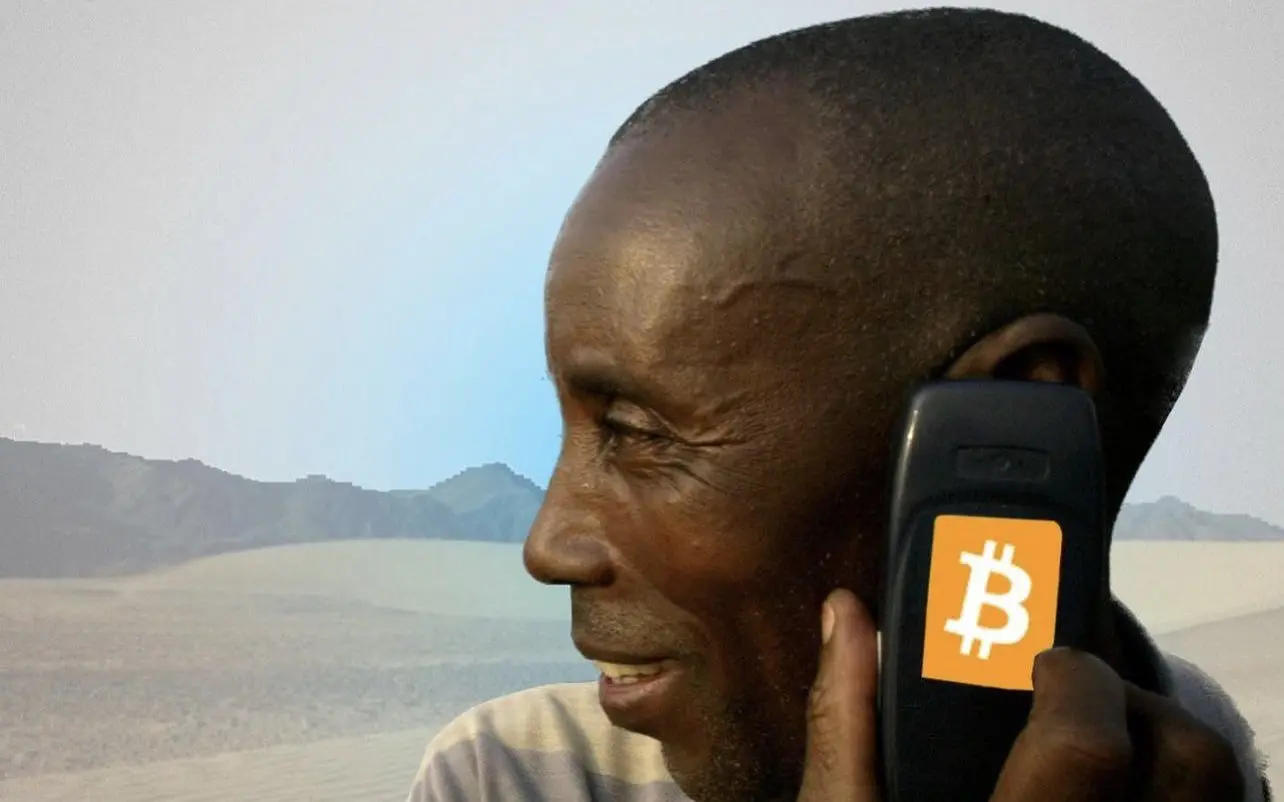 USSD operated similarly to Interactive Voice Response. It provides an alternative means for users to access and interact with Bitcoin even in areas with limited Internet connectivity.
To make it easier for feature phone users to send and receive satoshis, Ngako implemented a UX solution called The Lightning Address. The solution allowed users to easily identify lightning addresses. This further eliminated the need to copy and paste long random strings of text. It should be noted that it can be quite a task on older phones.
Here's how Machankura addressed this issue
The USSD protocol, often likened to SMS, offers software developers a plethora of underappreciated possibilities. It enables the forwarding of requests to online applications, which Bitcoin users can access by dialing a specific code. For instance, Machankura's default Lightning address merges a user's phone number with the "@8333.mobi" domain provided by the app. This code varies based on the region. This can be done even without Internet connectivity. Users can interact with the Machankura app by leveraging the USSD protocol to access Bitcoin-related functionalities and services on their phones.
Then, a user must entail some satoshis in their wallet. They can utilize integrations with gift card and voucher services like Bitrefill and Azteco. This can allow users to spend their crypto on everyday purchases. They can also redeem vouchers for Bitcoin. Elaborating on this factor, Ngako said,
"I went to my grandmother's village in Mpumalanga, and over an hour-long walk, in seven out of eight stores, I was able to redeem my voucher."
Through this, users have a convenient way to employ their BTC holding. While it can be used for various goods and services, it also expands the utility of the asset in everyday transactions.
The way forward for Bitcoin in Africa
Presently, Machankura is operational in nine African countries, including Ghana, Kenya, Malawi, South Africa, Namibia, Zambia, Tanzania, and Uganda. However, Ngako has a roadmap to expand the service to all 54 African countries in the coming years. The developer aims to raise capital and gradually establish Machankura's presence across the entire continent. He intends to facilitate access to Bitcoin and promote financial inclusion throughout Africa. He previously said,
"I started Machankura to make Bitcoin more accessible in communities, where not everyone has an Internet-connected device. Anyone who's interested in using Bitcoin and living on Bitcoin should be able to do so easily."