Elon Musk, the CEO of Tesla and self-proclaimed "Dogefather" has been making a lot of news over the last couple of months. From his personal life to his professional, Musk has certainly been the talk of the town. His fallout with Twitter shattered hopes for many who were looking for more freedom on social media. Amidst all of the backlash and a lawsuit, Musk revealed that he had sold $6.9 billion worth of Tesla shares.
Musk had reportedly filed a total of six Form 4 applications with the Securities and Exchange Commission [SEC]. The Tesla CEO further highlighted that 7,924,107 TSLA shares were sold. It should be noted the sales occurred on the 5th, 8th, and 9th of August.
Following the sales Musk went on to tweet,
"In the (hopefully unlikely) event that Twitter forces this deal to close and some equity partners don't come through, it is important to avoid an emergency sale of Tesla stock."
Furthermore, Musk has sold about $32 billion worth of stock over the last 10 months alone. It should be noted that this wasn't the first time that Musk had dumped his Tesla shares. Just about four months ago, when his intentions to purchase Twitter was at their peak, Musk unloaded $8.5 billion of stock. Once again now, he was prompted by his Twitter deal to sell his shares.
Tesla shares
As mentioned earlier, there has been a slew of events that occurred with regard to Musk. Amidst all of this, here's how the electric car maker's shares performed.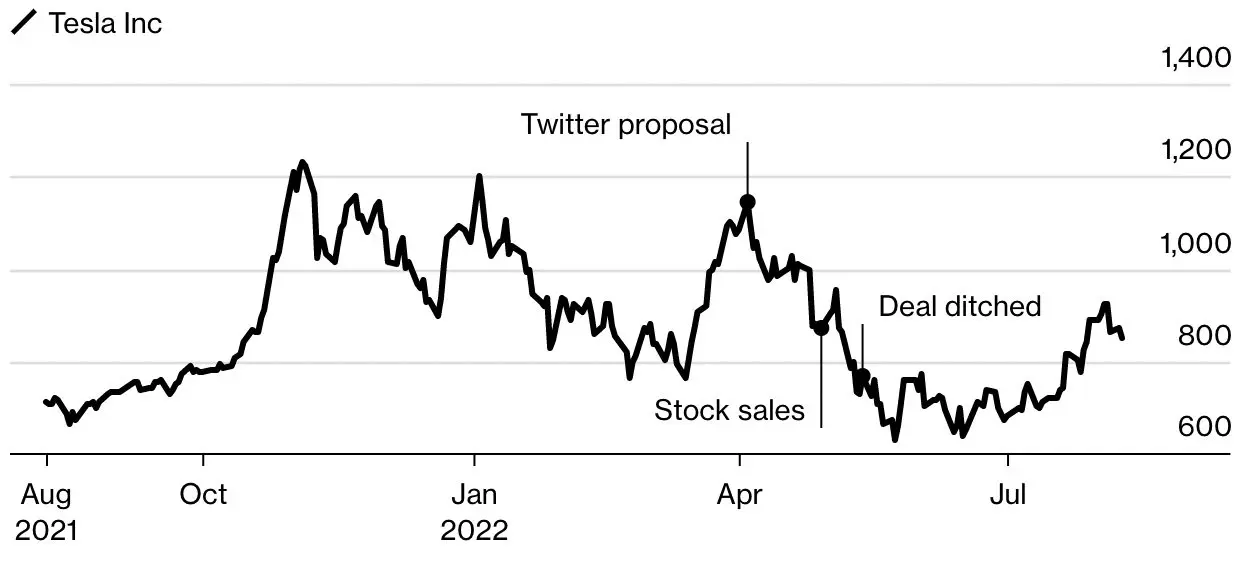 As seen in the chart, Tesla shares took quite the hit this year. While the shares had managed to surge by 35% after May, it remains 20% below their peak this year. At press time, TSLA had plummeted by 2.44 percent.
Additionally, several speculate that the upcoming Twitter v. Musk lawsuit could further push the shares of Tesla. The lawsuit is expected to go to trial in October.