Shiba Inu had a stellar performance during the first half of 2021 and made early investors millionaires. During its inception in August 2020, SHIB was trading in the indices with nine 'zeroes'. Fast-forward to June 2021, SHIB knocked out four 'zeroes' in just 11 months and traded with only five 'zeroes'. The deletion of four 'zeroes' gave early investors a handful of profits and remained to be a prime investment. Read here to know how a truck driver made millions in 2021 by investing $650 in Shiba Inu during its launch.
Also Read: Shiba Inu 'Buying Pressure' Reaches Yearly Highs
From June 2021 onwards, Shiba Inu' growth came became stagnant. Stories about investors raking in million declined and the market tested the patience of investors. However, from June last year, SHIB saw a tenfold increase in its trading volume as it made headlines around the world. Ethereum founder Vitalik Buterin had donated billions in SHIB while India was fighting the second wave of Covid-19.
Since then, SHIB attracted thousands of new and first-time investors into its fold and created an army of investors.
How Many 'Zeroes' Shiba Inu Deleted From July 2021 to 2022?
Shiba Inu was trading with five 'zeroes' in July 2021 with an average price of $0.00000685. The dog-themed token had just received wider mainstream press during this time last year and was all over the news. Its trading volume saw a dramatic increase during this period and its popularity began to grow. SHIB was challenging its rival Dogecoin's popularity after Doge began to slump in the indices post touching its all-time high of $0.73.
However, Shiba Inu deleted a 'zero' in October 2021 after it spiked 1,000% and traded with four 'zeroes' in the indices. Since then, SHIB was on a downward spiral and shed all the profits it generated last year. Shiba Inu traded on the back foot in 2022 and the string of market crashes made it add an extra 'zero' last month. so from trading with four 'zeroes' SHIB added a 'zero' and is trading with five 'zeroes'.
Also Read: Shiba Inu: What Makes Shibarium Special? Explained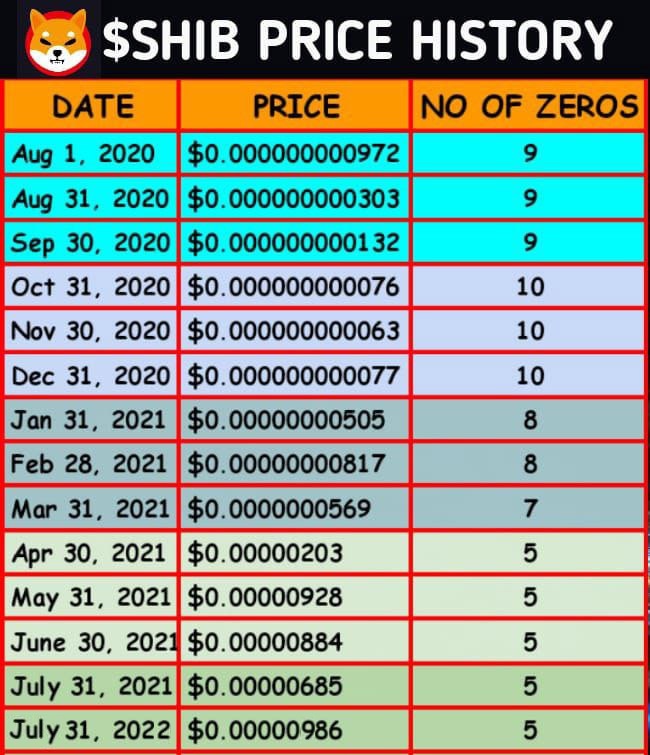 So from July 2021 to 2022, Shiba Inu is now in the same place as it was last year with five 'zeroes'. However, it is on the verge of deleting a 'zero' again but the crypto winter is bringing it back to five 'zeroes'.
At press time, Shiba Inu was trading at $0.00000982 and is down 1.5% in the 24 hours day trade. SHIB is also down 88% from its all-time high of $0.00008616, which it reached in October last year.