The current pace of the crypto industry is truly remarkable, with several assets experiencing significant recovery after a tumultuous period in recent weeks. Bitcoin's climb to $30,000 has undoubtedly provided relief to many investors. However, it appears that the asset is not expected to linger at this level for a very long time, as bullish predictions have started emerging.
A notable prediction made by a trader known as Credible Crypto has garnered significant attention. In a recent tweet, the trader forecasted that BTC has the potential to reach its previous all-time high of $69,000 within the next four months. However, the trader emphasized that the upcoming four months would need to bring about strong bullish momentum for Bitcoin to achieve this target.
Bitcoin has demonstrated a strong performance throughout the month. The king coin has surged by 17% over the last week. This further fueled optimism from Credible Crypto regarding the asset's potential upward movement. However, in order to sustain this momentum, BTC/USD needs to exhibit progressively larger green monthly candles, aligning with previous periods of significant price surges. This ranges from $3,000-$14,000 and from $10,000-$60,000.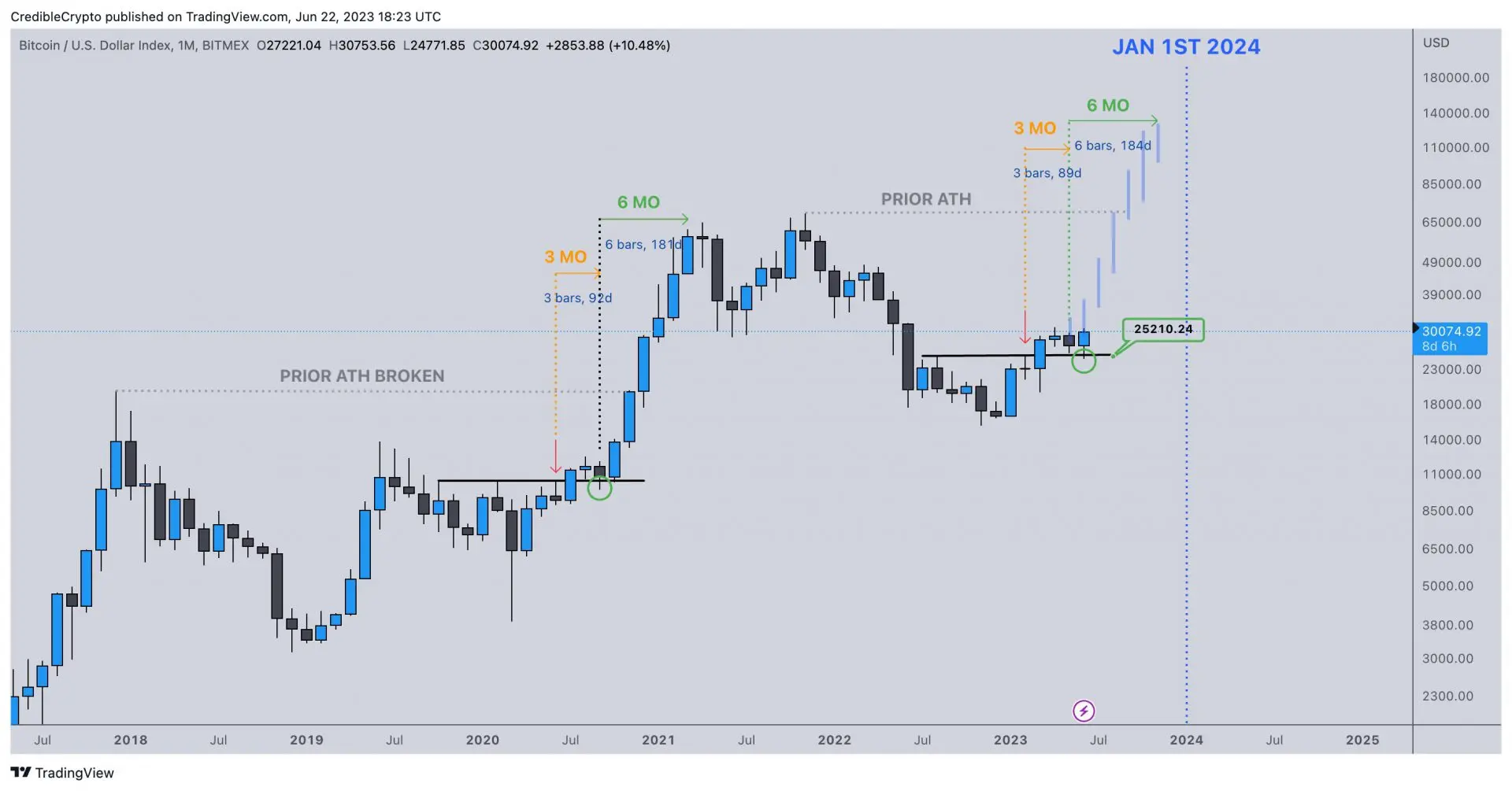 Credible Crypto further said,
"This time around, Bitcoin has delivered a successful retest of support on monthly timeframes, with $25,000 now possibly a springboard for a new "parabolic advance. So with that in mind, let's take our current situation- monthly retest complete and the largest monthly candle we have seen thus far was a 10k move which broke us above the monthly level of 25k."
Far-fetched or a feasible plan for Bitcoin?
The trader pointed out that expansion has already begun. This means that the Bitcoin market could witness monthly moves of more than $10,000. Taking into consideration, the king coin's current price level, there's nearly a $40,000 difference. He added,
"This gap should then, logically, be covered within a few monthly candles if this is a parabolic advance. With that being said, that's all this is- an estimation based on the logic presented above. I am not saying we MUST hit new all-time highs by October, I AM saying I do think we will hit new ATH by the end of this year, and if someone forced me to pick a month in which I think this will occur it would be October. Let's see how things play out."
Is BTC on the right track to revisit its ATH?
As previously mentioned, BTC recently experienced a notable surge, reaching a peak of $30,000. In response to this rally, the Bitcoin Greed & Fear Index [GFI] has seen a significant increase from 10% to 93% within a span of one week. The GFI, monitored by Matrixport, aimed to gauge the prevailing market sentiments. According to the reading, above 90% indicate greed or excessive optimism, while figures below 10% indicate extreme fear or pessimism.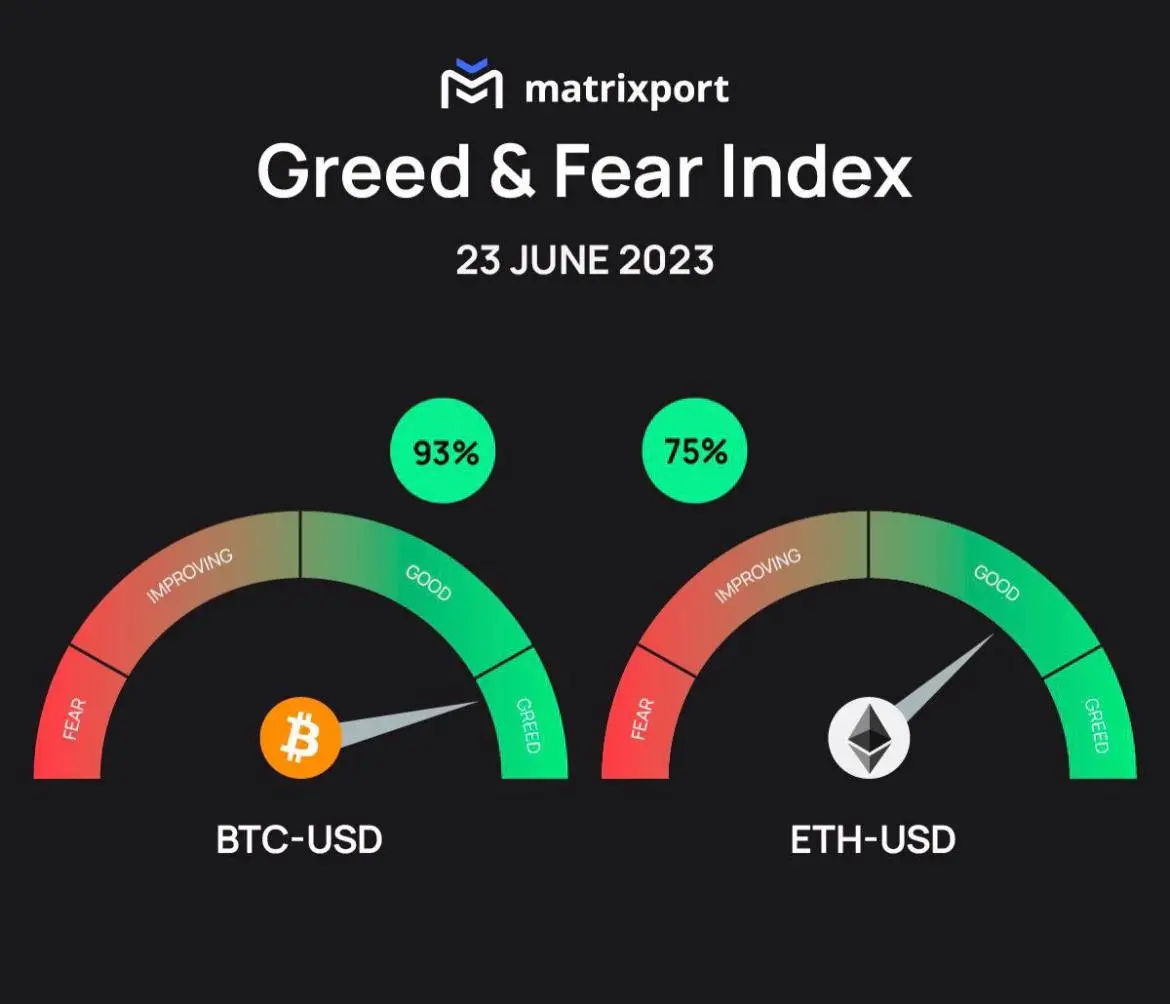 Data suggest that an occurrence of an above 90% reading on the Bitcoin Greed & Fear Index has often aligned with temporary price peaks in the asset. On the other hand, a reading below 10% on the index has typically foreshadowed price surges and rallies in the BTC market.