According to LunarCrush, HEX is currently one of the most searched cryptocurrency projects. As per the analysis firm's data, the project ranks 6th, just behind Fantom (FTM), in its list of top-10 trending searches. Nonetheless, Bitcoin (BTC), the original cryptocurrency, takes the top spot on the list.
However, upon closer examination, there is more to it than meets the eye. According to the data on LunarCrush, Hex's social mentions have dropped by 39.9%. Meanwhile, its social engagements have fallen by 13.1%, and social dominance has dropped by 39.9%. The platform's data also indicates that bearish sentiment regarding the project has increased by 171.3%, while bullish sentiment has decreased by 41.3%.

HEX price analysis
Hex is currently trading at levels not seen since May 2022. The token is up by 27% in the weekly charts. Moreover, it is up by 22.9% on the 14-day chart, and by 76.5% on the monthly charts.
The popular cryptocurrency is facing resistance at $0.0918, with support at $0.0781. The 4-hour price chart has formed an ascending channel pattern. This could mean that the token may possibly see a drop in price soon. Given that social sentiment is not positive, the chances of HEX prices dropping are high.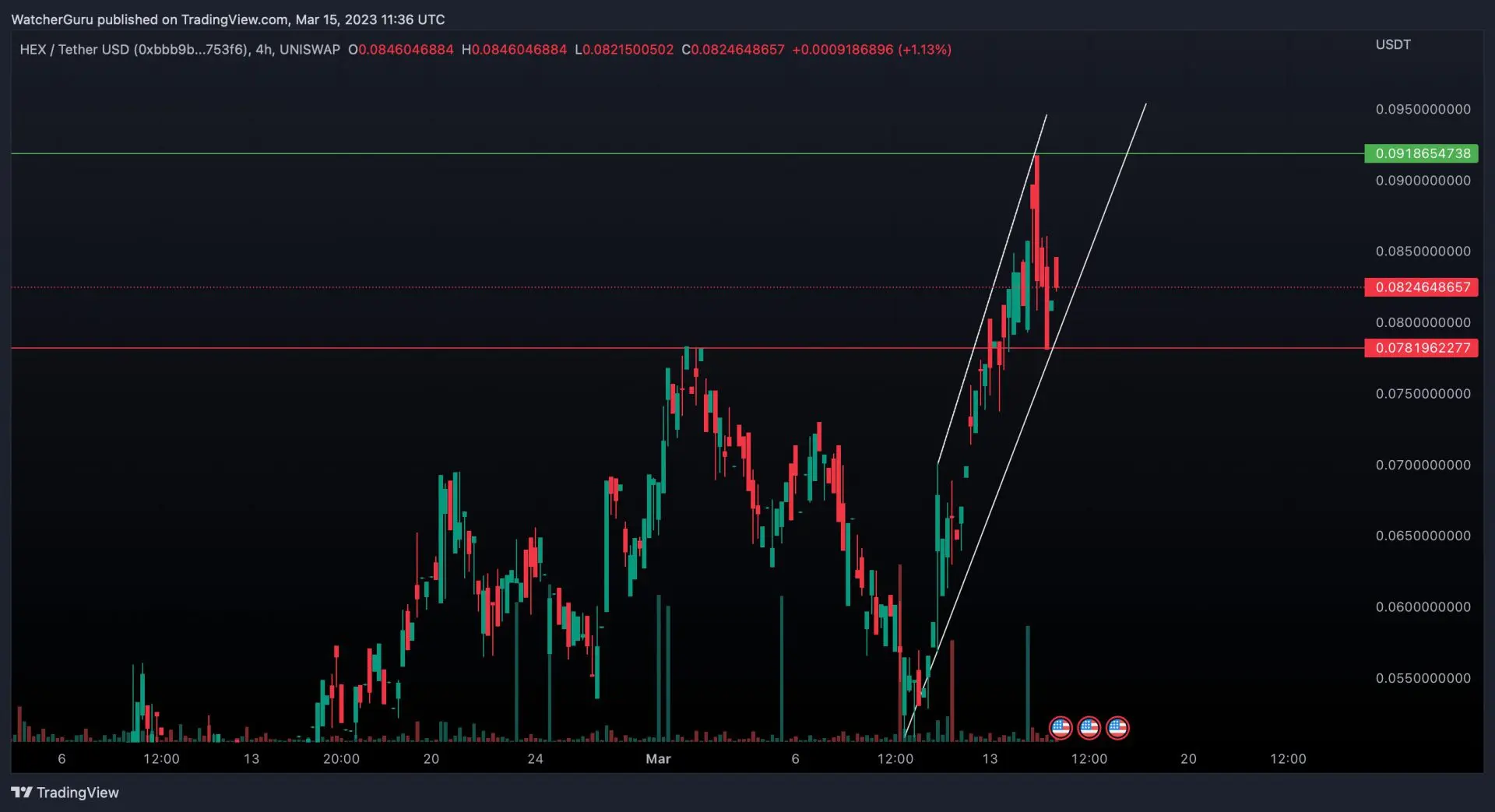 HEX is built on the Ethereum (ETH) network. The project claims to be the first blockchain certificate of deposit (CD). It was created to function as a blockchain-based high-interest savings account, and since its 2019 introduction, it has gained significant popularity. Daily rewards are given to stakeholders while keeping the 38% APY payment.
The platform's native cryptocurrency, HEX, is used to pay out the incentives. The benefits increase with the amount of time the tokens are invested. At press time, HEX was trading at $0.082526, down 2.2% in the last 24 hours. Moreover, the token has dropped 0.4% in the last hour.