'Voosh', an Indian restaurant has named its dishes with fancy and impressive cryptocurrency-themed menu. The Bangalore based cafe` became an instant hit on social media with its crypto-themed food as orders started pouring in. Voosh hot selling product is the regular Indian tea and is named 'Crypto Chai By Voosh'.
The dishes are mainly focused on local Indian names. The menu includes dishes such as- Bitcoin Masala Oats, Smart Contract Poha, Crypto Gold combo: Upma with Masala Chai, Blockchain Ledger Punjabi Samosa, Chicken Tikka Crypto Samosa, Hard Fork Paneer Tikka, and more.
The co-founder of Alma Mater, Varun Agarwal also posted a screenshot of the menu on Instagram saying, "Ah Bangalore you beauty". Foodies can order the crypto-themed delicacies through Swiggy and Zomato apps for home delivery.
The cafe` has become the talk of the town among crypto enthusiasts who feel that India is beginning to adapt cryptocurrencies. India has the highest number of crypto investors with an estimate of over 100 million investors. This comes at a time when the Indian government is regulating cryptocurrencies and the bill might come to life in February 2022.
Reports states that the government is planning to tax crypto investors in similar fashion to the stock market. Other reports state that the stock market regulatory board SEBI will overlook the happenings of the crypto sphere in India. Another report claims the Indian government is planning to ban cryptocurrencies as a whole.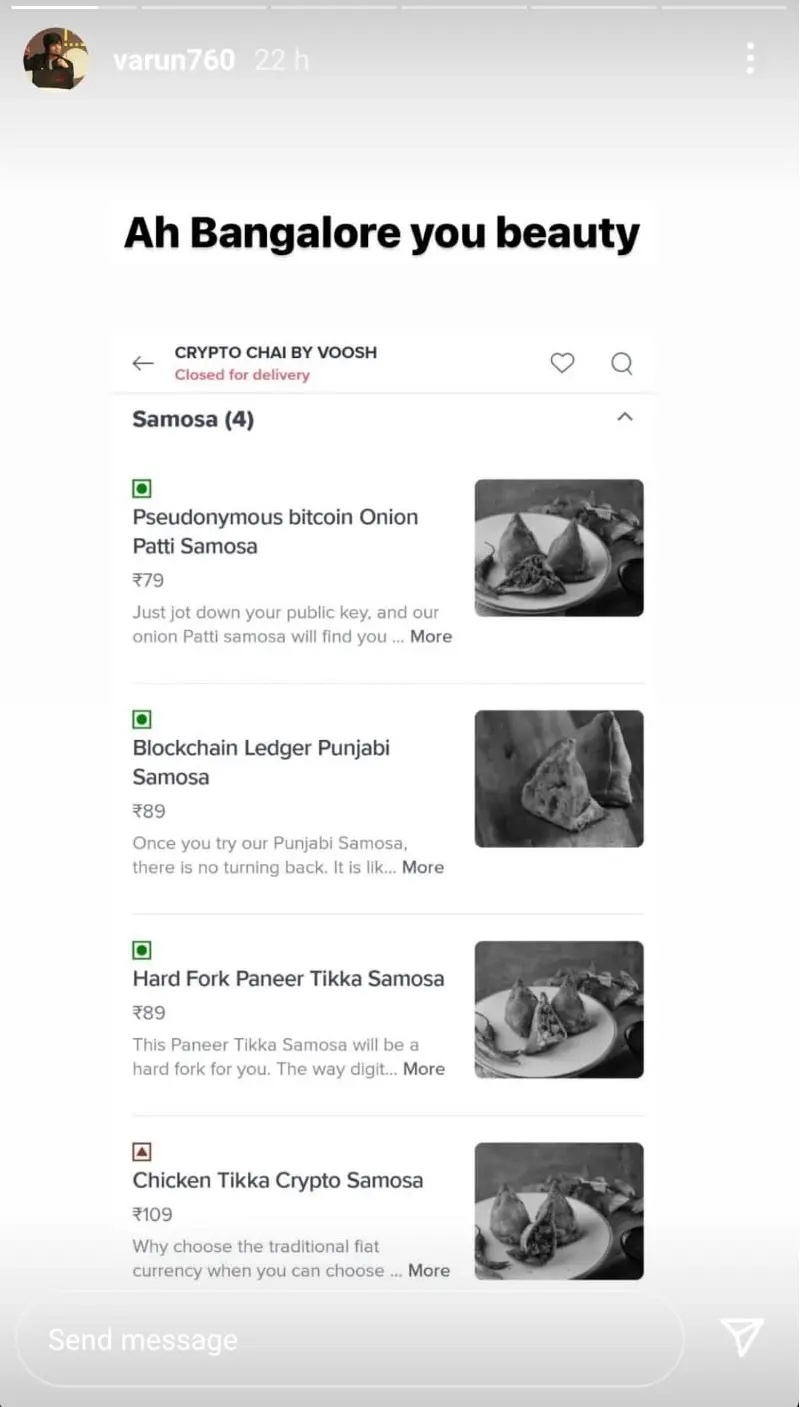 India Has The Highest Number of Cryptocurrency Investors in the World
India has a population of 1.37 billion and reports state that over 100 million people have invested in cryptocurrencies. Majority of investors are millennials who believe that the stock market benefits only the rich and punish the small players. Millennials believe that the crypto market can satisfy their financial aspirations and deliver the desired richness.
In addition, Ethereum founder Vitalik Buterin donating $1.5 billion in cryptocurrencies to India to fight the Covid-19 second wave. The donation introduced many more new and first-time investors into the crypto fold.
"The digital assets have caught everyone's attention not only because it has emerged as the best asset class of 2021 but also because other asset classes are not able to fulfill the aspiration of the smart investors who want their money to grow in tandem with global growth rate," said Shivam Thakral, the CEO of BuyUcoin to LiveMint.