The Bitcoin mining industry has been through a lot in 2021. Hoping to transform the industry, Intel, the world's largest computer processor manufacturer announced its entry into the mining space.
From Elon Musk ousting Bitcoin from Tesla due to the high energy that its mining process consumes, to China's stringent regulations on Bitcoin mining firms, 2021 was clearly a challenging year. While several firms have been working towards formulating machines that consume less energy, Intel is all set to reveal the Bonanza Mine.
The International Solid-State Circuits Conference (ISSCC) is all set to take place in February. In the agenda of the conference, it was discovered that Intel was going to unveil the "Bonanza Mine: An Ultra-Low Voltage Energy Efficient Bitcoin Mining ASIC."
Intel's latest chip was one of the "highlighted chip releases" at the conference. The chip will roll out on 23 February.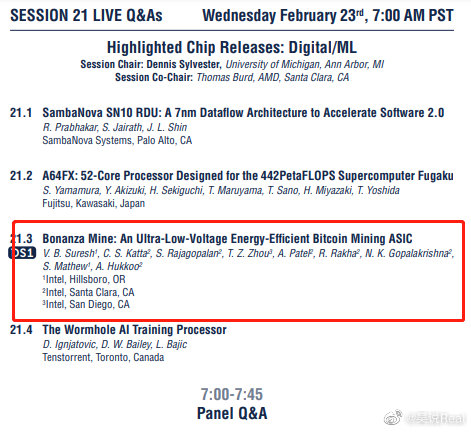 Back in 2018, Intel submitted a patent that entailed information about "high-performance Bitcoin mining." While the firm hasn't made any official statements about the same, the patent sums up the prospects of the Bonanza Mine.
As per the patent, the Bonanza Mine would reportedly consume 15% lesser power. All of this while still being able to solve calculations just as efficiently as other ASICs.
Intel's low voltage Bitcoin mining chip to revolutionize the mining industry?
The Bitcoin mining scene has been quite controversial. With activists calling out the industry for its excessive power consumption, certain governments were trying to get rid of mining rigs. However, with Intel's low voltage mining ASIC, the backlash on Bitcoin could reduce.
Furthermore, the community has no clue as to what Intel has in mind regarding the sale of these chips. Regardless, the computer processor manufacturer could pose significant competition to Bitmain. Bitmain has been part of the crypto mining industry for the longest time. The platform quickly emerged to the top as a leading player in the Bitcoin mining space. Intel's latest invention is speculated to disrupt Bitmain's dominance.