Traders and investors from South East Asian countries have been actively participating in the crypto market. On Japanese exchanges, the trade volume rose by over 60% last month relative to the start of 2023. A recent Kaiko research report attributed the rise in volume to the volatility in the yen market. Over the past year and a half, the yen has drastically depreciated against the U.S. dollar. As a result, the volatility has deviated investors from Japanese exchanges to turn to Bitcoin. Comparing Japan's performance against Korea, the report highlighted,
"In contrast, Korean exchanges have lost steam since April, with volumes declining by 26% YTD in June."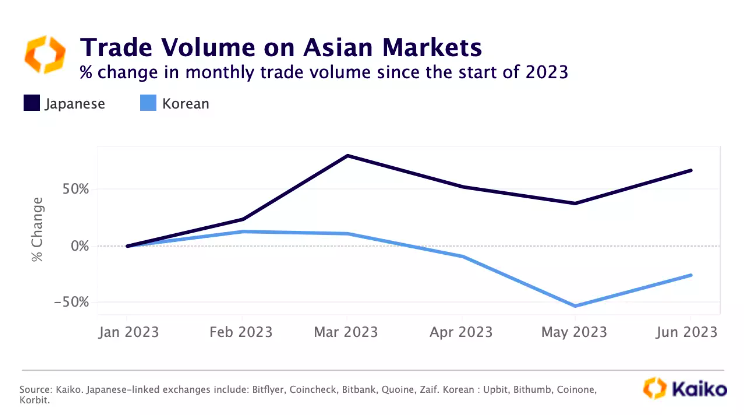 Also Read: South Korea: Top Banks Explore CBDC, Stablecoin Alternative
Nevertheless, it should be noted that overall Korean exchanges have much larger trade volumes. With respect to the assets traded, Bitcoin accounts for more than 80% of trade volume on Japanese exchanges. Contrastingly, altcoins account for the vast majority of volume on Korean exchanges. Explaining what to expect going forward, the report noted,
"BTC undeniably led the Q2 crypto rally causing relative volumes to surge, which could explain why Japanese exchange volume saw bigger gains. So far in Q3, altcoins have dominated, so we could expect a reversal of this trend."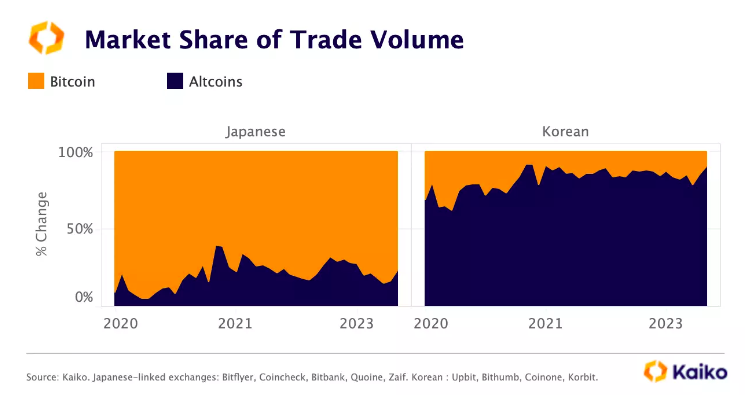 Also Read: XRP Tops Dogecoin, Solana: Becomes Top Traded Crypto of 2023
Japan and its 'Ambitious' Metaverse Project
Leaving aside the crypto space, Japan has also been making strides in the metaverse industry. Recently, Prime Minister Fumio Kishida hinted that a top Japanese firm is set to reveal a key metaverse project. Talking at a Web3 conference in Tokyo, he said,
"I have heard that a large Japanese company will take this opportunity to announce to the world a big, ambitious project that aims to create a valuable economic system in the metaverse."
On the policy front, he further revealed that Web3 promotion rules will be released soon. He said that the country's annual broad policy outline included measures revolving around user protection. It also focused on improving the environment for utilizing Web3 tokens and fortifying the content industry, he added.
Also Read: Societe Generale Becomes 1st Company to Receive Crypto License in France