Both Bitcoin [BTC] and the broader cryptocurrency market have been experiencing a period of decline. The king coin dropped significantly to a low of $25,600, representing a loss of 10%. Yet, there appears to be optimism in the market, as this recent decrease is being regarded as a simple correction. JPMorgan's recent report highlighted that the correction and liquidation events observed in the crypto markets this month have likely come to an end. This further signals a potential conclusion to the challenging phase. To substantiate this, the financial institution has utilized CME Bitcoin futures as evidence.
According to JPMorgan's evaluation of CME Bitcoin futures positions, the process of closing out long positions seems to be approaching its end rather than being in its early phases. The JPMorgan analysts noted that crypto traders had established bullish positions due to recent favorable developments. These include the XRP legal ruling, the introduction of PayPal's stablecoin, expectations of the U.S. Securities and Exchange Commission approving BTC exchange-traded fund applications, and some traders setting themselves up in advance of next year's Bitcoin halving event.
Since these were nearing their end, there is a restrained potential for a decline in the cryptocurrency markets in the short term. Nikolaos Panigirtzoglou, a JPMorgan analyst, said,
"The fading of the above previously positive news has induced a wave of long position liquidations in recent weeks that are still reverberating. As a result, we see limited downside for crypto markets over the near term."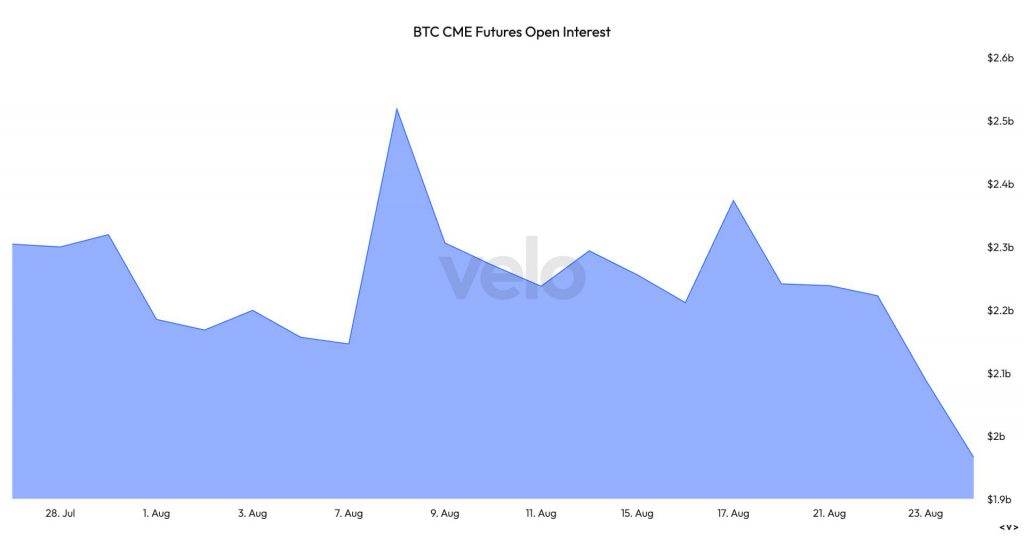 In the above-seen image, the open interest for Bitcoin CME futures presently stands at $1.97 billion. This follows a peak of $3 billion achieved in July.
Also Read: SEC Approval of Spot Bitcoin ETF Now 'Better Than 50/50' Chance
Bitcoin supply on exchanges drops to a six-year low
According to data from Santiment, merely 5.8% of the complete Bitcoin supply is currently stored on exchanges. This signifies a historic bottom for the king coin, a level that hasn't been observed since the exuberant period of Dec. 17, 2017.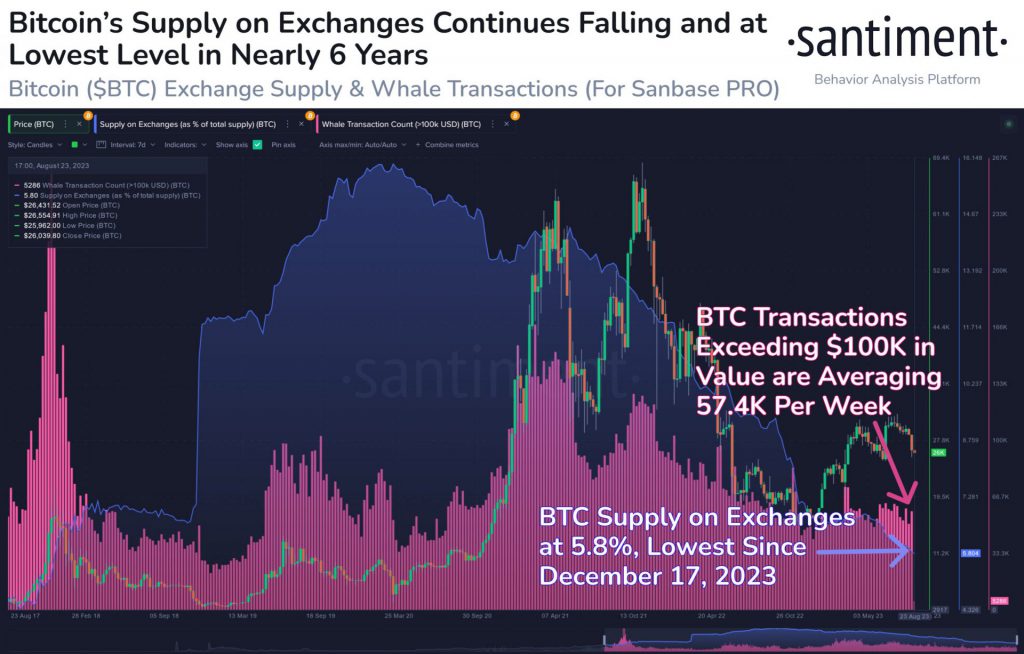 This is undoubtedly a bullish feat. As trust in Bitcoin's ability to serve as a resilient store of value grows, individuals are choosing to transfer their holdings into personal wallets. This diminishes the amount of Bitcoin accessible for trading on exchange platforms, further reducing selling pressure.
Furthermore, Santiment disclosed that Bitcoin holds the leading position as the asset with the highest extent of address engagement. Over the past 30 days, the network registered a total of 963.4K daily active addresses. At press time, Bitcoin was trading for $26,097.37, with a 1.33% daily drop. However, the above factors suggest that the king coin's fate could soon be changing.
Also Read: Pantera Capital Projects Bitcoin to Reach $148,000 by 2024