Kadena Coin (KDC) has given phenomenal returns to early investors since its launch. Investors who took an early entry position during its inception in January, 2020, saw their assets shoot up +27,675%. KDC is one among the best performers in 2021 and is also the most sought-after crypto in the market at present.
A mere $1,000 invested in Kedena Coin in November 2020 would have turned to $112,500 today. The coin has given a profit of 11,250% in just 365-trading days. Its growth has been impressive, as just on October 31, 2021 it was trading at $5 and today its at $18.
KDA is also dominating the Crypto Bubbles website as it took the top spot with a gain of 152%. Also, LoopRing (LRC) comes second with a gain of $125% in 7-trading days.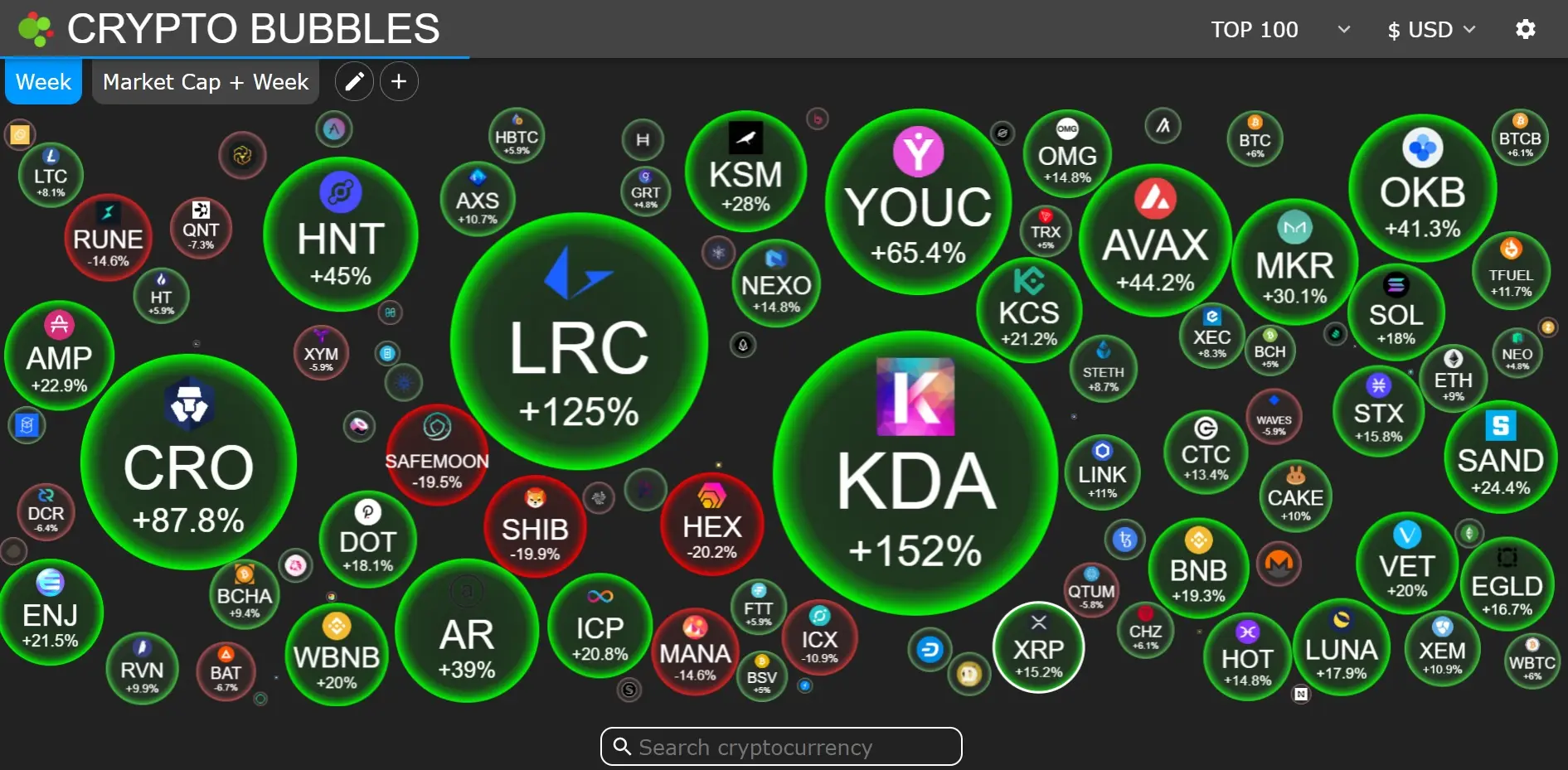 Kadena Coin Prediction
Kadena is also one among the many coins that touts itself as the 'Ethereum killer'. The coin is less than two years in the market and not everyone have heard about it yet. The coin is shooting up without creating noise and silently rewarding its investors with good returns on investment (ROI).
KDC is a blockchain project that enables developers to build quality decentralized applications on its platform. It also boasts of smart contract features and its language is called Pact.
In addition, KDC runs on Kuro, which is a layer-2 blockchain that supports 8,000 transactions per second. KDC is faster than its rival Ethereum, which runs less than 20 TPS and Solana, which runs only 2,000 TPS.
KDC has successfully partnered with leading cryptos such as Terra, Polkadot, and Cosmos and its transactions have no additional costs. The developers recently raised $15 million from top investors such as Susquehanna, SV Angel, and InBlockchain.
Kadena Coin is by far a hidden gem yet to be discovered among investors in the crypto market and has a bright future ahead.
Since the first week of November, the coin has risen close to $1 each day and its momentum is only getting started. KDC has been displaying bullish signals and investors can make good use of the next dip. The coin touched the $25 mark today in its all time high and settled down at $18.
An entry position in KDC has to be carefully planned during the dip. Also, Kedana Coin is good for both short term and long term gains, so investors of all kinds can make the most out of its swings.
Kedana at the time of publishing was trading at $18.28 and is up +6.9% in the 24-hours day trading.