A top executive at Kraken dropped a Shiba Inu listing hint and teased followers about adding it on the platform. Brian Hoffman, the Product Lead at Kraken dropped a GIF on Twitter showing a Shiba dog on the laptop. He captioned the clip as, "Feeling good about this upcoming week."
The tweet was widely shared on Twitter and the SHIB army was convinced that Kraken could finally list it this week. However, the joy was short lived as Hoffman deleted the tweet later. This shows that the exchange firm might not stick to their promise and list SHIB the end of this week.
Here's the infamous and now deleted tweet by Kraken's Product Lead Brian Hoffman below: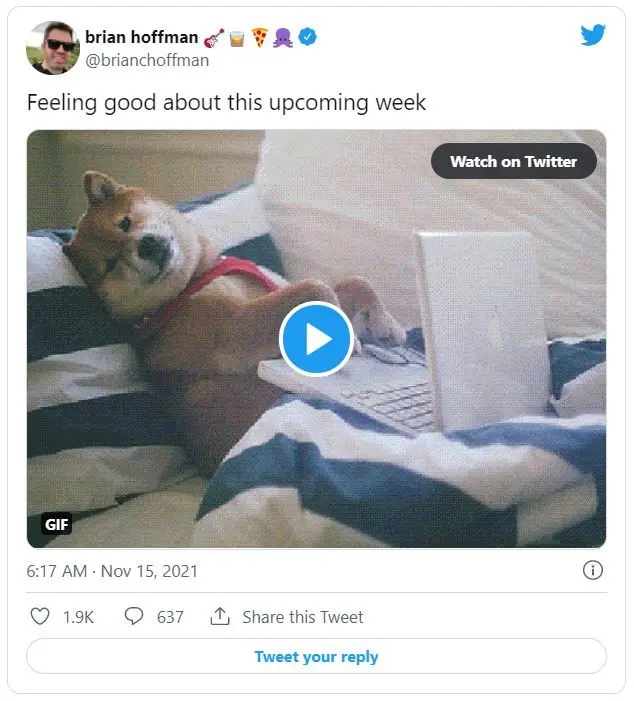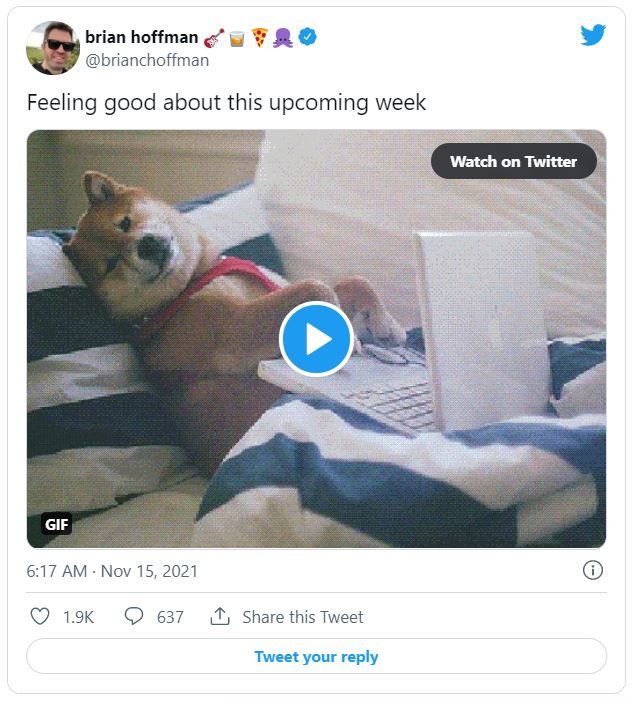 Hey Kraken, When Shiba Inu?
This is not the first time Kraken teased the Shiba Inu community about listing the coin on their platform. On November 1, 2021, the exchange firm sent a tweet saying if they receive 2,000 likes, they'd list SHIB tomorrow. However, the tweet received 85,000 likes but Kraken has not delivered on their promise to get the coin on board.
"@brianchoffman said if we get 2,000 likes we will list $SHIB tomorrow – but he doesn't think we can do it. #SHIBArmy where you at? #SHIBArmy we've heard you loud & clear! Community is an important part of our considerations for all listings, and you have clearly shown your support. There's more work for us to do as we move through our listing review process," tweeted Kraken.
It took less than 15 minutes for the tweet to reach 2,000 likes. Even two weeks later, Kraken is still in the "review process" to list Shiba Inu on their trading platform.
Can Shiba Inu Delete Another Zero By the End of 2021?
Shiba Inu began displaying extreme bullish sentiments from October 2021 after it shot up +900%. The coin attracted heavy buying pressure which propelled its price to reach an all high high of (ATH) $0.00008616. The ATH was recorded on October 28, 2021 and is down -42.0% from its ATH.
Financial analysts claim that Shiba Inu can knock out another zero by the end of 2021 after new listings. If Robinhood gets SHIB on board, the coin can delete two zeroes as it would open the floodgates to new investors. It is widely believed that Robinhood will list Shiba Inu after they release their much awaited 'Crypto Wallet'.
At the time of publishing Shiba Inu was trading at $0.00005050 and is down -3.95% in the 24-hours day trade.