The Shiba Inu community has hardly taken potshots at other cryptocurrencies out in the market to gain the spotlight. Many cryptos flex their muscles by highlighting their uniqueness often end up slurring at their competitors and poking fun of their investors.
The cryptocurrency market is nothing but a cesspool of investors who love dragging 'other' coins deep into the pit. A peek into Reddit's cryptocurrency group shows how the market is divided between 'my favorite coin Vs your favorite coin' hate.
The SHIB community believes in being defensive than offensive when it comes to showcasing their coin. The community as a whole has mostly avoided speaking ill about other coins and spread positivity where there's hate.
While Dogecoin influencers are hellbent on calling other tokens 'good', the Shiba Inu community believes each coin is unique. Even SHIB influencers regularly praise other tokens and the community does not bat an eyelid. However, that's not the case for other tokens as their influencers would receive hate for talking about how 'other tokens can also be good'.
READ ALSO: AMC Theatres Will Be the First Bitpay Client to Accept Shiba Inu (SHIB)
The inclusiveness and 'no hatred' policy is what's attracting new investors into SHIB. The community makes everyone feel comfortable and welcoming, even to its criticizers. The culture of 'no negativity' against other tokens has rubbed off among all its investors. Undoubtedly this makes SHIB the shining city on the hill that's accepting everyone into its fold.
Here's An Example of Shiba Inu Positive Culture
When Shiba Inu spiked +900% in October 2021, Dogecoin co-founder Billy Markus poked fun at it saying "4 quadrillion dollars". However, SHIB's top influencer 'Milkshake' refrained from spewing venom against him or Dogecoin and simply replied 'Why Shiba Inu is good'.
Nonetheless, Markus blocked the influencer and the matter was laid down to rest. 'Troll culture' or 'trolling your opponents' is not in the bloodline of the Shiba Inu community. They choose to remain defensive than be offensive.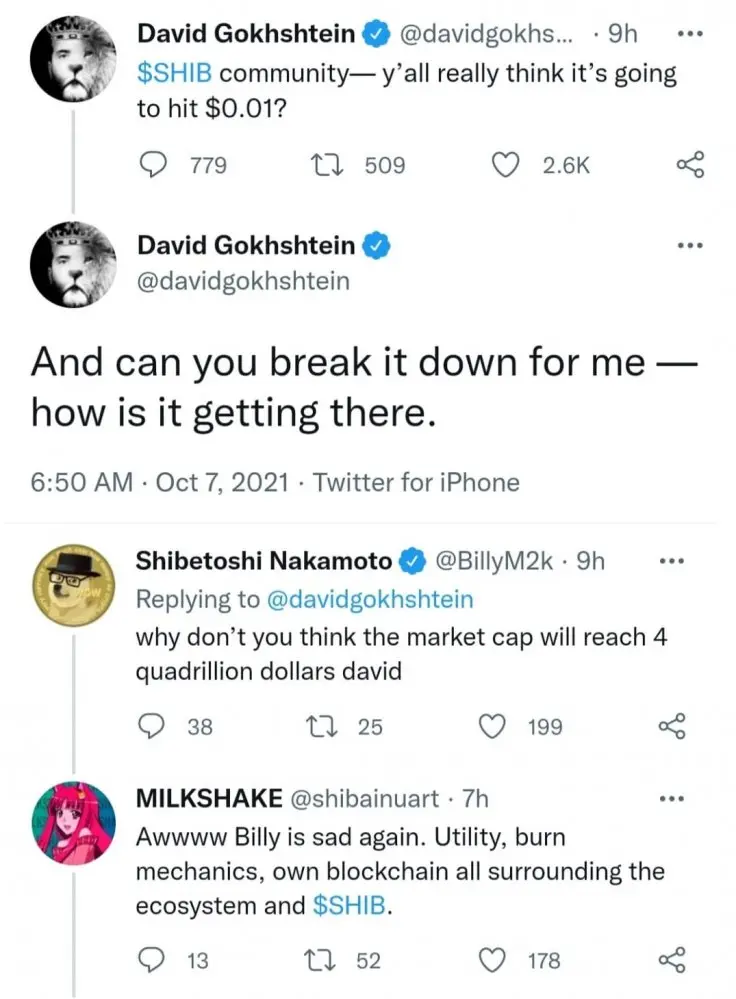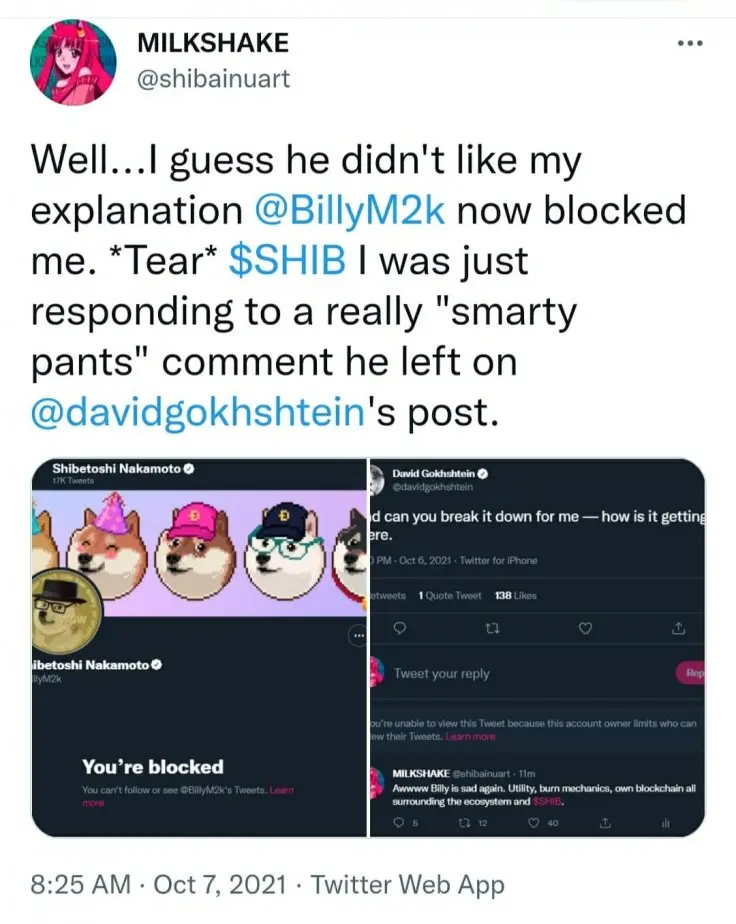 You can troll SHIB, but in return, you get educated about the coin's prospects than being rained down by hate against the person and his favorite token. This culture makes SHIB stand apart from the crowd and gain new investors each day.
The coin is all set to breach the 1 Million holders mark and will cross the magic number this week. Shiba Inu at the time of publishing was trading at $0.00005235 and is down -0.34% in the 24-hours day trade. The coin still displays bullish sentiments and can propel in price in the coming weeks. A Robinhood listing can even make the coin delete two 'zeroes' from its trade.