The market conditions have, yet again, become choppy. On one hand, the FTX-Binance saga has not been showing any signs of cooling down. On the other, bears have already started gaining control, thanks to the rampant sell-spree.
The global cryptocurrency market cap had dropped by 3.73% to $984.79 billion on Tuesday. Top assets like Bitcoin and Ethereum—on their part—went on to create new November lows. Liquidations spiked up and long traders, resultantly, had to bear the brunt.
Read More: Bitcoin, Ethereum create new November lows as market crashes
McDonald's flips Ethereum
A few hours back, McDonald's overtook Ethereum in terms of market capitalization. Around the time of flippening, the former's valuation stood at $202.04 billion, while latter's agregate worth reflected a value of $197.94 billion. At that time, they occupied the 48th and 49th spot respectively.
Opining on the position swap, Changpeng Zhao—Co-Founder and CEO of Binance—said,
"Doubts creep in once in a while."
CZ further went on to caution the community by asking them to stay "SAFU" and "strong."
Also Read: Does Polygon deserve to be in the top 3 with Bitcoin, Ethereum?
With a market capitalization of $181.73 billion, Ethereum stood much lower [#59] at press time. Other top companies like Shell, Alibaba, Toyota, Cisco and Walt Disney ranked higher.

The likes of other well-known names like L'Oréal, Nike, Accenture and Morgan Stanly had valuations less than that of Ethereum's and occupied positions lower than it.
Also Read: Bitcoin: Did McDonald's trigger this BTC rally?
ETH'S dominance in the crypto market
Leaving aside macro-rankings, ETH has been losing its foot in the crypto market as well. From mid-September's 20%, Ethereum's market cap dominance has already shrunk down to 18.4%.
At press time, ETH's price was down by 6% on the daily. Owing to the dip, the second largest crypto asset was seen exchanging hands at $1486.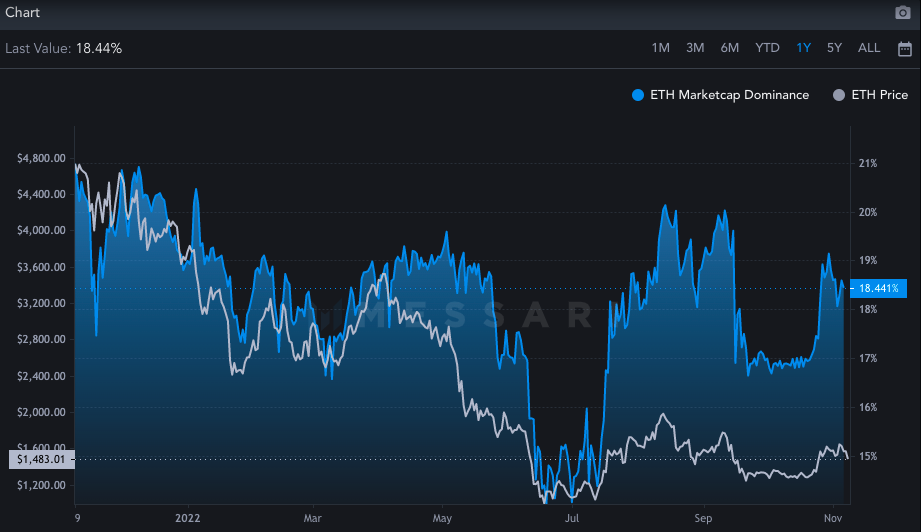 Also Read: If MicroStrategy invested in Ethereum over Bitcoin, What would be its Valuation?