MetaMask has gained recognition as a prominent cryptocurrency hot wallet over time. While initially developed for the Ethereum network, it has expanded its support to include BSCchain, Polygon, and other networks.
Providing a user-friendly experience, MetaMask is accessible through both mobile devices and straightforward browser plugins. Further strengthening its presence in the crypto realm, a recent report from CoinGecko reveals a notable milestone for the popular wallet.
Also read: Microsoft Collaborates With Aptos to Explore Digital Payments and CBDCs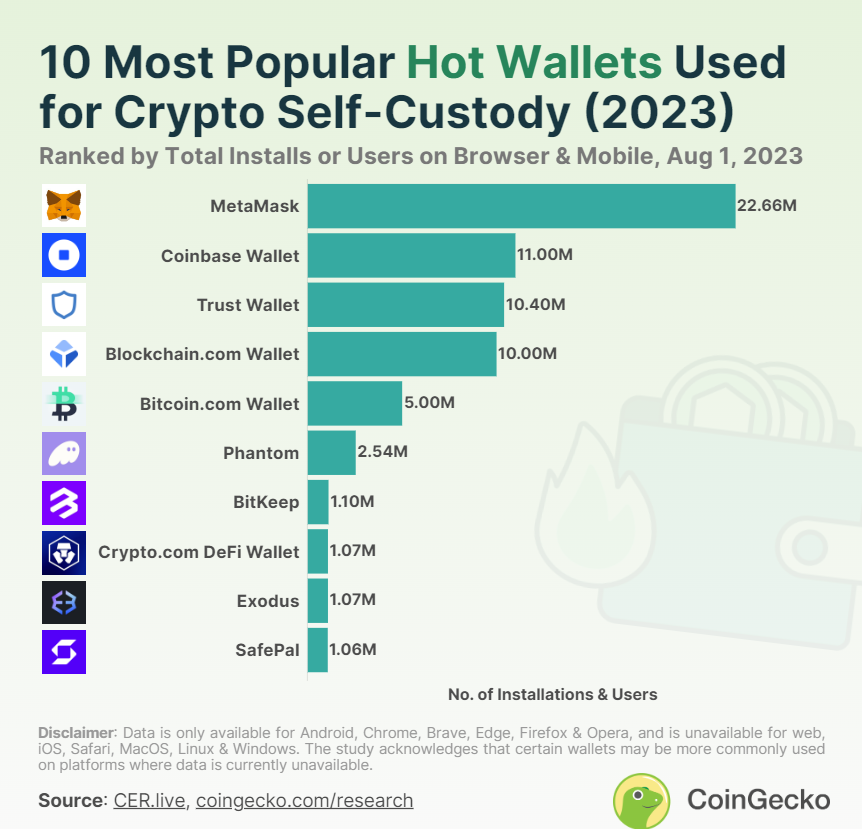 MetaMask emerges as the most popular wallet
MetaMask stands out as a widely favored cryptocurrency hot wallet. It boasts an impressive user base of more than 22.66 million installations. The dominance of the top 10 crypto hot wallets is evident in their collective count of 65.90 million installations, making up a significant 81.2% of all crypto hot wallet installations across various browsers and Android mobile devices.
Also read: Sam Bankman-Fried to Face Campaign Finance Charge, DOJ Stands Firm
Noteworthy among these, the top 4 crypto hot wallets alone contribute to a total of 54.06 million installations (66.6%). Following in the footsteps of MetaMask, prominent wallets like Coinbase Wallet, Trust Wallet, and Blockchain.com Wallet garner considerable usage, each boasting installations of 10 million or more.