Bitcoin is a highly volatile asset. During price corrections, a significant number of investors tend to abandon the asset. At the same time, however, there are bullish people who keep doubling down on their convictions. MicroStrategy is one such entity. A recent CoinGecko analysis report brought to light,
"MicroStrategy's Bitcoin (BTC) holdings averages at 74.3% of its total balance sheet assets, since they started acquiring Bitcoin in 2020, to date."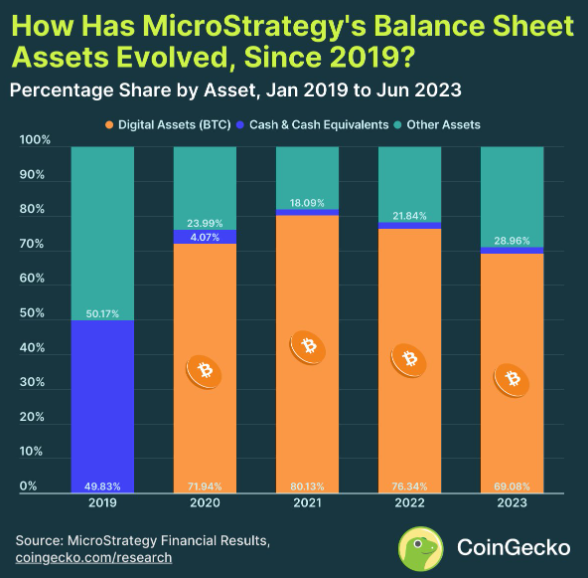 Also Read: Crypto: 31% Investors Willing to Follow AI Advice Without Verifying
MircoStrategy's Cash Assets Drop From 50% to 4%
The company initially acquired 21,454 BTC on Aug. 11, 2020. That marked the first time a publicly traded company bought and held Bitcoin. Since the company incorporated its BTC Strategy, its stock has outperformed Gold, Silver, and the Bond index. Parallelly, MSTR has also been able to outperform big tech stocks like Netflix, Amazon, and Meta. Michael Saylor has time and again asserted that the winning strategy is a Bitcoin strategy. Bitcoin's weightage on MicroStrategy's balance sheet has undoubtedly been increasing. However, the share of other assets has been dropping. According to CoinGecko's report,
"In tandem, allocation of cash and cash equivalents dropped from a 49.8% asset share to just 4.07%."
MicroStrategy's recent Q2 financial report pointed out that the company currently holds $65,968,000 in cash and cash equivalents, representing only 1.96% of its total assets on the balance sheet. On the other hand, their Bitcoin investment has risen to $2,323,252,000 [around 70% of the total assets held]. In fact, the company has not added any short-term investments to its balance sheet since the first purchase of Bitcoin in 2020.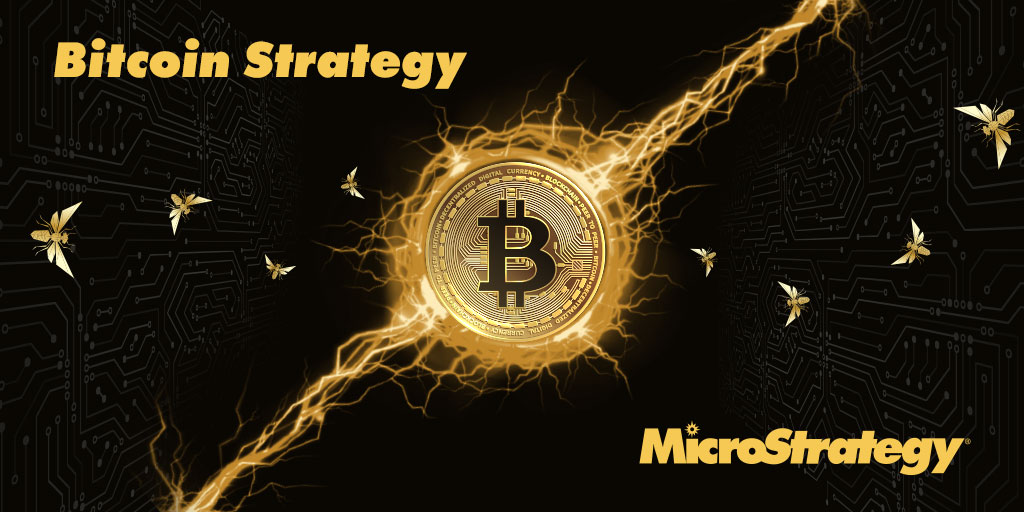 Even though the company has been adding BTC to its balance sheet quite frequently, its largest purchases date back to 2020. In Q3 and Q4 of that year, the company bought 38,250 and 32,220 BTC, respectively. Together, they constitute 46.12% of the company's total Bitcoin holdings. Despite a change in leadership, CoinGecko analyst Nicholas Coursel-Stoll believes that the company will continue treading on the same path. Elaborating on the future outlook, his report noted,
"Despite a change in leadership from former CEO Michael Saylor to Phong Le in 2022, the company has remained steady in its Bitcoin conviction with no signs of redirecting its course anytime in the near future."
Also Read: Binance Might 'Not' be Manipulating the Bitcoin Market Yet