The Paw Chain team has revealed they are working on a layer-2 wallet. The team has codenamed the project as PAWallet. The wallet will allow users to buy and sell crypto on and off-chain. The team has said they "are developing an extensive range of features for this wallet project." Paw Chain's announcement comes amid Shiba Inu (SHIB) announcing a similar cold wallet for the SHIB ecosystem.
Paw Chain is one of the many projects on Shiba Inu's (SHIB) upcoming Shibarium layer-2 network. Although Shibarium's mainnet is yet to go live, several projects have lined up to build on the highly anticipated layer-2 network.
Furthermore, cold storage options have become more and more popular since the collapse of FTX in November 2022. The fall of one of the biggest exchanges in the world proved, once again, that the safest way to store crypto is off exchanges. Therefore, it is not surprising that new projects are working on cold storage options for their users.
Will Paw Chain bring more use cases for Shiba Inu?
SHIB has long attempted to rid itself of the "memecoin" tag. One way of doing that is by introducing more use cases for their users. With the launch of Shibarium, SHIB will cease to be an ERC-20 token on the Ethereum blockchain. Moreover, new projects can choose to build on the SHIB ecosystem. This has made the SHIB ecosystem a lot more exciting for fans and users. More use cases is one way to make the project more relevant, and less prone to dying out.
PawSwap's price does not seem to follow the announcement. The asset is down by 2.5% in the last 24 hours and by 19.5% in the last seven days. The token currently faces resistance at $0.0000000301188, with support at $0.0000000275235.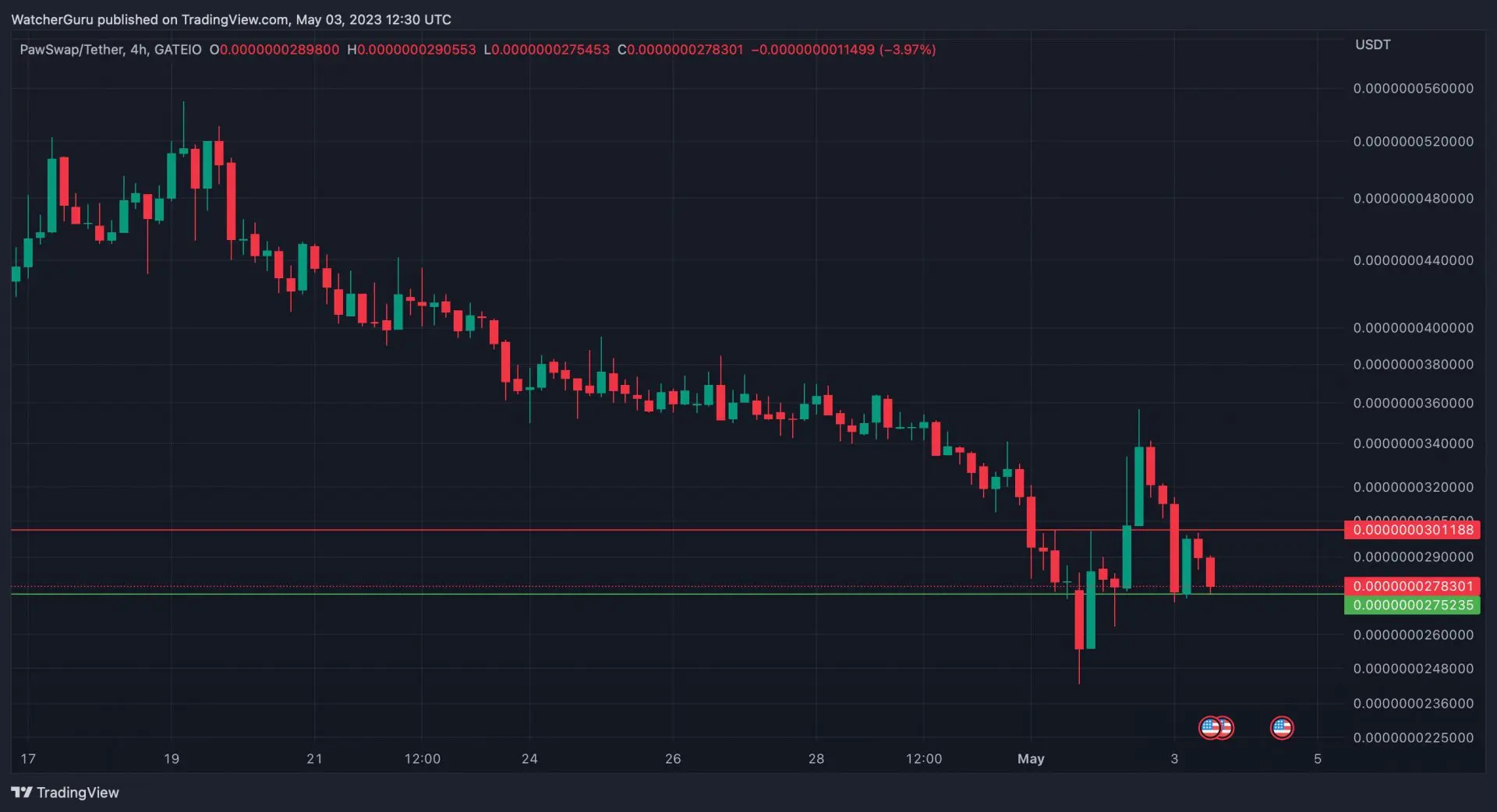 At press time, PawSwap was trading at $0.0000000278301, while SHIB was trading at $0.00000988. PAWZONE on the other hand, was trading at $0.00001084, down by 2.6% in the last 24 hours.