Pepe Coin (PEPE) has become one of the most talked-about crypto projects in 2023. Launched in April of this year, the token has already seen gains of over 1700%. However, the token is currently facing a huge liquidation risk. According to Scope Protocol, 33 trillion PEPE tokens, worth a whopping $46.37 million, were deposited to exchanges in the last 24 hours. Of the total, $22.94 million tokens were sent from 1176 addresses. The development puts a serious question on whether the project will see a massive liquidation soon.
Although Pepe Coin (PEPE) is still up by over 1700% since its launch, the token has fallen by almost 29% in the last 24 hours. Moreover, it has dropped by 35.8% in the last week. At its peak, on May 5, PEPE registered returns of 6363%. However, the token has been on the downturn ever since. Moreover, in the last 24 hours, PEPE's volume has surged by nearly 320%.
Can Pepe Coin rebound?
PEPE appears to be a "get-rich-quick" project, with almost no use cases. Moreover, the asset has a liquidity issue that it cannot address at the moment. Additionally, there are very few platforms that accept PEPE as a form of payment. Therefore, there aren't many reasons for people to hold the token, apart from hopes of making a profit.
Moreover, like most memecoins, PEPE is dependent on online social media popularity. According to LunarCrush, PEPE's social engagement has increased by 37.3%, but bullish sentiment has decreased by 14.8%.

PEPE has currently formed a falling wedge pattern on the daily chart. There is a possibility of a breakout. However, with Bitcoin (BTC) not performing at its best, it seems unlikely that PEPE will defy market sentiments. Pepe Coin (PEPE) currently faces resistance at $0.00000130112, with support at $0.00000083594. There is a possibility that PEPE could breach current support levels, adding another zero after its decimal point.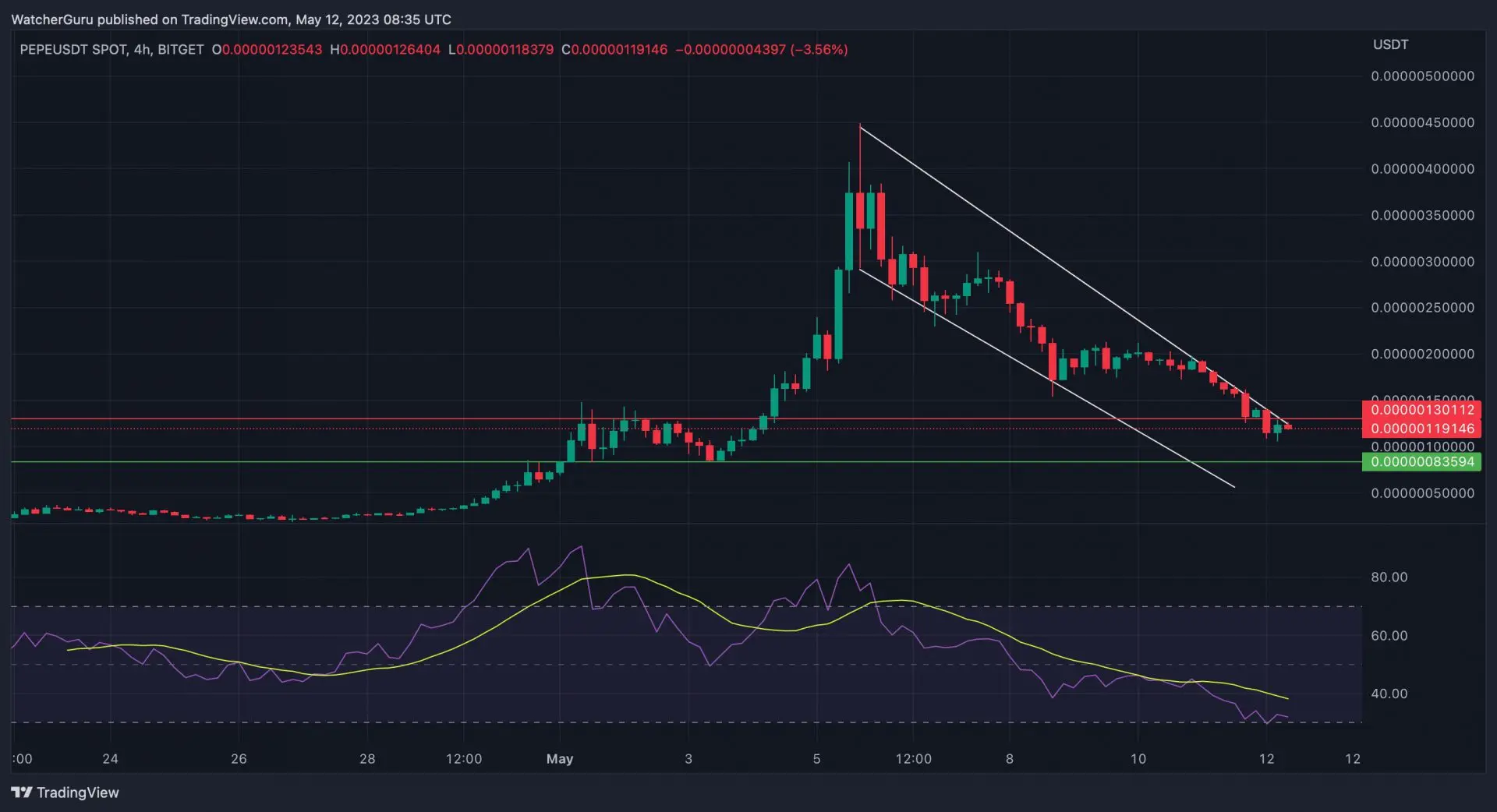 At press time, Pepe Coin (PEPE) was trading at $0.00000119146, up by 4.9% in the last hour.