The recent craze for meme coins led to the emergence of numerous new tokens, including PEPE, inspired by the popular Pepe the Frog character. As people sought to replicate the success of Shiba Inu, many turned their attention to PEPE in hopes of achieving millionaire status. The early adopters of PEPE reaped significant gains as the price skyrocketed by over 1,000%. However, like other newly launched cryptocurrencies, the price and excitement surrounding PEPE eventually subsided.
Currently, PEPE's price was found to be 79% lower than its previous all-time high of $0.00000431. This was achieved on May 5, 2023. At press time, the meme coin was trading at $0.000000884562, reflecting a daily decrease of 4.9%. This significant decline in the asset's price has left many with the impression that it was a mere 'seven days' wonder.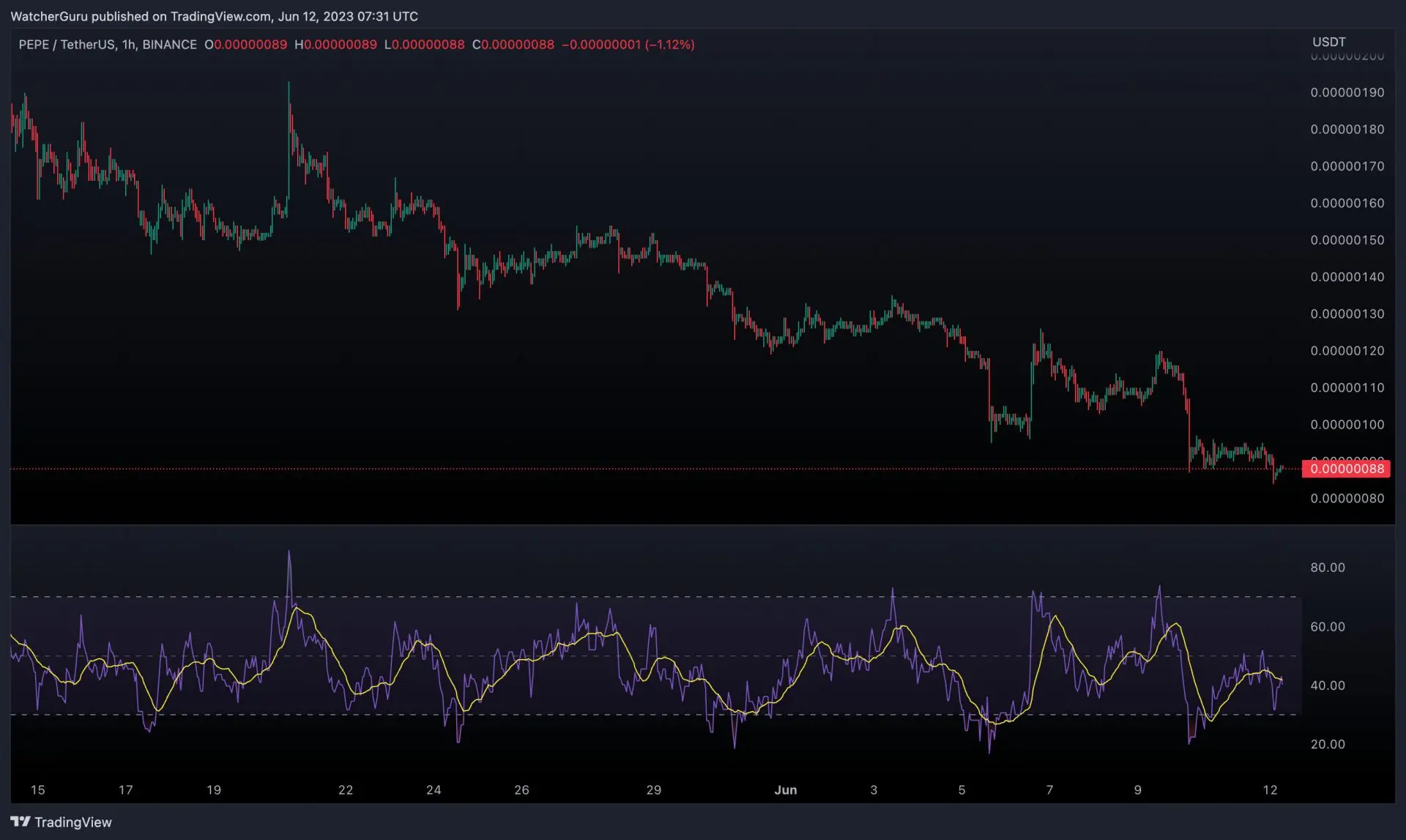 Based on the provided chart, the Relative Strength Index [RSI] indicator indicated a higher prevalence of selling activity compared to buying in the PEPE market. Furthermore, data from IntoTheBlock revealed that a significant 71% of PEPE holders were experiencing losses. Only 26% were enjoying profits.
Did PEPE stop generating yield for its holders?
One would think that the meme coin's Halycon Days were coming to an end, taking into account the above-seen data. However, blockchain sleuth Lookonchain revealed that an investor pocketed 1270x gains.
As seen in the above tweet, an address has been actively involved in investing in the meme coin over a significant period of time. The address allocated $987 worth of ETH to acquire a substantial quantity of 571 billion PEPE tokens in April. Subsequently, the whale decided to sell approximately 392.5 billion PEPE tokens, resulting in the acquisition of 597 ETH, which held a value of $1.12 million at the time. These transactions further contributed to the address's accumulated realized profits, which now stand at an impressive 596 ETH.
As the community speculated about the potential decline of the meme coin, an address defied the prevailing sentiment. The address did so by investing an additional 69 ETH, equivalent to $121K, to acquire tokens. Over the weekend, this address purchased a staggering 128 billionPEPE, signaling renewed interest and confidence in the asset. This unexpected move has sparked curiosity and speculation among market observers regarding the potential of the meme coin.