On-chain smart money tracking platform Lookonchain recently took Twitter to highlight that a large buyer shelled out around 250k USDC to purchase 227 billion Pepe Coins. The whale bought the tokens at a price of around $0.0000011 each.
The whale has forked out a total of 2.25 million USDC to buy 2.81 trillion PEPE, according to the platform. In fact, according to on-chain data, this is the same whale that made $11.47 million on Pepe Coin before.
Also Read: Pepe Coin Rallies 15%, Elon Musk Says Dogecoin 'For the Win'
Rewinding a bit, Lookonchain highlighted that the whale spent 422 ETH worth $871k, and 200k USDC to buy 4.23 trillion PEPE in the period between April 19 to April 27. Then, after Binance listed the crypto, the whale deposited PEPE into the exchange. After that, his other address cashed out 12.54 million USDT from Binance.
So, selling all the PEPE fetched the whale 12.54 million USDT in the end. According to Lookonchain, the profit is $11.47 million. Chalking out the probable strategy of the whale, the platform's tweet thread noted,
"This whale was not an early buyer of PEPE, but he kept buying PEPE from Apr 19 to Apr 27 when the price of PEPE was depressed. So is he buying PEPE again with so much money because he knows something we don't?"
Pepe Coin: Price, State of Other Investors
On the price front, Pepe Coin has glided up by nearly 14% from its daily high to daily low. However, at press time, a retracement was in formation. Even though today has been a green day for Pepe Coin, it is essential to note that it is currently on a downtrend on the daily time frame.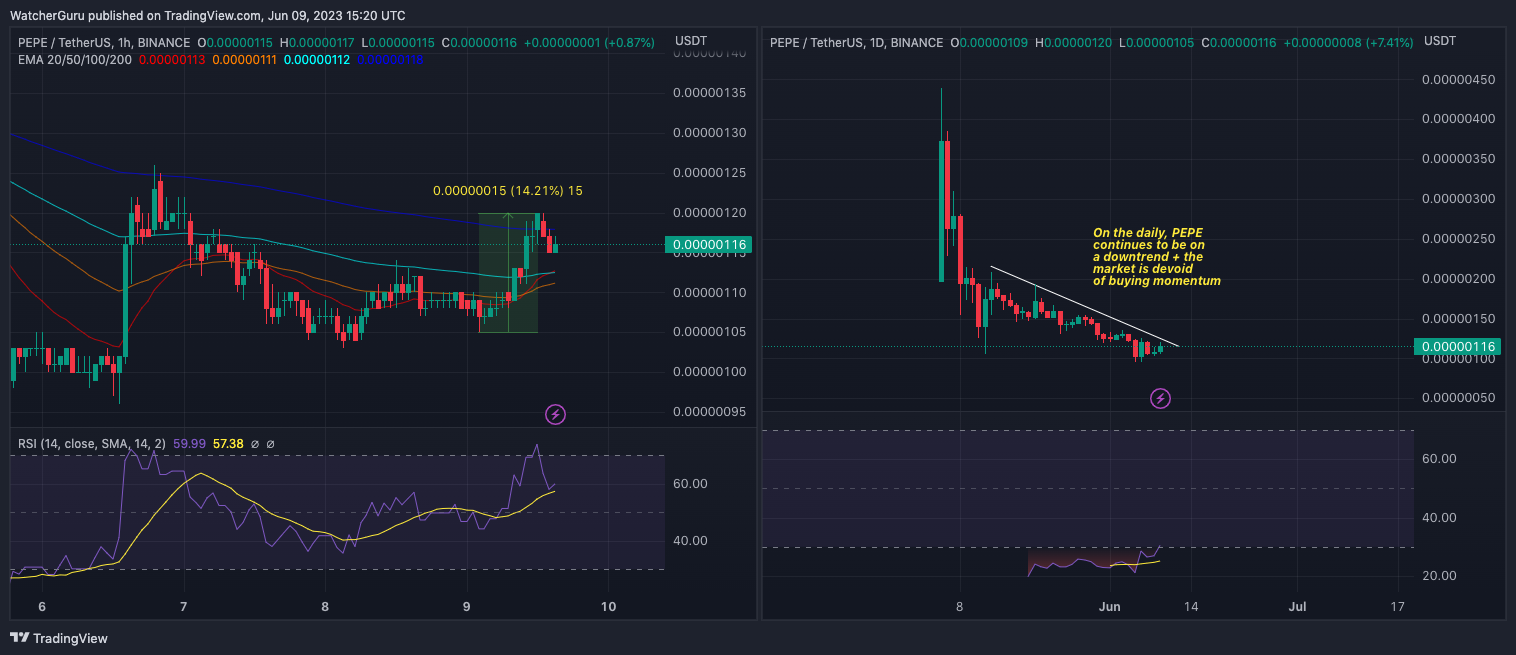 In fact, the Pepe Coin market is also devoid of buying momentum at this stage. The undernourished RSI reading of 30.4 supported the said assertion. As chalked out in an article recently, early participants got to relish the biggest piece of Pepe Coin's gain pie. The early profit-taking ended up evaporating liquidity from the PEPE market. Thus, the majority of investors are now not in a position to make material profits.
In fact, a senior analyst warned investors, that the limited amount of net liquidity is creating "a high stakes game of music chairs." On a daily basis, investors are being "lured in with the hopes of big profits." However, in reality, only "a small percentage of investors will walk away with profit, while everyone else will get burnt," according to the analyst.
Also Read: 80% Of Pepe Coin Profits Were Accrued During Week 1: Research