On Wednesday, June 7, almost the entire crypto market was trading in green. After the lawsuit episodes, most assets shed value initially. However, their recovery has been quite swift of late. At press time, most large and mid-cap assets were trading at prices higher than yesterday, bringing the aggregate valuation of the market up to $1.12 trillion. The said figure marks a 2.91% rise over the past day.
Pepe Coin was the second largest gainer at press time. This recently-launched crypto managed to pull off a nearly 15% rally in just a period of 24-hours. Parallelly, even Dogecoin was a part of the top 15 list. Specifically, it occupied the 11th position, and registered a 5% appreciation in the same time frame. That took its valuation up to $0.6948.

Also Read: Robinhood is 'Reviewing' its Crypto Offerings: SOL, ADA, MATIC on the Radar?
Dogecoin For The Win: Elon Musk
Here, it is worth noting that meme coins weren't outrightly mentioned in both the cases. Only other large and mid-cap assets were targeted. In the Coinbase lawsuit, the SEC specifically deemed SOL, ADA, MATIC, FIL, SAND, AXS, CHZ, FLOW, ICP, NEAR, VGX, DASH, and NEXO to be securities. In the Binance case, on the other hand, BNB, BUSD, SOL, ADA, MATIC, FIL, ATOM, SAND, MANA, ALGO, AXS, and COTI were victims.
When Ethereum was exempted from the list in the Binance lawsuit, the ETH/BTC pair resisted correction. Now, with no mention of meme coins in the filings, the community is perhaps elated. In fact, several expect other coins from the same boat to eventually follow suit.
Amid all the chaos, Jack Dorsey recently agreed that Coinbase should start focussing back on only Bitcoin, for it is far too ahead when compared to the rest of the clan. Elon Musk, however, didn't seem to be on the same page. According to the Tesla executive, DOGE would ultimately emerge victorious. Specifically, Musk tweeted, "Doge ftw."
On the short timeframe chart, both Pepe Coin and Dogecoin had registered minor pull backs. Indicators like the RSI were gradually seen heading towards the neutral zone, suggesting that buyers were losing their say, narrowing down the odds of their respective rallies to persist.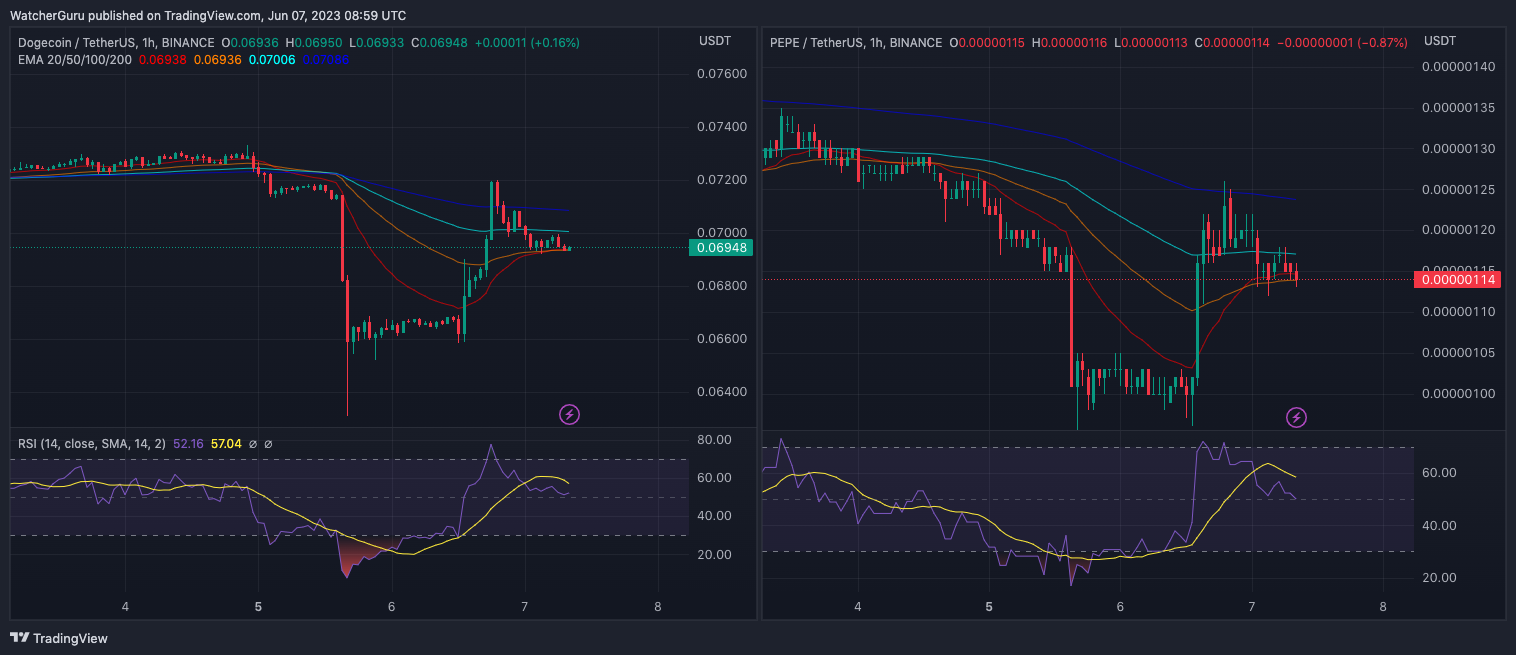 Also Read: Ethereum-Bitcoin Pair Resist Correction As Binance Notes 2023's Largest Outflow