The overall crypto market sentiment is currently optimistic, with many assets experiencing notable upward trends. Among them is Polygon's MATIC, which has also been following this trend. At press time, MATIC is trading at $0.6973, reflecting a daily increase of 7.88%. Over the course of the week, the asset has gained 13.10%.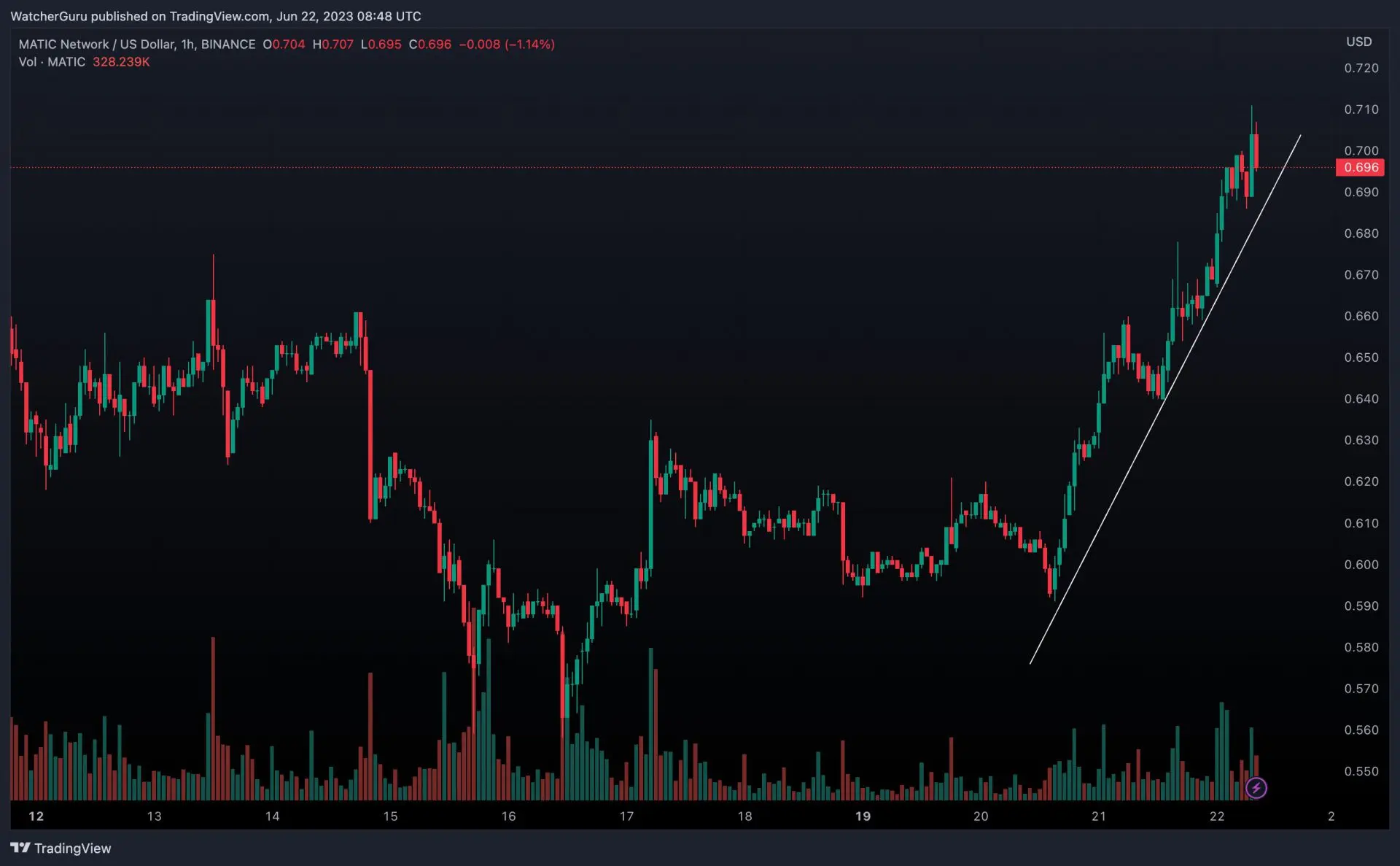 The chart clearly illustrated a significant upward trajectory for the altcoin, with its price surging from a low of $0.561739 to a high of $0.707185. However, it's not only the price of MATIC that witnessed an upward trend. The Polygon network also experienced growth in terms of active addresses. Recent data indicated that the total number of active addresses in the network rose to 2.52K, following a daily increase of 17.52%.
IntoTheBlock's analysis also indicated the activation of whales within the MATIC network. The large transaction volume of MATIC experienced a significant surge of 46.13%, reaching a total of $42.59 million.
Alongside the increasing network activity, bullish news has played a role in driving up the price of MATIC. Polygon Labs recently announced that the company was featured on TIME magazine's prestigious list of the 100 Most Influential Companies of 2023.
While Polygon's addition came as a surprise, it did not shock the community. During the past 18 months, Polygon Labs has made notable achievements. This included developing the fastest zk proving system within the industry. Additionally, they have successfully launched the only EVM-equivalent zkEVM on the mainnet. These advancements have contributed to the recognition and success of Polygon in the crypto space.
Will this benefit MATIC holders?
Despite the positive uptrend and recognition, a significant number of MATIC holders, amounting to 89%, are still experiencing losses. Only a small percentage, approximately 7.42%, have managed to generate profits. While the recent developments have provided some temporary relief, achieving long-term recovery will require additional measures and sustained growth.