The Shiba Inu [SHIB] ecosystem has seen its own versions of ups and downs. Despite everything, the network has managed to retain its loyal user base. While several others in the crypto community have been complaining about the meme coin's price rut, the SHIB Army continues to believe that the asset has the potential to thrive upwards.
However, can Shiba Inu really rise to $0.01? The community remains hopeful and there are a few factors that may push the meme coin to that level.
Mass Adoption
The broad use of the token as a means of payment is a crucial element that might lead SHIB to $0.01. Over the last couple of years, the asset has already made immense headway with regard to adoption. Businesses that enabled their support for the meme coin, have further allowed customers to make product purchases and avail services. Shiba Inu has alone been used to pay bills, purchase real estate, and pay for salaries, among other things.
Additionally, firms like BitPay, Binance, and CoinGate have onboarded SHIB. These firms are aiding the asset's journey in emerging as a prominent payment option. While this magnitude of adoption is currently benefiting SHIB, more merchants need to accept the meme coin for widespread expansion.
Shiba Inu Burns
Shiba Inu can also hit the $0.01 threshold if a significant portion of its supply is eventually sent to dead wallets. Burns have been an integral part of the Shiba Inu ecosystem. The community has been carrying out burns relentlessly. These efforts, however, have not produced bullish rallies. At the current price of $0.000011 and a market valuation of $6.5 billion, nearly 588.2 trillion tokens would need to be burned for Shiba Inu to increase to $0.01 via burns. According to data from, Shibburn, the total SHIB supply burnt from the initial supply was 410,631,398,621,045, with a majority of it burned initially by Vitalik Buterin.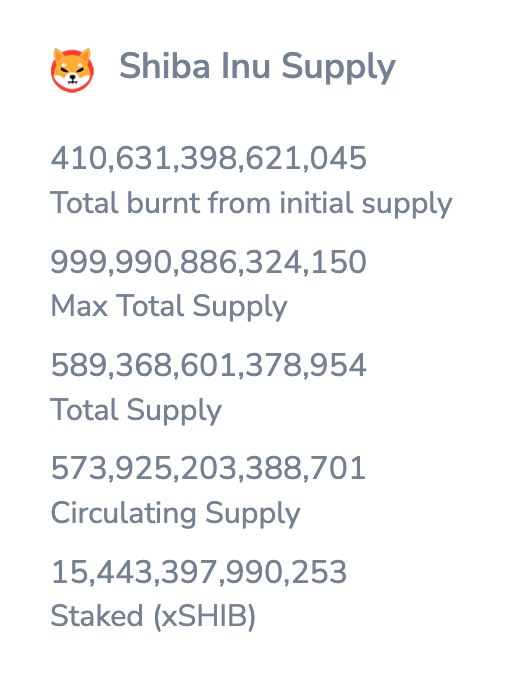 Shibarium
The highly sought-after layer-2 protocol Shibarium is expected to elevate the entire ecosystem. The recent launch of Shibarium's beta version barely moved the needle for Shiba Inu and its network. However, the mainnet launch is said to pave the way for SHIB's one-cent dream.
The most significant feature expected from Shibarium is a dedicated burn gateway that would destroy SHIB during each network transaction. The scope of these burns is still undefined. But the community speculates that it would be much higher than the current burn rate. Additionally, thousands of projects are expected to build on Shibarium. This in turn may boost adoption.
Therefore, as listed above, increased burns supported by mass adoption and the rollout of Shibarium could push SHIB closer to $0.01.