Following Bitcoin's creator, Satoshi Nakamoto, several other founders of crypto projects decided to remain unidentified. Similar to Bitcoin, the team behind Shiba Inu remained anonymous. However, they went on to use pseudonyms, and unlike Satoshi Nakamoto, they decided to stay active on Twitter. Now, since the meme coin's popularity witnessed a huge spike, the community began digging into the whereabouts of the developers of the project. Despite showing immense support towards Dogecoin [DOGE], the community believes that Elon Musk is Shytoshi Kusama. Here's what Shytoshi, the lead developer at Shiba Inu, has to say.
In a recent tweet, Shytoshi Kusama said he wanted to speak more freely. Therefore, he would create another account and share his thoughts without being scrutinized by the community. This tweet created quite an uproar. But one Twitter user suggested that Shytoshi could be Elon Musk.
The community has been speculating the same since a Twitter thread between Musk and Ethereum's Vitalik Buterin resurfaced.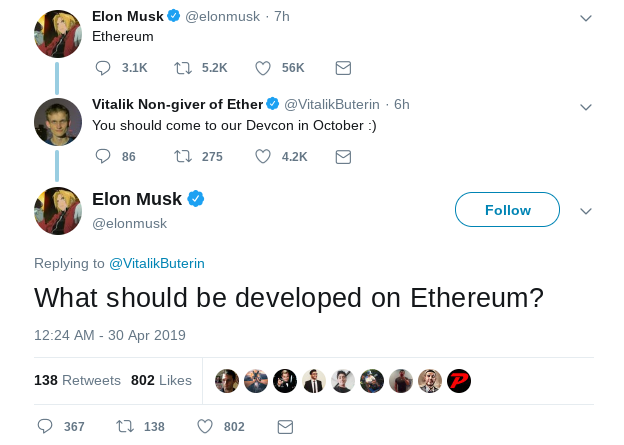 Fooling this, in August 2020, when the very first Shiba Inu Medium blog post made its debut. In the blog post, Ryoshi, the network's founder, talks about the vision behind Shiba Inu. He wrote,
"First thing is I had a 'fren' that I met at Devcon last year in Osaka who has some influence in the space. We talk sometimes about Crypto philosophy and I told him the vision and he agreed to help. So he made a token contract and put half of it on Uniswap with 10ETH pair (He is successful business man so 10ETH is nothing for him). And threw away the liquidity keys so the ETH or the tokens can never be withdrawn. He then transferred the rest to me to do my part."
Shiba Inu shines among whales
Despite all the above-seen connections, Shytoshi denies being Elon Musk. Moving on to the price of the SHIB, it was noted that the asset was on the rise. Over the last couple of hours, the market turned green. Shiba Inu, at press time, was trading for $0.00001139 with a 3.77 percent surge over the past 24 hours.
Meanwhile, ETH whales were employing SHIB. As a result, the meme coin emerged as the most used smart contract among 5000 ETH whales.