Amidst a highly volatile cryptocurrency market that has seen more losses than gains for many assets, the general sentiment within the community has turned skeptical regarding the possibility of significant price surges. However, Shiba Inu [SHIB] stands out as an exception to this trend, with its community maintaining a bullish outlook on the meme coin. This optimism is particularly noteworthy considering the fact that SHIB hasn't experienced any substantial increase in value, adding zeros to its price instead of removing them.
At press time, SHIB was trading at $0.000006708, indicating a daily increase of 2.13%. Taking this recent performance into account, community members have made forecasts that Shiba Inu might reach gains up to $0.00001112 by the conclusion of June. CoinMarketCap provides a feature where users can submit their own estimated price projections for future asset values. By gathering and analyzing these various predictions, the platform's algorithm calculates the median and average price forecasts for the given time period.
Based on the predictions made by the community, it is expected that Shiba Inu will experience gains of over 65%. A total of 2,101 individuals have participated in predicting the price of SHIB for June 30, 2023. These individuals have provided their estimates based on their analysis and insights into the market conditions.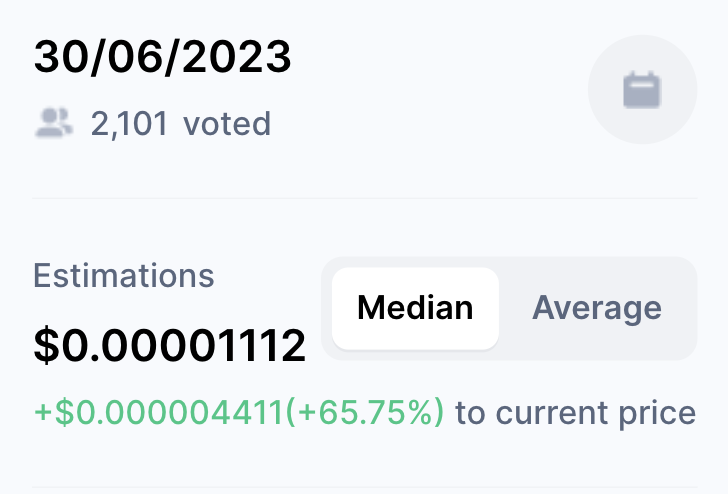 Despite the positive prediction made by a portion of the community, the overall sentiment remained skeptical. It is important to note that these predictions are not considered financial advice. However, the estimated accuracy of the predictions stands at 83.95%. This indicates that a significant majority of the participants believed in the potential accuracy of their estimations.
Will the fate of Shiba Inu holders finally change?
As of now, a significant majority of SHIB holders, about 91%, are facing losses. Only a small percentage of 7% are experiencing profits. However, if a potential surge occurs in the price of the meme coin, it could potentially decrease the percentage of individuals at a loss and increase the number of investors who are making profits. This would indicate a potential for a positive shift in the market dynamics for SHIB.